In Japan, we're always struggling with how to dispose of furniture, electronics, kids' clothes, and other household items that we no longer need. Even throwing them away costs money. In Australia, people sell these things at a garage sale, throw them out in the city or town's monthly bulk garbage pickup, or donate them to a thrift shop (OP Shop) run by a charity organization. In any case, people try really hard to make sure the items get reused and don't go to the landfill. Thrift shops sell used goods, and might be run by a Christian group like the Salvation Army (Salvos) or St. Vincent de Paul Society (Vinnies)—or by a group like Lifeline, which runs a 24-hour call center to help people struggling with mental illness, poverty, domestic violence, and similar challenges. There are also groups like the RSPCA, which rescues cats, dogs, and other animals and tries to find foster homes for them. Every town has at least one or two thrift shops that anyone can walk into and donate things that they no longer need.
At the front or back entrance to a thrift shop are huge containers that look like trash bins. On the door to the bins is a sign marking them as donation boxes. People put their unwanted clothing, shoes, and miscellaneous household items inside to donate them. The donated items are then sold at a deep discount, with the proceeds used to fund the operations and services provided by the organization. I always take my old clothes, shoes, cookware, and so on to a thrift shop—I never throw it away. The actual prices are around two or three dollars for a T-shirt, for example, and a dollar or less for a plate. You can even by things like used mattresses for 50–80 dollars. Many of the employees are seniors, and some are working as volunteers. The shops keep short hours—9 AM to just 3 or 4 PM on weekdays—which makes it hard for people with nine-to-five office schedules to make it in. The bigger shops will open on Saturdays, though, or stay open until 5 PM.
I like poking around the thrift shops. Every once in a while, you'll get a lucky find—like rare antique tableware or picture frames. Not to mention that you'll only pay a dollar or two for it, making the whole experience as exciting as a treasure hunt. Australia doesn't have the kinds of trendy used clothing shops you find in Japan, so if you want to buy used clothing here, you have to head to the thrift shops. Some people turn their nose up at them because they think they're only for the elderly or people of low socioeconomic status, but more recently you find a lot of fashion-forward young people putting together chic outfits with used clothes or painting and repairing used furniture themselves. If you're into those trends, thrift shops are the perfect place to find what you need. It's also fun because you can see items that you'd never find in a Japanese used goods shop. If you're ever in Australia, make sure to take a peek inside!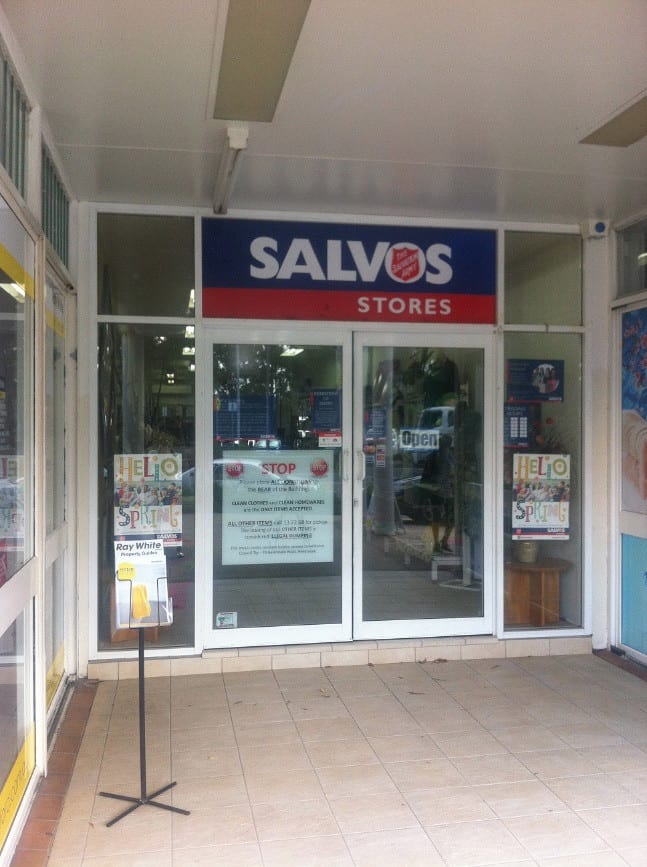 The Salvation Army runs a lot of thrift shops in Australia, nearly as many as Lifeline call centers.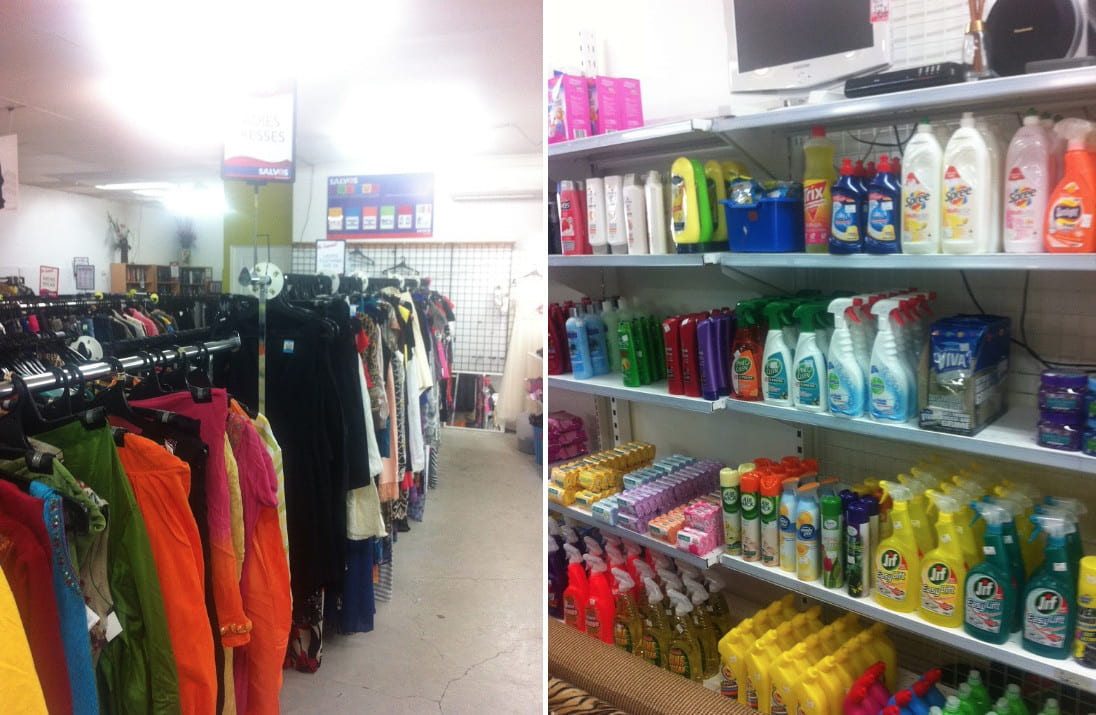 (left): Used clothing is sorted into women's and men's items and organized by size.
(right): The shops also sell new cleaning products more cheaply than you could buy them at a supermarket
Used tableware. Included among them are items in boxes that have never been used. Sometimes you can find beautiful antique wine glasses or small containers.