After the United States and China, Australia is said to have the third largest Japanese population outside Japan. There are many Japanese people living in Sydney, Melbourne, Cairns, and the Gold Coast. There are also grocery stores selling Japanese foods and you can get almost anything that is not an import ban from seasonings to natto (fermented soy beans), frozen seafood, and dried foods.
Japanese food is very popular and highly evaluated in Australia. Restaurants that sell sushi that is the most popular, ramen noodles that are popular with people from China, Taiwan, Hong Kong, and other Asian countries, or curry, teriyaki chicken, or karaage (fried chicken) that are popular with Australians are always bustling.
The "Sushi Train," a conveyor-belt sushi restaurant that started the sushi fad opened its first shop in Surfers Paradise in 1993 and has since opened a total of 13 restaurants in the Gold Coast alone. At lunch and dinner time, you can assume that you will have to wait for a seat at any of those restaurants. At restaurants that receive a lot of Aussie customers, the sushi coming down the conveyor belt is rarely the nigiri type with fish on top of rice; it is mainly items like avocado rolls, California rolls, teriyaki chicken, and chicken cutlet rolls. Each plate has two sushi rolls or nigiri, just like a conveyor belt sushi restaurant in Japan, but Aussies are often light eaters, or perhaps because they don't have a custom of eating a lot of rice, they only eat three or four plates each.
Prices are high in Australia, and eating out in particular is much more expensive than Japan. Although it depends on the place, even a cheap place can cost $40-$50 (about 3,400 to 4,250 Japanese yen) for two people, and even pasta that is not very good will run you about $25 a plate (about 2,125 Japanese yen). So, for Australians, when you have sushi at three dollars a plate (about 255 Japanese yen) and three or four plates are enough for dinner, this is a cheap meal out in Australia with its high prices — another reason why the Sushi Train is so popular.
Another Japanese food that has slowly been gaining a following with Aussies recently is ramen noodles. Ramen restaurants have been present in places like Sydney, Brisbane, and the Gold Coast for a while, but recently other cafés and restaurants here and there have started adding ramen noodles to their menu. A ramen noodle restaurant called 'I like Ramen,' run by an Aussie chef, recently opened in my neighborhood too. It sells vegan ramen noodles like soy sauce ramen with shiitake mushrooms and miso ramen with kimchi, giving Japanese ramen noodles a healthy and stylish flair. Although the restaurant just opened, Aussies already love it, and ramen noodles that used to be called "noodle soup" and lumped together with other Asian dishes are now called "ramen," and Japanese ramen is becoming more well-known throughout Australia.
Perhaps Aussie-style ramen will continue to spread and will someday even make its way to Japan.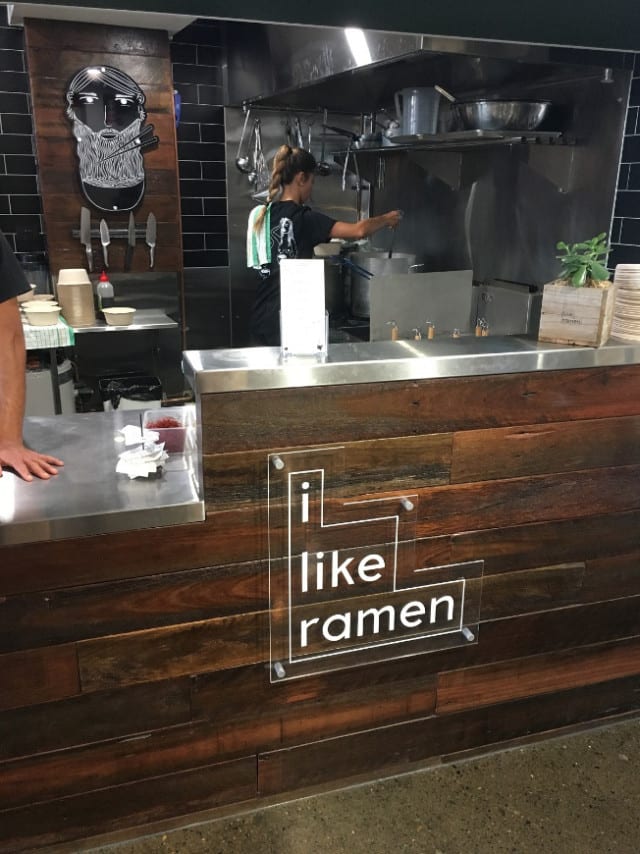 I like Ramen in the food court.
Customers order and pay like other fast food restaurants, and pick it up at the counter.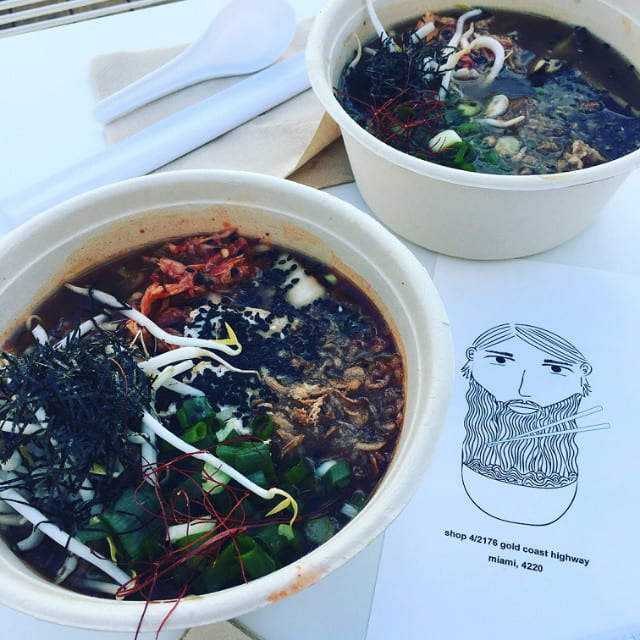 The one in front is kimchi ramen and the one behind it is shiitake soy sauce ramen. The restaurant logo is also unique.