Perhaps there aren't few who, when thinking of Australia, think of Aussie beef. I also enjoy Australian beef, and even though there are more Aussies going vegetarian than there used to be, steak remains a favorite. At pubs and restaurants, even at the BBQ, steaks cook up side-by-side with sausage. Aussie beef sold in Australia is red meat, on the lean side, and the flavor is good. When I was still more used to the meats in Japan, I thought Aussie beef was dry and tough, and not very tasty, but since getting used to Aussie beef, I begin to feel somewhat averse to tender, fatty Japanese meats. Now I find I like the lean red meat better. Nothing beats a steak broiled just right.
Lately, here in the Gold Coast, we're seeing restaurants here and there where you can eat dry-aged meat steaks made of dry-aged Aussie beef. I still haven't had dry-aged meat at a restaurant, but I heard about a butcher who sells dry-aged meat and decided to try it straightaway, so now I'll tell you how it was. This butcher doesn't sell meat by the slice. Instead, they have a system where you buy a large cut. One cut ranges from 10 to 12kg. You buy the whole cut, leave it at the store to age for 90 days, and when it's done you can take home just the amount you want to eat and leave the rest to keep at the store. It's like keeping your own personal bottle at the bar, but with dry-aged meat instead.
The cut is then hung in a glass storage case in the store, with a tag that has your name and phone number on it. This is a butcher in a major shopping center, and the storage case is like a display case, so, even though it's unthinkable in Japan, the purchaser's name and phone number are right there, totally visible to everybody. Since I was told to write down my phone number without filling in the purchase date and ageing period, I thought I'd get a call 90 days later. But when the 90 days had passed with no call, I went to the store to check, and they just said, "Yeah, it's done, ready to eat anytime." It's like you have to keep track of the starting date and the best-before date on your own. That's just the way it is in Australia.
On that note, when I bought it, they told me they didn't have any 10kg cuts, so I bought a 12kg cut. Price per kilogram was $35 to 40. (Prices vary and sometimes there are discounts, so this is of course only an example.) I wasn't sure I'd be able to eat the whole 12kg. But they said it would keep even longer if I vacuum-packed it and kept it frozen. I could also give some to friends as gifts. A friend told me that it would be really delicious anyway, and I'd just have to try it, so I took the plunge and bought it. When I asked what the longest ageing time might be, I was told about 120 days. So right away, I took a steak out of it to try. There were bones, and the cut was large and rather wide, so, rather than cutting it thick, I had them cut it thinly. I gave it a simple garnish of garlic, salt and pepper, and it was tender and quite delicious, without any unpleasant smell. Anyway, it was tender, and the flavor came out more and more with every bite. I have a friend who doesn't care much for meat, and is sensitive to odors. She didn't think it smelled and found it tender enough. She said that once she eats dry-aged meat, she cannot go back to ordinary steak because it's too gamey.
Dry-aged meat is really worth eating. Buying 10kg at once costs quite a bit, so I cannot afford to do it regularly, but when comparing the price to going to a restaurant to eat, it works out cheaply enough, and it's good for special occasions and as gifts and such. I've heard of yakiniku shops opening up in Japan where you can keep your own dry-aged meat cuts as well. If you haven't tried dry-aged meats yet, you really should.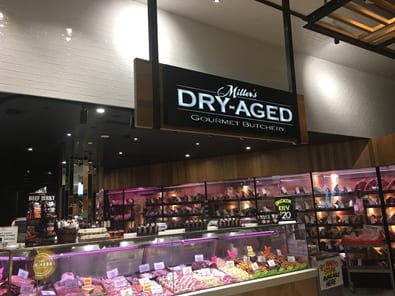 Here's a butcher who sells dry-aged meats.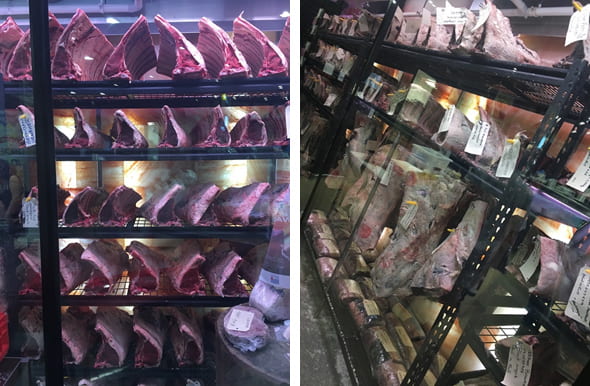 (left): Dry-aged meat cuts lined up on the shelves.
(right): Tags on the cuts, with the customer's names, etc., showing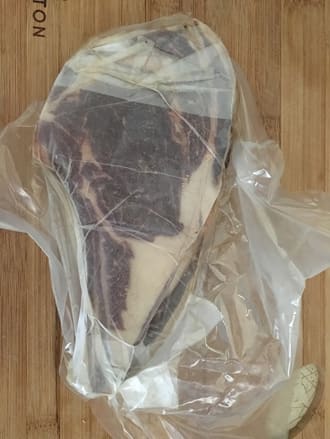 Vacuum-packed dry-aged meat cut. The color is darker than that of regular beef, much like the color of beef jerky.