Many Japanese people live along the Gold Coast. I've lived here around 18 years myself, and there are plenty of other Japanese I haven't met yet. Now that I work from home, I have even fewer opportunities to meet them. The community is steadily growing, too. Japanese associations on the Gold Coast hold festivals and events, while individuals and groups host workshops and other happenings. There are so many events and things to learn—tea ceremony, flower arranging, ceramics, yoga, cooking, wine tastings, inter-industry exchange events, meditation, Japanese drums, hula dancing, yosakoi dancing—and that's just the ones I know about. Information is posted on Facebook, on bulletin boards in Japanese restaurants, and in the local Japanese newspaper.
In this article, I'll tell you about a miso-making event I went to recently. Six of us participated and everyone was Japanese this time—five women and one man. Apparently non-Japanese participate sometimes as well, in which case the explanations are given in both English and Japanese. The event took place spreadding out across two large tables in the host's living room. Everyone brought their own aprons and slippers, and I realized that one of the participants had been a friend of mine at my past job.. There are still a lot of people I don't know on the Gold Coast—which is a big area but a small world.
Everyone introduced themselves briefly before we got started with an explanation of miso and koji rice malt. We then had a sampling of a few different varieties of miso. We all were reminded of how richly flavored miso can be and how different the varieties can be in terms of sweetness, aroma, and bitterness. We then began the process of making it. For the soybeans, we used organically grown ones that had been boiled in advance for the workshop. I made white miso and chickpea miso. The white miso takes a month to be ready once it's prepared.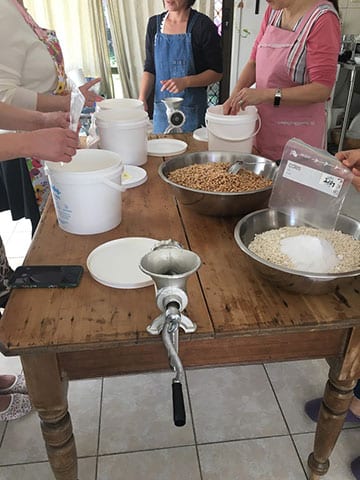 Preboiled soybeans and chickpeas on the table. We put the finished miso in the white buckets.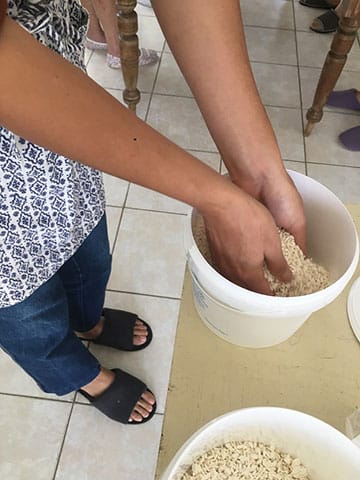 The first step is to knead together dried koji malt and salt with the hands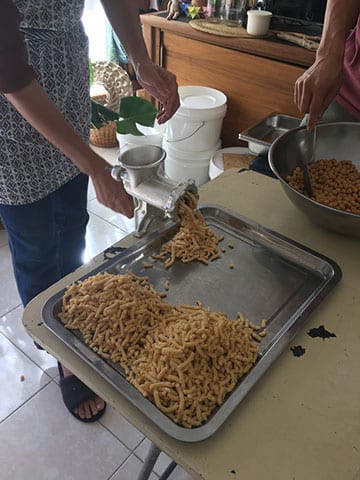 Next, we put the chickpeas in a meat grinder. This was so much easier than mashing them by hand.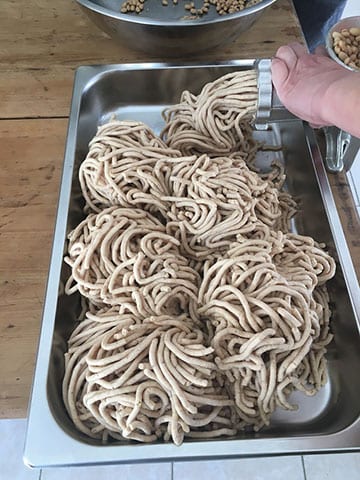 We then did the same thing with the soybeans in the meat grinder. They were a little softer than the chickpeas.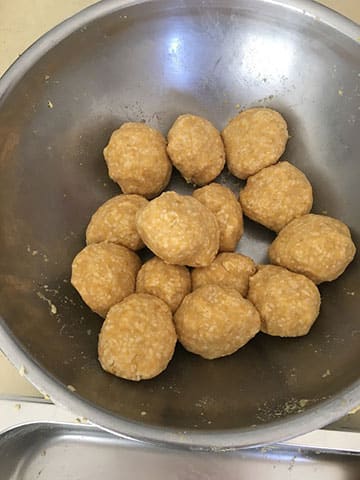 We then rolled the smashed chickpeas into balls by hand and then threw them into jars so that there was no air left.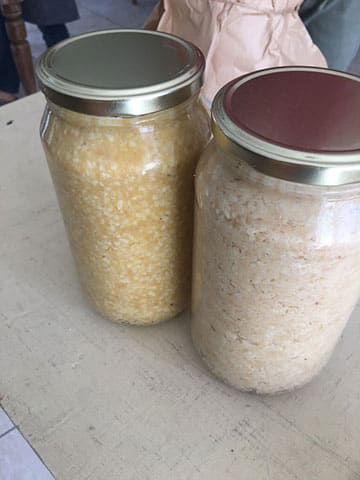 All finished. The yellowish one is the chickpeas, and the whitish one is the soybeans.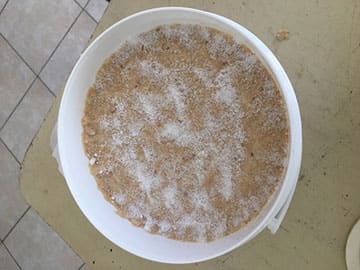 One kilo of the miso went into the jars. Two kilos went into the buckets—we sprinkled the surface with salt, and then covered it in plastic wrap. Traditionally you'd cover it with a stone, but we set a bag full of salt on top instead.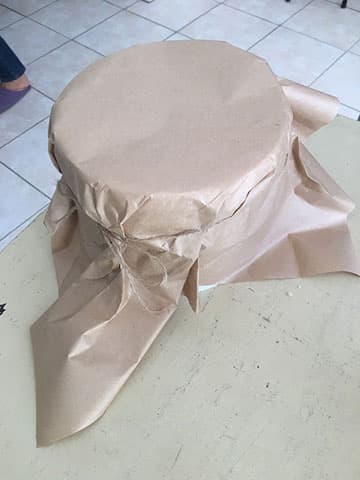 The last step was to seal it. In three months, these miso batches will be stirred and turned over, then allowed to set for another three months before they're ready. The date they're supposed to be turned over and the date they'll be ready are written on the seal so as not to forget.
The host taught us how to make the miso from start to finish, and also sells homemade koji malts, so the idea is that next time we want to make some we can just buy the koji and make it ourselves. We can get organically grown soybeans at stores handling organic produce. Of course, I don't really see myself making my own miso…
Another fun thing about the workshop was getting to eat the lunch that the host prepared using miso and koji. The event was over just as we were getting hungry, and we got to eat this beautifully presented, healthy, and delicious lunch as we chatted.
There's also an amazake workshop as well, so I hope to participate in that one next time.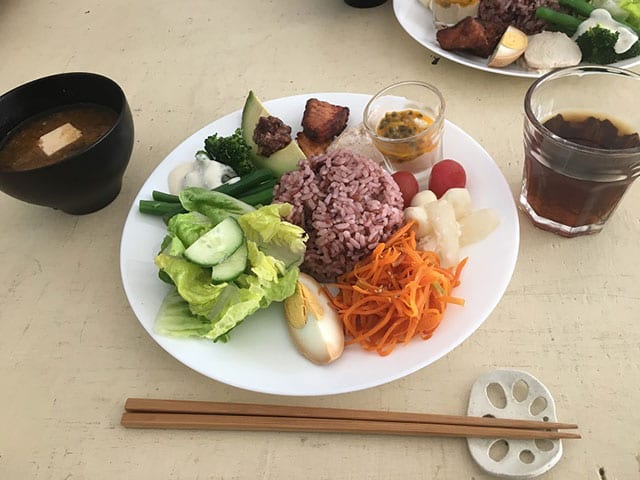 Several items prepared using koji malt and miso served on a single plate. There was soymilk mayo, cheese and cherry tomatoes marinated in koji,, boiled egg marinated in miso, and a dessert of amazake topped with homegrown passionfruit. Everything was delicious—and I had no idea you could use koji in so many ways!