The work clothes of the people on construction sites in Japan are relatively sober colors, like navy blue, gray, and beige, but the people who work on construction and works sites in Australia wear very bright work clothes in colors like fluorescent yellow, orange, and pink. The name for this workwear in English is "High Visibility Shirts," which is shortened to "Hi-Vis." The reason is not that these clothes are flashy, but that wearing fluorescent colors is required by law for safety. In Japan, security guards wear fluorescent vests, but in Australia, workers on construction and works sites also must wear Hi-Vis work clothes. Apart from construction and works sites, the same goes for workers on roadworks sites and workers who use forklifts in factories. Plumbers and painters are not required to wear fluorescent work clothes, but of course they are free to wear them. The top reason for wearing Hi-Vis clothes is safety: They are easy to see, which is, rather than being good looking, more likely to prevent accidents. Wearing fluorescent colors is certainly much more noticeable than wearing gray or navy-blue work clothes on cloudy days or in low light. Wearing fluorescent clothes all over, however is not necessary, and most designs are fluorescent colors on a navy blue or black base. While there are companies in Australia that have uniforms, if you're wearing clothes that meet the safety standards, you don't have to wear the company's uniform. So, even if you start working for another company, if you have your set of gear, including Hi-Vis clothes, safety boots, and helmet, you don't have to get a whole new set for the new company, and I think few companies make it a rule to have workers wear the clothes the company provides. I think this is characteristic of Australia, where there is high job turnover and employees sometimes quit very soon. Of course, while there are Hi-Vis clothes that advertise the company with the company name or logo on the chest or back, you can buy plain design Hi-Vis clothes at merchandise stores such as Target or K-Mart. By the way, the photos below show what is actually available.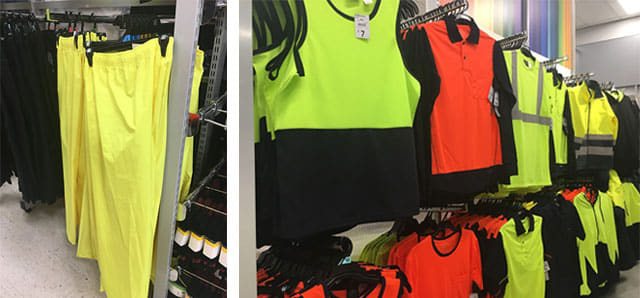 Hi-Vis work clothes sold at K-Mart
There are "singlets", polo shirts with collars, long-sleeved shirts, windbreakers, and so on. In addition to fluorescent yellow, there are also orange, fluorescent yellow-green, and pink, which aren't in the photo. The arrangement of the colors also varies and there are long-sleeved shirts that are almost all fluorescent and even bright trousers that are all yellow. Apart from Hi-Vis, men's work clothes also include shorts, something unfamiliar in Japan, where I think men always wear trousers, but in Australia, wearing shorts is allowed in some professions. The old Australian man who maintains my house wears safety boots, shorts, and short sleeves year-round. Public bus drivers, homeware store assistants, gardeners, lawn mowing people, plumbers, electricians, and so on, all wear shorts. When RSEA, a major Australian work clothes chain, surveyed carpenters and builders about what length shorts they wanted to wear, about 60% said the shorter the better. In men's fashion, underpants with a short and tight silhouette are in vogue, so short, tight shorts may be the trend in work clothes too. In fact, a news article about that featured a picture of a modern (LOL) young carpenter wearing a waist bag and short, tight work shorts that seemed to be one size too small. Safety standards also include UV protection measures for working under Australia's strong ultraviolet rays, which are said to be more than six times as high as in Japan, so people in occupations that don't have to use a helmet wear a straw hat or a wide brimmed hat when they work outdoors and always put on sunscreen and wear sunglasses. From a Japanese point of view, working in shorts with sunglasses and a straw hat is quite surprising right? I guess, though, that this look suits the bright and cheery mood in Australia.