The Gold Coast enjoys good weather every day. It doesn't rain very much, which means water shortages are a bit of a worry. People do all sorts of activities in the open spaces along the beach where I walk. There's lawn on both sides of the path along the beachfront and small open spaces here and there with parks as well as horizontal bars and gym machines that adults can use. People also do yoga, Pilates, and Tai Chi classes in these open spaces. Yoga classes sometimes attract more than 50 people with the instructor teaching from a small stage. Sometimes there are small groups of 5 or 6 doing yoga, while others do a Beach Clean & Yoga, where you do the yoga class then pick up trash from the beach. The Tai Chi they do on the beach in my neighborhood is not so much a class as a group of about 5 or 6 grandpas and grandmas getting together to do their Tai Chi. Apparently in some places they do it in a big way, with larger numbers getting together for classes with music as well. There are free classes and classes for as low as $3 to $5 per class, so anyone can feel free to join in. You can check the City of Gold Coast website to see what classes are taking place at what time, on which beaches, and on what days of the week. "Boot camp" is another popular form of exercise among Australians. I think it's a name you don't hear much in Japan, but it's a program that incorporates a variety of exercises. The name comes from the harsh exercises used to train soldiers. Boot camps are quite hard, but that seems to be the reason for their popularity, for dieting and because you can get your body into shape in a short time. But it's not like anyone can run these activities in a public space. If you're running a paid activity, you'll need permission from the City of Gold Coast. Plus, you can only run paid activities if you have public property liability insurance cover of at least 10 million Australian dollars (approximately 800 million Japanese yen) and a first aid qualification. By the way, the premiums for 10 million dollars-worth of public property liability insurance cover are on average $700 to $1,000 per year. You also have to pay a registration fee of $219. And if you're doing an activity with children under 18, you'll need to get a "Blue Card" from the Queensland state government, which is necessary when working with children. And if you put up a commercial advertising sign where you run your activity, there are surprisingly detailed regulations about the sign's size, shape, and so on. Still, I think it's much cheaper than paying to rent a venue for classes. Another popular class is a fitness class for moms with babies called "stroller-fitness." The good thing about these classes is that a babysitter looks after your child, so you can be sure they're OK while you devote yourself to your fitness. Moreover, the fees are as low as $4 for 30 minutes and you can just put your name down on the website for the days you want to join without having to pay a monthly or annual fee. It's a perfect class for moms who don't have much time to exercise because they're looking after their children, and who don't get motivated by themselves. And there seem to be a lot of repeat participants because they get to share all kinds of information. These are activities for some single-minded exercise and sweat under the blue sky, then perhaps jumping into the sea in a bathing suit if it's summer. Life on the Gold Coast is the best.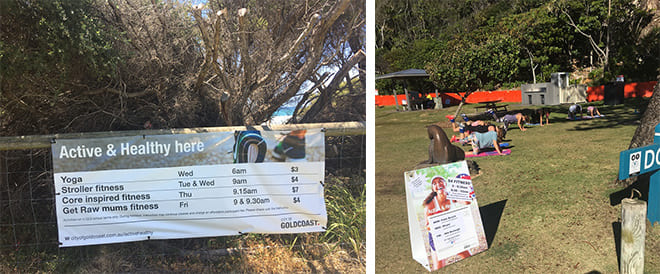 Left: City of Gold Coast ad for activities
Right: Stroller fitness for moms with babies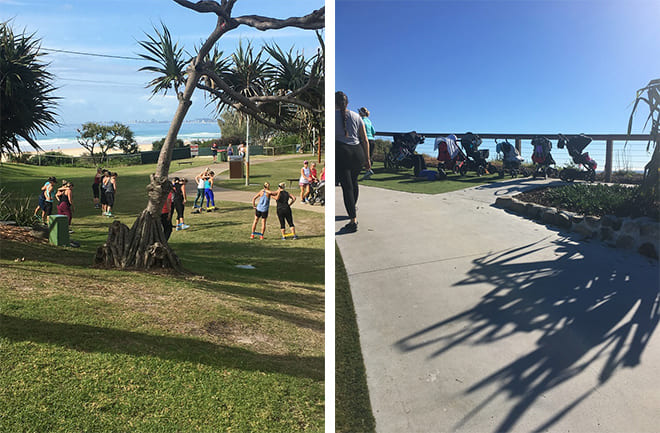 Left: Stroller fitness. Exercise in an open space with the beach in front of you.
Right: Strollers lined up against a stunning view of the beach stretching out to Surfers Paradise. The babies in the strollers wait with the babysitter until their mom's exercises are over. Sometimes they lay a blanket on the lawn and the babysitter reads a picture book to the babies, so the activities for the babies seem to change from time to time.