The beaches in Australia are really beautiful. When you walk on the white sandy beaches, the sand makes a squeaking sound. Now once again it's the season that makes you feel like diving into the clear blue sea. But the tidal current can be very strong even in waters that appear to be calm at first glance, so people who don't know about that frequently get carried away in the current and drown. This year in Australia, the number of people who have drowned in the sea is about 249, up 51% from last year. Five men died in the sea at New Year this year, and the number of people who drowned between December 1 and January 1 was 47 this year, compared with 31 the year before. The number of people taken to hospital, even if they didn't die in the water, was about 584. People tend to think it's mostly children as well as women who aren't good at swimming and tourists from overseas who meet with an accident in the water, but most are in fact Australian men. What happens is that they get overconfident because they're good at swimming, they go far out from the shore and in a flash end up being caught in a strong current. It's also thought that they meet with such accidents because they're not in familiar waters but in waters in another city or state that they're visiting, and the accident has occurred because they don't know the local conditions and dangers. What's more, many accidents in the water occur on public holidays in the middle of summer, on Australia Day (January 26) and New Year's Day (January 1) for example, when they occur 2.5 times more than on ordinary days. A major factor is drinking alcohol before going into the sea. I am actually one of the ones who almost drowned, about 15 years ago. I was swimming at the beach with a friend. It wasn't rough and the waves were small, but before I knew it, I was being swept out to sea. There are times when you're in the sea and you don't know just how far you've gone. A surfer nearby asked if I was okay and my friend who had gotten out of the water earlier was gesturing, "Swim harder with your arms!" and that's when I first realized, "Oh no, I'm being swept away!" and I got flustered. But I didn't know if I was making headway, no matter how hard I swam. Luckily, I was swimming at a beach where there were lifeguards, so one of them spotted me swimming hurriedly, straddled a long board, and came to help me straight away. I got on the board in front of the lifeguard and we returned safely to the beach, where a big crowd had gathered to watch me being rescued. I was incredibly embarrassed. But if there had been no surfer or lifeguard where I was swimming… I shudder just thinking about it. Since then, I make sure I swim in a swimming area where there are lifeguards, no matter how small the waves are. They designate areas for swimming at beaches in Australia by putting up flags where the tidal currents are not so strong, and you swim between the flags. If you swim outside of the swimming area, the lifeguards will warn you. Lifeguards patrol the beach in vehicles and use a megaphone to warn anyone swimming outside the swimming area to get out of the water. But lifeguards don't patrol the whole of the Gold Coast coastline. My case is a good example. On a day when there were no waves it looked as though I would have no trouble swimming at all, but there was still a strong current below. It's likely that days like that are the most dangerous, and that most accidents in the sea happen where there is nobody else around, and no lifeguard. If someone who doesn't know the beach safety rules swims outside the swimming area, they might be doing something that can never be undone. Always be sure to swim in the swimming area OK!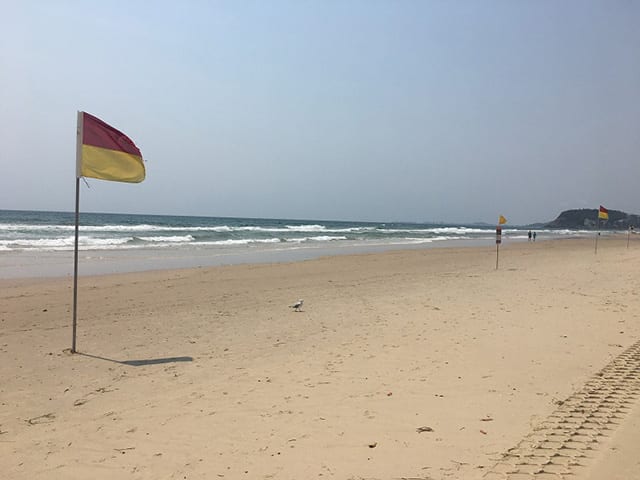 The area between the red and yellow flags is the swimming area.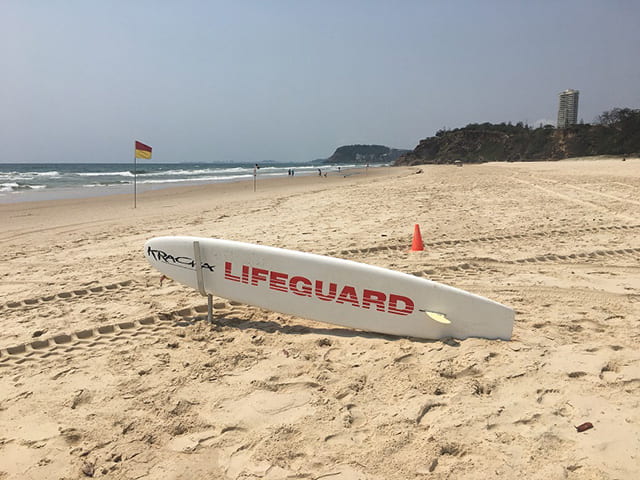 The lifeguards keep a rescue board on the beach.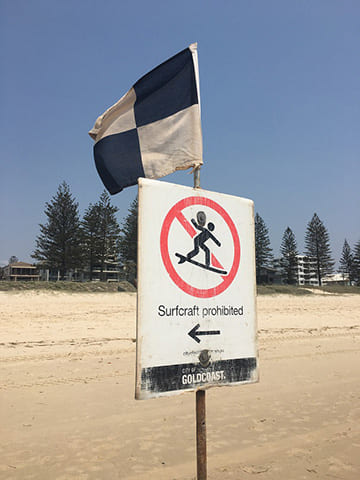 "Surfcraft prohibited" means taking a surfboard or similar into the swimming area is prohibited. You surf outside the flagged area.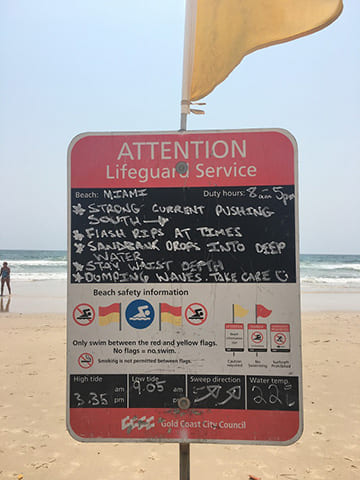 The lifeguards write up that day's conditions on a blackboard.
They note things like the direction of the current, how the waves are breaking, the water temperature, and high and low tide times.