I recently went to the Food & Wine Expo held each year on the Gold Coast. As the name suggests, it's an exhibition of foods and wines. Australia is well known for its good wines and this event attracts lovers of good food and wine. The venue for big events on the Gold Coast is usually the Gold Coast Convention and Exhibition Centre. About 80 booths lined up in this big venue to promote champagne, beer, whiskey, and cocktail spirits, apart from wine, as well as foods like cheese, chocolate, and beef jerky, each offering tastings and samples. On the venue's main stage there were cooking demonstrations by famous celebrity chefs and tables were set for groups who had booked beforehand to try the multiple course menus prepared by the celebrity chefs. After you buy your admission ticket at the entrance, you show it and go in to find a booth right at the entrance where you can buy a wine glass for tastings. If you don't buy a wine glass here, you can't sample the wines at the booths, so I bought one. I had been to the Food & Wine Expo two years ago and the wine glass I bought then was exactly the same. My friend did the right thing and brought the glass she had bought last time. The $6 glass (made of glass) is a little small, but if you have one, you can taste wines anywhere in the venue as many times as you want. The expo goes for three days from Friday to Sunday. I went on the Friday evening. Being a weekday, the venue was relatively uncrowded. I met up with my friends inside the venue and our first destination was the Oyster & Sparkling Bar. Like last time, we bought some raw oysters and champagne before heading off to the exhibits. We went there first, before the raw oysters sold out. Sydney rock oysters are small and creamy raw oysters grown in the Sydney region. Then it was time to head off to the booths. With each wine tasting you only get a little wine poured into your small wine glass, but if you try the wines at a lot of booths, you end up drinking quite a bit of wine and will soon get drunk if you're not careful. Something to be concerned about is that if you don't focus on the wines you want to try, you drink too much, feel the effects of the alcohol, and end up not knowing what's what, including the flavors. Plus, there are lots of booths, so unless you properly remember which wines you drank where and which ones you liked, later on you could even end up not knowing which booth they were from… The last time I came I bought some wine from a maker of organic wines without preservatives and this time they were there again, so I tasted a few of their wines. Some wine lovers don't like organic wine because they say they're flavorless, but all of this maker's wines tasted very good, so this time my friend and I bought a dozen bottles between us. If you buy a dozen, you get free shipping. Most of the wines exhibited by the wine makers at the expo are not sold at ordinary bottle shops, and even if they are, it's only a very few of them. Most of the wines are sold wholesale to restaurants or purchased from websites, so it's really not possible to taste the wines at the expo and then go and buy the ones you like at a liquor store later on. When you come across a nice wine, you have to get a brochure or a business card, ask about the way to buy it, or buy it on the spot and bring it home with you. I didn't want to walk around the venue with any wine I had bought if I had bought one or two bottles of wine at a booth, so I did the tastings first then went back to the booths I liked and bought the wines all together just before going back home.
The glass sales corner right at the entrance to the venue. Tastings are not possible without buying this special wine glass. You could get either just a glass or a glass in a special expo holder that goes around your neck.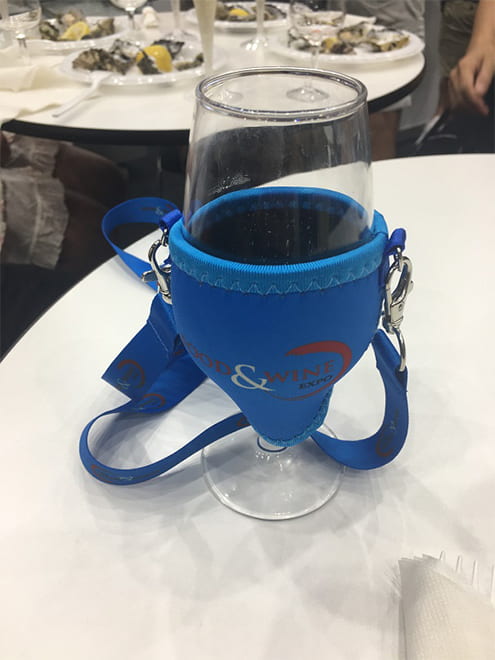 The Oyster & Champagne Bar. These raw oysters are small, but they are creamy and very delicious.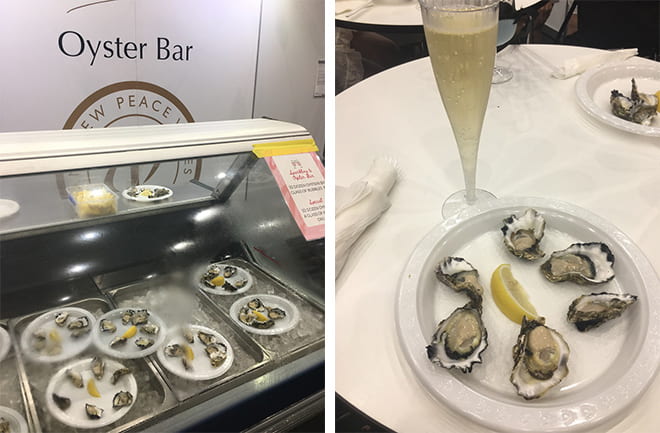 A cooking class just for children was being held at the time on the venue's main stage.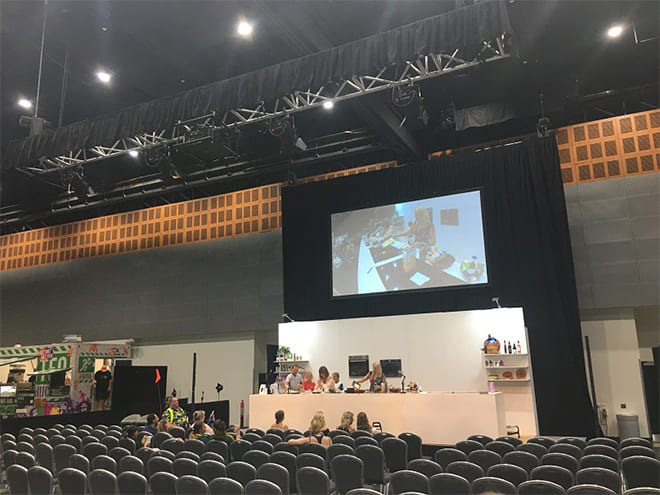 Craft beer is also popular in Australia. This booth had Stone & Wood, a popular beer from Byron Bay.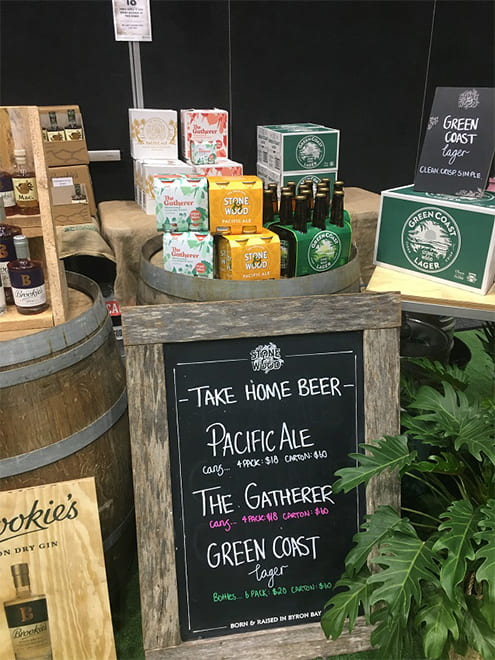 I found some delicious beef jerky. They had everything from jerky about as soft as fresh ham to the classic hard variety. Aussie beef really does taste good.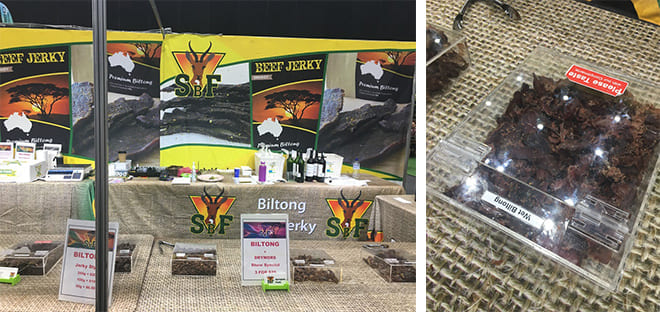 I can't drink it straight, but there was also a whiskey tasting booth.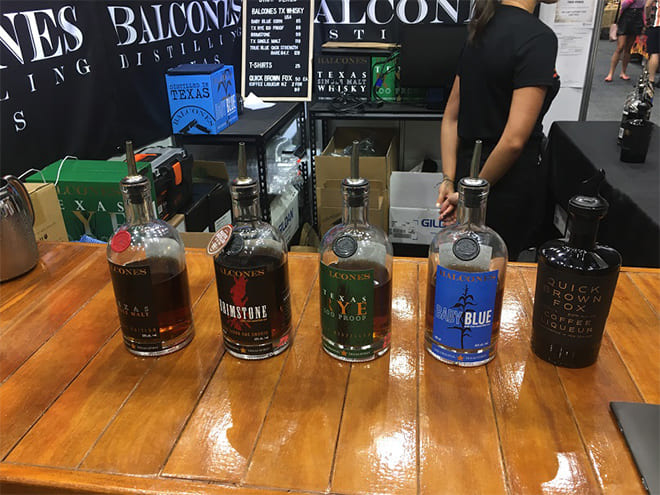 One of the things I bought this time was some Vietnamese dipping sauce. I tasted it on an uncooked spring roll. It tasted really good with a nice lemongrass kick. It goes especially well on grilled shrimp and meat. And it's additive-free with no preservatives or chemical seasonings.
Raw Vine is an organic wine maker. The labels are appealing, and the wines taste very good. "Purple Reign" is a purple colored wine. This purple is a natural pigment. It tastes clean like a white wine but is fresh and juicy. I also bought this because of its unusual and beautiful appearance.
I could only mention a few booths here, but the Food & Wine Expo is an event offering great flavors that anyone can go to if they are old enough to drink alcohol. I don't usually get the chance to taste so many wines and I came across some delicious foods including some unusual cheeses. As usual, I ended up getting a little tipsy with all the tastings and bought too much…