Cotton On is Australia's largest apparel brand. It's a clothing retail chain store like GU or UNIQLO in Japan and sells standard items such as T-shirts and jeans plus the latest fashion items, at reasonable prices. It's one of the fast fashion brands, which has been attracting attention recently and has been expanding throughout Australia of course, as well as into Asia including Singapore and Malaysia. At this rate, it might only be a matter of time before Cotton On stores arrive in Japan, although they haven't arrived in Japan yet and it seems only some online shops are handling Cotton On items. Cotton On also sells a range of women's underwear, loungewear, active wear, and so on called Cotton On Body, and a range of children's clothing called Cotton On Kids, as well as other ranges. In this blog I'll tell you about the extremely popular Cotton On Kids range of cute and fun children's clothes. These children's clothes really are cute, so I sometimes buy some and take them as gifts when I go back to Japan. The sizes are categorized not by height but by age, so the number shown on the tag is the age. Apparently, the sizes are slightly larger than the average kids' sizes in Japan. The range includes everything from incredibly fun T-shirts and items in pop colors to sober shades that adults are likely to wear. Since kids can only wear clothes for a short time because they grow up so quickly or get them dirty, wouldn't it be great if there was kids' clothing available at reasonable prices? Then again, you do want to dress them in something cute or fashionable and cool, right? This brand makes those wishes come true.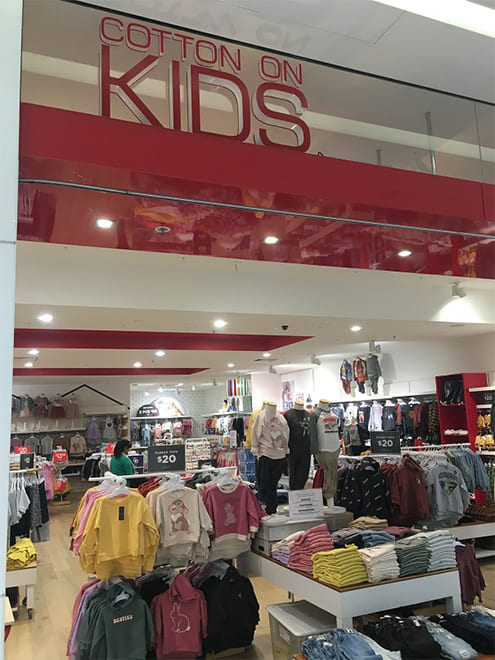 A Cotton On Kids store in a shopping center
Australia's major shopping centers are sure to have a Cotton On brand store.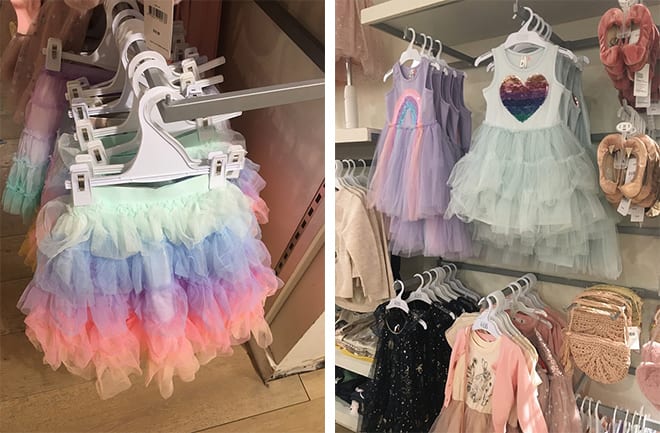 Skirts and dresses with lots of organdy frills. There are lots of clothes that would appeal to young girls' tastes. Apart from this shop, lots of shops in Australia sell princess costumes or dresses with fairy wings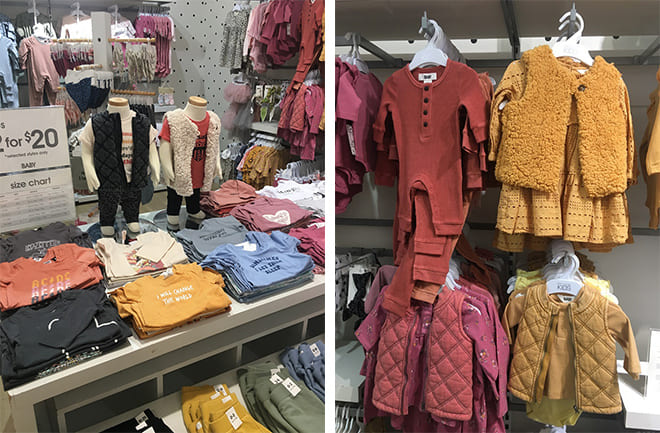 These are clothes for infants from 0- to 3- years old. The colors are in fashion too. The clothes on display here are winter clothes because it's winter in Australia now. The Gold Coast is relatively warm, even in winter, so T-shirts are available year round. It's $20 for two T-shirts, so the price per shirt is about 750 Japanese yen.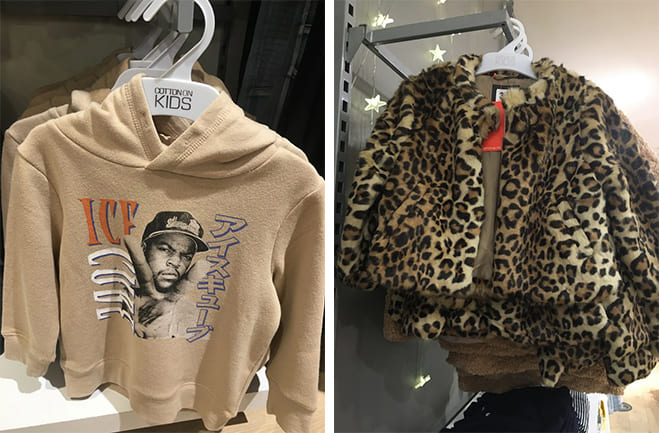 (left): You sometimes see katakana logos. Every year they put out rapper and rock band lines.
(right): I found this small leopard print fake fur coat! Isn't it cute!!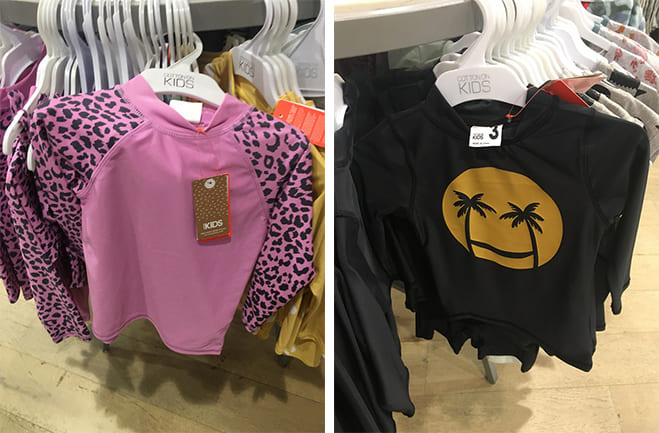 Rash guards for wearing over the top of your swimsuit to protect from sunburn when you swim in a pool or the sea. They are even available at shops in winter. That's the Gold Coast for you! They also have a wide variety of flip flops and cute swimsuits.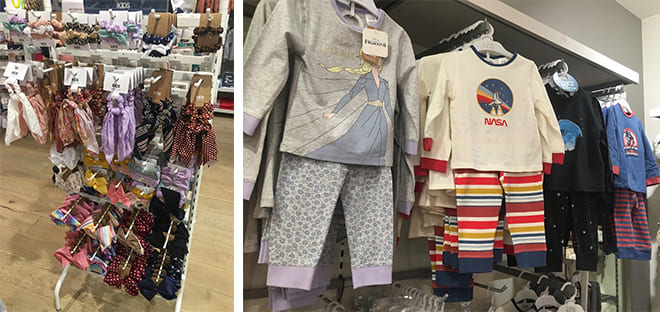 (left): Lots of different kinds of cute hair accessories
(right): Character pajamas. Third from the left are ET pajamas.
There were so many more cute clothes, but I can't post all the photos.
Check them out when you come to Australia, OK!