All sorts of different craft beer brands have become available in Australia over the past few years. They have even opened a craft beer brewery in my neighborhood, and it looks as though the popularity of craft beer will keep on growing. But what are the differences between craft beer and ordinary beer in the first place? Apparently, craft beer is beer made in a small brewery using its own unique blend, but there doesn't seem to be a definition that's 100% definitive. In short, it looks as though "craft beer" is a trendy way of saying "locally made beer". The price per bottle is a little higher than ordinary beer because it's brewed on a small scale, but once I discovered how good craft beer is, I felt that the flavor of the normal beer just didn't cut it, that's how much I personally love craft beer. Most of the craft beers I've drunk so far have some bitterness, but there's fruitiness in there as well, and they've all been quite nice beers. I haven't had any beers that I think are no good. So, in this blog I'd like to tell you about some Australian craft beers.
Balter
This is a craft beer made by some well-known Gold Coast pro surfers Mick Fanning, Joel Parkinson, and Josh Kerr, as well as their friends. It's a fruity, palatable beer with a simple, stylish design on the can. It was ranked No. 1 in Australia's Ultimate Top 50 Beers in 2019. I recommend this beer and I definitely hope you try it if you come to the Gold Coast.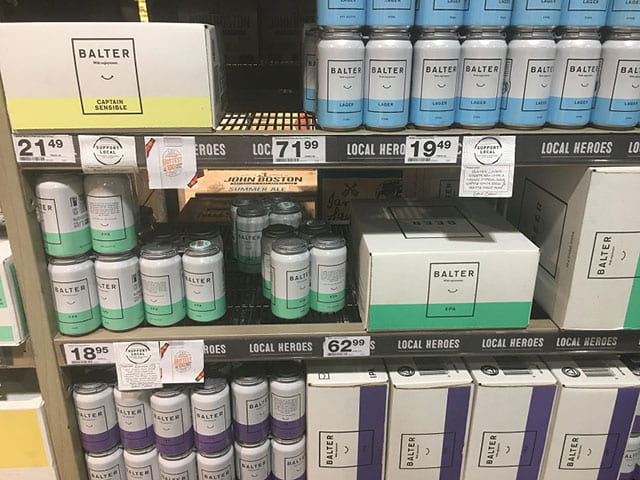 28
This is a beer called 28 and is made by the Burleigh Brewing Co. in Burleigh Heads, which is near my home. I hadn't seen it recently, and the package design seems to have changed a little. It's an easy drinking fruity beer with a blend of flavors like citrus, grapefruit, and vanilla. It also won gold medals at the World Beer Championships.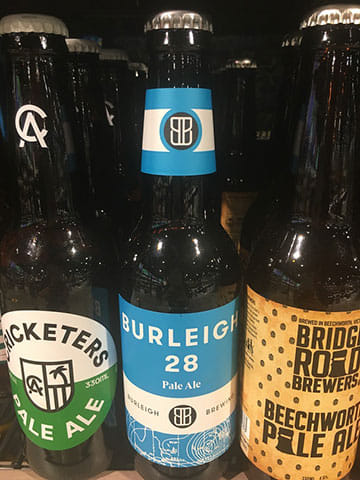 The beer in the middle of the photo is 28.
The packaging has been redesigned, but you can still recognize it from the blue label.
Stone&Wood
This beer is made in Byron Bay. It's a leading beer with the status of having sparked the popularity of craft beer. What was once a small scale brewery is now transforming into a large scale operation and a popular brand, with a new brewery in Byron Bay that offers tours with tastings and a newly opened brewery in Brisbane. You can buy it at most liquor stores nowadays. You can book online for a brewery tour at the Byron Bay brewery. Like Balter it has a fruity taste and goes down easily. Stone & Wood is a popular beer that competes with Balter every year for first ranking.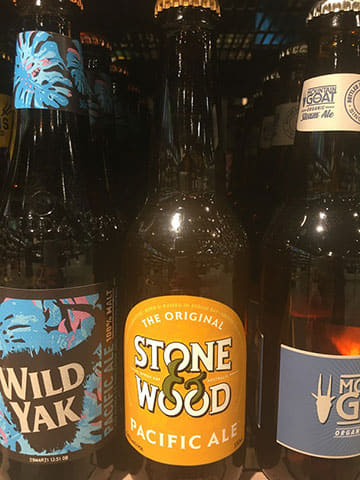 The beer in the middle of the photo is Stone & Wood.
The beers on either side, Wild Yak and Mountain Goat, are also popular beers.
Moo Brew
This is a craft beer from Tasmania. It has an innovative and unique design. With a stronger bitter flavor than other craft beers, I would say it's a slightly fruitier version of Japan's Yebisu beer. It rates highly in reviews and is attracting attention as a new craft beer.
Moo Brew with its novel design
Larry
This is a craft beer made by a brewing company called Your Mates, which was founded on the Sunshine Coast in 2015. The company is still small, but it looks as though it will keep on growing. It has an incredibly unique can design. It's a fruity beer with a blend of Queensland tropical fruits. As someone who lives in Queensland, it's a beer I'd like to support.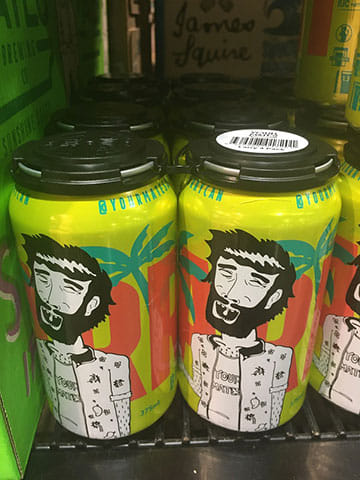 Larry, with its eye-catching design and fun picture
Once I started looking into craft beers, I discovered there was still a lot I didn't know. They have all sorts of truly different designs, with everything from wacky to simple, which gives you an idea of the free thinking approach of the people who make them. The names are also interesting, like Hair of the Dog ("mukaezake" in Japanese), Kaiju Beer, which is named after the Japanese monster, and one called BEER, which simply says "BEER" on the can. There are a lot of other beers, so if I can, I'd like to tell you about them in part two.