I have written about a few of the markets on the Gold Coast before, but the one I'd like to talk about this time is a morning market and is the most popular on the Gold Coast. It's a fashion market called The Village Markets and has been attracting more and more attention every year since it was first held in 2008. The stalls are mainly run by small Australian and international designers, the ones who sell their clothes mainly at markets or only on their websites. The stall fees at this market are higher than other markets, but there are a lot of designers who want to run one of these stalls because running one here is good advertising. The bohemian women's fashion brand Spell from Byron Bay, Australia, started out in The Village Markets in a small scale and is now popular all over the world. You can get all sorts of items at the markets, from trendy and fashionable items to unique items you can't find anywhere else, including clothes, swimsuits, shoes, children's clothing, miscellaneous goods, furniture, beauty products, accessories, and more. As well as clothing they also have food and drink stalls, plus there's live music, so it's fun for children and families. The markets are held on the morning of the first and third Sunday of the month until 1 pm on the grounds of an elementary school in Burleigh Heads, which is also famous for surfing. It's a large elementary school and there are plenty of parking spaces, but it is such a popular market the parking lot often fills up quick. While some of the people who run stalls are regulars, some are new, so even if you go every time, it's still interesting because the stalls aren't all the same. No matter which shopping center you go to in Australia, there's not much difference between them and you can usually find the same brands of clothes and shoe stores in any one of them. Which means that when I go to The Village Markets, I find things that I can't get anywhere else, so I go there to shop for myself of course, and I also try looking for presents for friends. From here, I'll let the photos tell the story.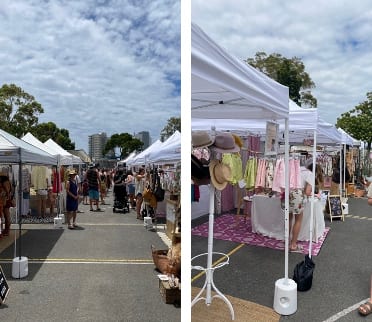 The markets are held in an outdoor area. There are about 50 to 60 stalls each time.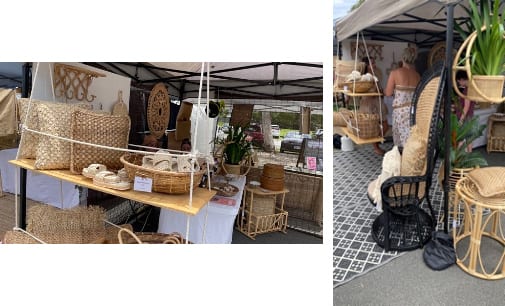 Stylish goods made of natural materials. Some stallholders design their own goods, and others buy them from Bali and other places to sell.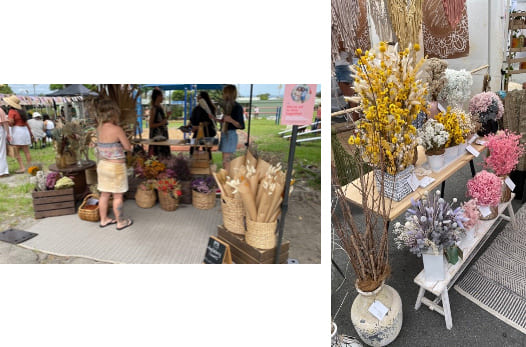 Dried bush flowers are popular in Australia now.
Pressed flower art. I found these at a newly opened stall.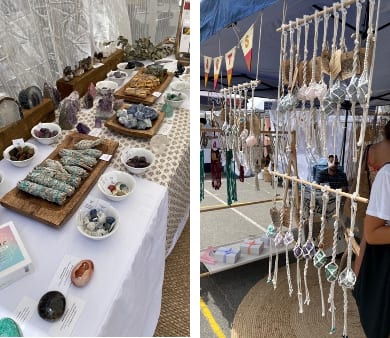 You often see crystals and other natural stones, artworks made from them, and sage incense these days.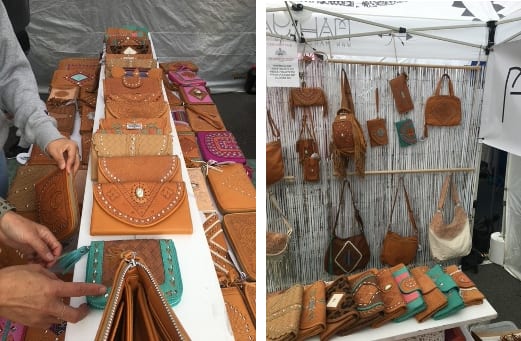 Leather goods by Australian brand Mahiya. These are popular in Japan too.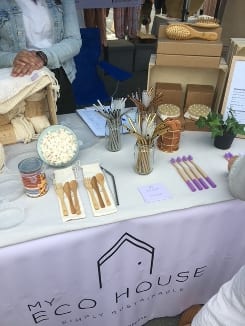 Forks, straws, toothbrushes, and so on made with wood or stainless steel rather than plastic.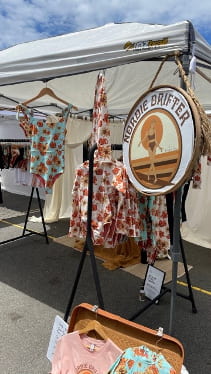 Some fashionable and cute children's swimwear!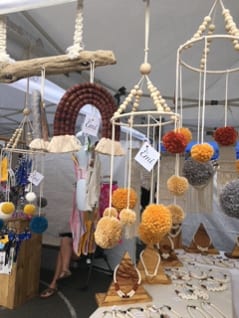 Here too are some non-plastic goods and accessories. They use driftwood so the individuality of each item shines through.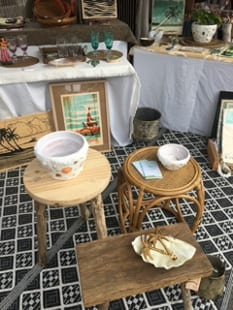 Some people sell antique furniture and assorted goods.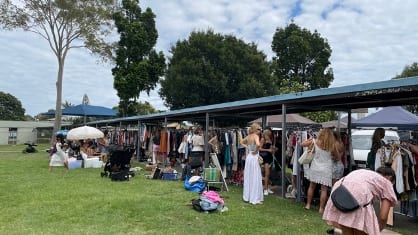 They sell used clothes at one end of the main stall area. There are lots of racks of mainly women's clothes being sold by the owners who have stopped wearing them. There are no fitting rooms, so people just try the clothes on outdoors without any worries, which is also quite Australian. You can get quite a few bargains here, so I have a look at these racks first when I arrive.
I couldn't take enough photos so there are a lot of other stalls I'd like to tell you about but recently most of the things have suited eco-friendly and natural beach tastes or bohemian tastes. Personally, I like writing about things like this, so I'd like to write some more blog posts like it in future.