I work in administration at an Australian construction company. Although it is called a construction company, it is a small subcontracting company, and I had been working from home even before the spread of COVID-19. Nowadays we use email and phone to do our job, and I use special cloud-based accounting software to calculate the employees' salaries and manage invoices from business partners, so, as long as I have a Wi-Fi connection, I can work anywhere without going to the office.
There are several mainstream cloud-based accounting software packages in Australia. The three major ones are MYOB, Xero, and QuickBooks (Reckon). There are other new accounting software packages available these days, but most small and medium-sized businesses use one of these three major software packages, so once you learn how to use them, you can start using them straight away even if you change jobs, so it's convenient for employers and employees because of the time savings. To indicate how mainstream they are, when I was doing an online course for an Australian bookkeeping and accounting qualification, there were classes where I studied how to use MYOB and Xero. I actually did tests using those two software packages, which shows just how mainstream they are in Australia. They are so widely used that job advertisements often name specific software packages in the job description, for example "Preference given to MYOB users" or "We use Xero," and if someone you know has an administration job, you may even have conversations where you ask things like "Do you use MYOB?" or "Which do you prefer, MYOB or Xero?" One of the reasons why they have become so widely used by most small and medium-sized businesses is that they are simple, uncomplicated, and easy to use. They are designed to be easy to understand even for small family-run companies where the people have no accounting expertise or are new to accounting software. And because the software is cloud-based, even if your computer breaks down or you buy a new one, you can use it right away by simply reinstalling the software, and with these accounting software packages, you can easily manage all sorts of accounting jobs, including daily sales and expenses of course, as well as payroll, employees' personal information, paid leave balances, inventory, invoicing, and financial reports from anywhere in the world with just a computer and a Wi-Fi connection. You don't have to fill out any accounting books or create reports in Excel. Plus, the accountants contracted by the company can also access it, so you can file tax returns without any hitches. The company I work for used to use MYOB but switched to Xero a few years ago. If I had to say which is better, well, there are advantages and disadvantages to both, and the monthly fees are not that different, so I couldn't say without qualification which is better, although MYOB had a customer service call center, which was handy, and Xero does not have a call center, so if I have a question or a problem using it, I have to contact them by email so I can't solve the problem there and then, which is a drawback. Both software packages have demonstration websites, so you try them out whenever you like and get some hands-on experience of how to use them. And because these software packages are mainstream in Australia, lots of people put videos on YouTube explaining how to use them, so I watch them for help and tips. Because my company switched from MYOB to Xero, I have used both, which meant that assignments went well when I was getting my qualification, and I am happy about that. If you are in an administration job or want to get a job in the future, mastering these three major software packages may help things go smoothly for you.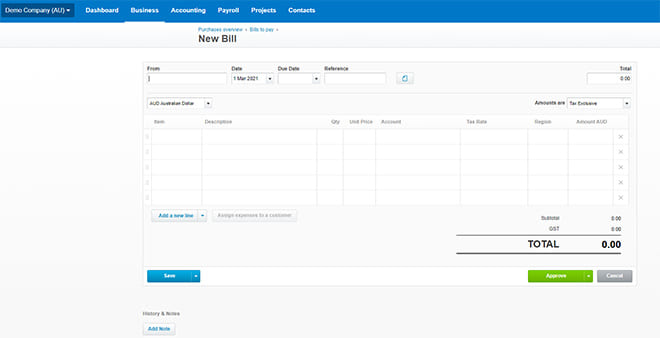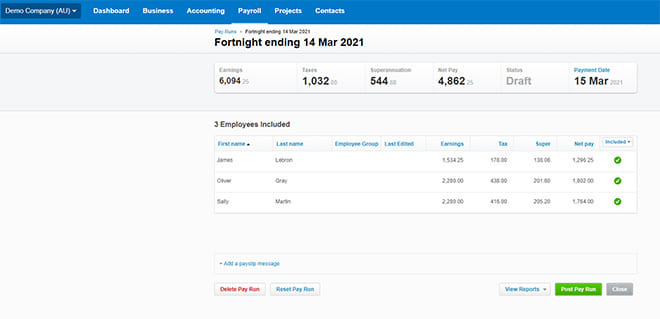 Photo: A screenshot from the Xero demonstration website. You can actually enter details and create invoices, pay slips, etc. on the demonstration website.
*This is a demonstration website, so the names etc. displayed are not real.