There are five public hospitals on the Gold Coast. I've talked before about how medical care works in Australia, but if you go to a public hospital to see a doctor, you'll need a referral letter from your General Practitioner (GP), unless it's an emergency. Also, because these hospitals are public, there is no charge for medical examinations or surgeries for Australian citizens and permanent residents, but you will have to wait quite a long time for your examination or surgery if it's not an emergency. Even in emergency wards, patients have to wait in the order of the emergency, and it's quite usual to wait in the waiting room for five to six hours if you don't have a life-threatening condition that needs emergency treatment. That's why a lot of people in Australia take out health insurance voluntarily and go to a private hospital where they can be seen immediately. Although public hospitals are free, you just have to wait a while.
I recently had to visit the Gold Coast University Hospital, the largest public hospital on the Gold Coast, so I'd like to tell you about this one.
Construction work began in 2008 and was completed in 2013. It's next to Griffith University and cost $1.8 billion (about 153 billion Japanese yen) to build. It's a huge hospital on a site of 170,000 square meters. The rooftop of the nine-story main building even has space for emergency helicopters to land. It's located in the northern part of the Gold Coast, a bit far from the central area, but it's one streetcar ride away from Surfers Paradise, the center of the Gold Coast, and the hospital is right in front of the streetcar station, which is convenient. The hospital has various departments and is also a teaching hospital for medical students of Griffith and Bond Universities. And the emergency ward here is the busiest on the Gold Coast.
You have to check in for COVID-19 at the hospital entrance using a QR code. You also use the hand sanitizer gel provided before you enter. If you don't check in or you try to enter without using the gel, the staff will stop you. There's also a lovely little shop selling flowers and various merchandise when you get inside, and there's also a large food court, like a food court in a shopping center. There's a terrace at the back of the food court too and when you go down the stairs you will find a courtyard with rows of benches. At lunch time, the staff also come to the food court to buy lunch or they sit down in the courtyard and eat the lunch they've brought from home.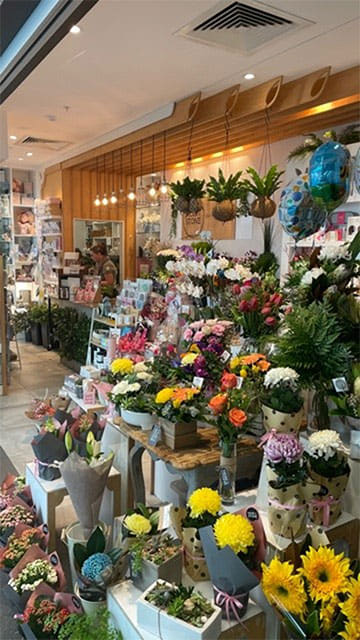 The stylish flower shop, which you wouldn't expect to find in a hospital.
About 70% of the patient rooms in this hospital are private rooms. The rooms are clean with large windows and a spacious bathroom with a shower. With such lovely private rooms, it is amazing that admission is free.
Now, when it comes to the sorts of meals you get if you are hospitalized overseas…
Here are meals served in the hospital in the morning and the evening.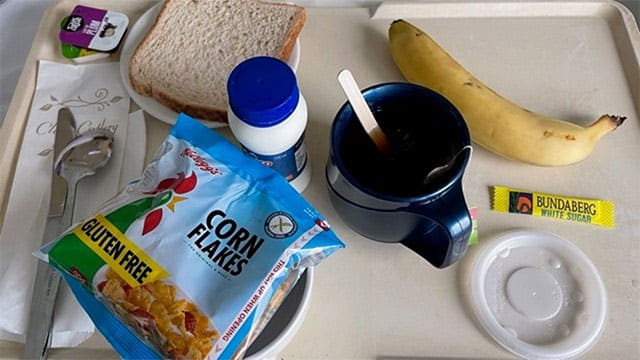 Breakfast menu: Cereal, milk, bread, banana, and tea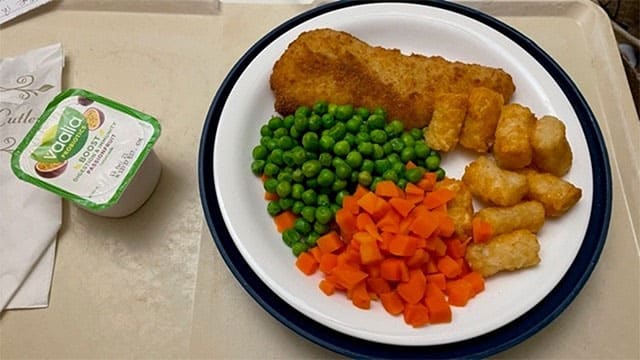 Evening menu: Chicken Parmigiana (breaded and fried, like chicken cutlet), hashed potatoes (fried potato), green peas (frozen), cut and boiled carrots, and yogurt.
As you would expect in Australia, the menu may vary depending on your medical condition, but I wondered if it was for sick people. The chicken and potatoes make it a very Western menu, but the chicken doesn't have any sauce on it and there is no seasoning with the boiled vegetables.
While it is great for those of us who use public hospitals that they are well-equipped, the slow response time in the emergency wards of Queensland's public hospitals has been a longstanding problem. There may be a shortage of doctors, but I hope that there will be more good doctors in the future, and that the hospitals will be able to take care of patients more quickly.