Australia is a car-oriented country. The most popular car models probably differ slightly depending on the city or region, but in this article, I'd like to tell you about the car models that are popular on the Gold Coast, where I live.
Like Japan, you drive on the left-hand side of the road in Australia and the cars are right-hand drive.
Foreign luxury cars like Mercedes Benz, BMW, and Audi are popular in Australia, but Japanese brand cars are just as popular. You often see Toyotas, Nissans, Mazdas, Hondas, Mitsubishis, Isuzus and Subarus, and I think that of those brands, Toyota and Mazda are the most popular on the Gold Coast. What you don't see much of is Suzukis, and then there's Daihatsus, which you hardly ever see, and if you do see one, it has probably been imported privately from Japan. Japanese lightweight cars aren't available in Australia, which is probably why there are so few Daihatsus and Suzukis.
Australia actually has its own Australian brand called Holden, which has a long 164-year history, but sadly they decided to stop making Holdens by the end of 2021. There might be a premium on Holden cars in the future.
Korean brands like Kia and Hyundai are also popular, and for a number of years now, Chinese-brand cars have been gradually showing up on the streets.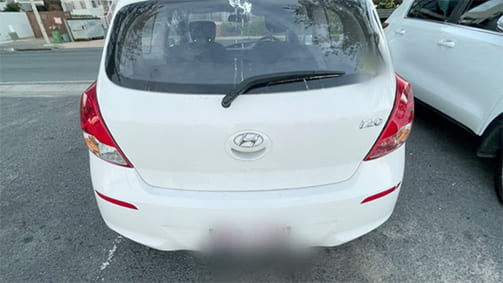 This is the "H" logo of Korean brand Hyundai.
In Japan, people like mini cars more because the roads are relatively narrow and their fuel efficiency is good, but four-wheel drive cars (4WDs) are extremely popular in Australia. 4WDs are handy to have in Australia, especially on the Gold Coast, because the roads are wide, people like the outdoors, you can drive them on the beach or roads in the forest, and they are also suitable for families. Plus, I think Australians don't consider fuel efficiency much, and they tend to put greater importance on the design and the size of the car.
It's no exaggeration to say that about half the cars parked in shopping center parking lots are 4WDs.
The Gold Coast has a particularly high number of people who work in construction, like carpenters, electricians, plumbers, and construction site workers, compared to office workers in suits, so vans and 4WD utes (4WD utility, which is a 4WD with a flat tray on the back for transporting things) are quite common on the streets. People use them for work of course, but it seems the 4WD ute design has always been popular, and they are popular even for non-work use. You can get 4WD utes made by Mitsubishi and Isuzu and they are popular, but the reason you hardly ever see 4WD utes in Japan is probably because they are made to Australian specifications.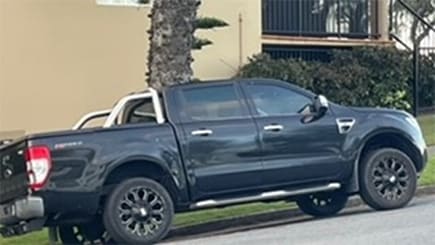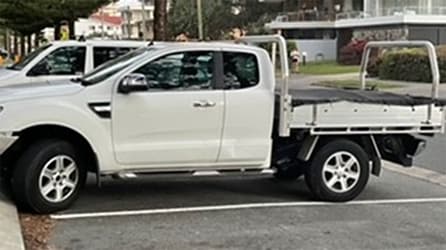 These are 4WD utes. Various manufacturers offer cars with these specifications.
Toyota's Hilux and Hiace are the most popular models. These two models stand out from the crowd and even second-hand they fetch relatively high prices, perhaps because they symbolize status to Australian men. My family also bought a Hiace last year, and I once found a piece of paper under a windscreen wiper with the message, "Feel like selling your car? Call me if you like. My number is..." We didn't buy our Hiace new, but there aren't many of them on the used car market, so if you have one in good condition, you could sell it easily.
Incidentally, a new Hiace costs around $52,000 (about 4.42 million Japanese yen) for an LWB Crew Van, but prices depend on the exact model.
A new 2021 Hilux 4x4 SR5 Double-Cab Pick-up (5-seater with a cargo tray in the back) costs around $65,000 (about 5.22 million Japanese yen), which is more expensive than Japanese cars sold in Japan because Japanese cars are considered foreign cars in Australia.
Following on from this article about the popularity of 4WD utes, next time I will talk about sedans and compact cars.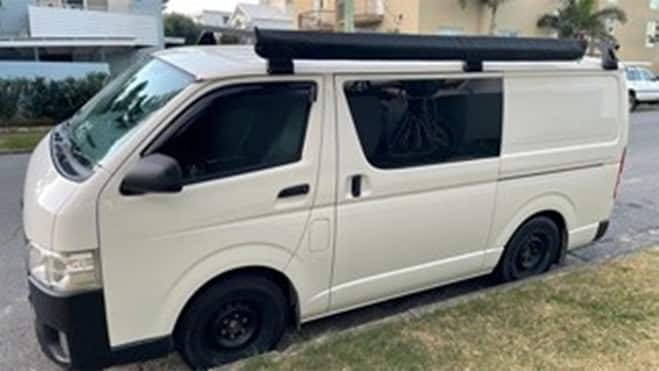 My family's Hiace. I get a lot of compliments from men (LOL)