Cotton On is a well-known Australian apparel brand, something like Japan's UNIQLO, and offers basic as well as fashion apparel items at affordable prices. In a previous article, I wrote about Cotton On Kids, a shop specializing in children's clothing, but this time I would like to tell you about Cotton On Body, which sells underwear, loungewear, and fitness wear for women.
Gyms, fitness, yoga, and Pilates became popular in Australia a little before Japan. Now there are fitness gyms and yoga and Pilates studios all over Australia. It's no exaggeration to say that the sight of a young Aussie walking around town in fitness wear and flip flops or sneakers with a cup of coffee in one hand is a typically Gold Coast sight.
There are a number of fitness wear brands that are popular among Aussie girls, and Cotton On Body is one of them. In the past, they mainly sold loungewear and underwear, but in the last few years they have started offering fitness wear and swimwear. Recently they brought out underwear made from organic cotton, and maternity fitness wear and loungewear. Their prices are lower than other popular fitness wear brands, for example, leggings that cost about $80 each at other popular shops are about $30 to $40 (about 2,550 to 3,400 yen) at Cotton On Body, which is less than half price. They keep their designs, colors, and prints up with the trends, and they develop products rapidly, putting out lots of designs each season.
Their underwear includes all-lace items, panties cut so there are no seams showing on your bottom, Brazilian panties, as well as the currently popular high-waisted panties, high-leg panties, and other really appealing, fashionable underwear. When I go back to Japan, I look forward to shopping for clothes and bags, but the underwear and swimsuits are much nicer in Australia, so on the contrary, when a Japanese friend comes here, I recommend the underwear and swimsuits because the prices are good and they are really lovely.
Cotton On seems to be expanding into Asian countries, including Malaysia and Singapore, but not Japan yet. It is a large chain store company with shops in every major urban shopping center in Australia, so when the borders reopen and you can travel to Australia, check out the Cotton On shops!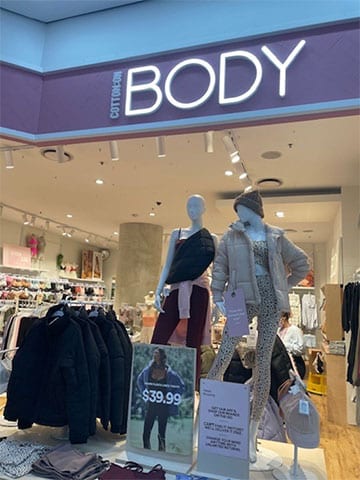 This is a shop in Surfers Paradise, a famous tourist destination.
Every season they have a five-panties-for-$35 (about 2,970 yen) sale. The panties in the photo only have seams on either side, so they don't show up through your clothes.
Although you can't see them in this photo, they have lots of other types.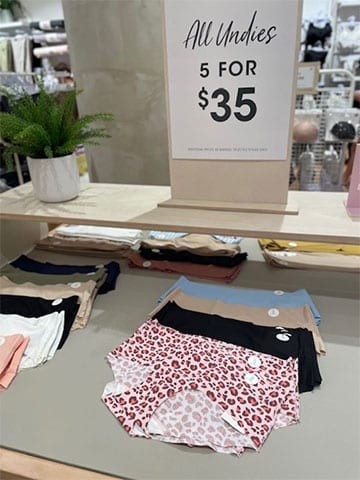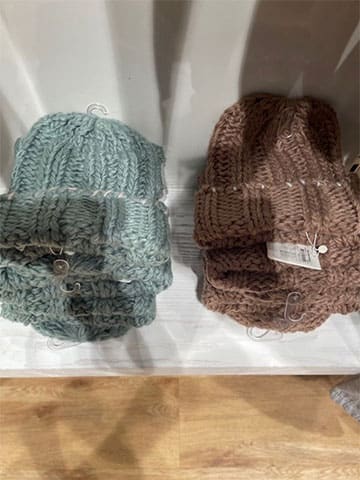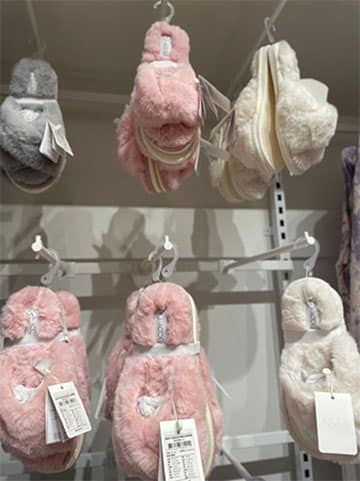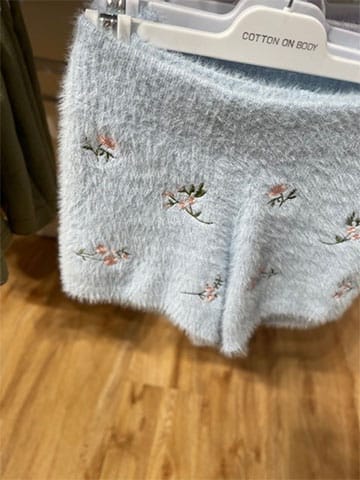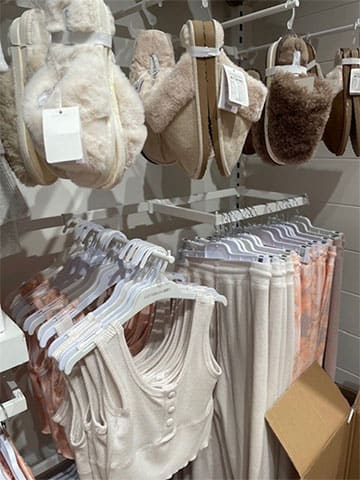 It's winter in Australia, so they have fur slippers and loungewear made of furry material.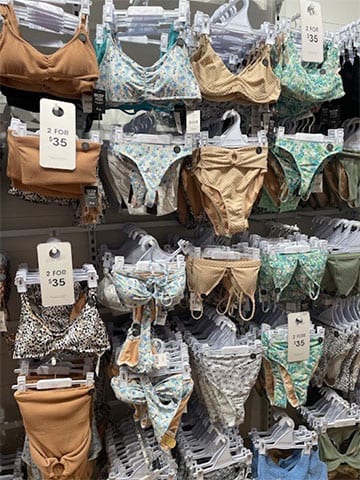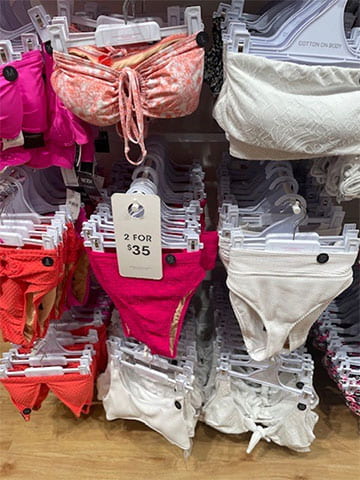 That's the Gold Coast for you, swimwear available even in winter.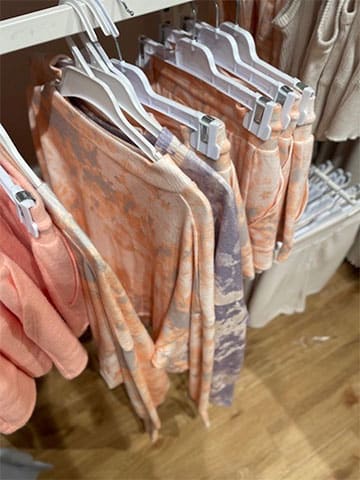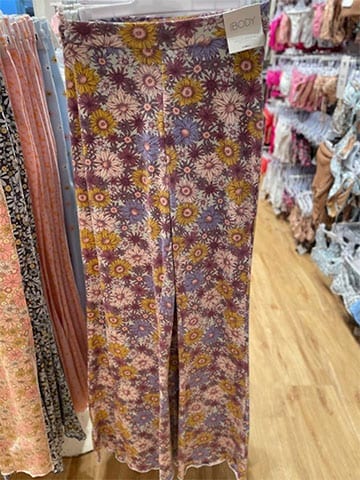 The loungewear is also really appealing. These floral trousers also have a matching top.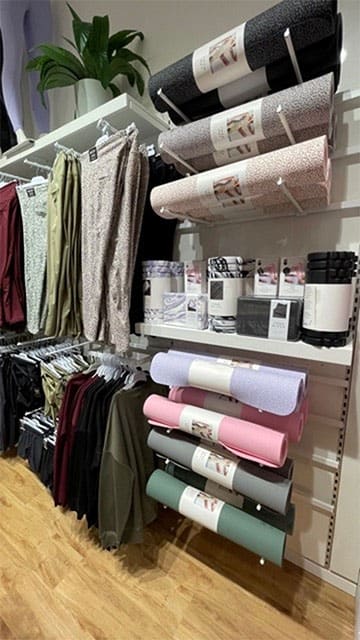 Plus they have yoga mats and yoga blocks.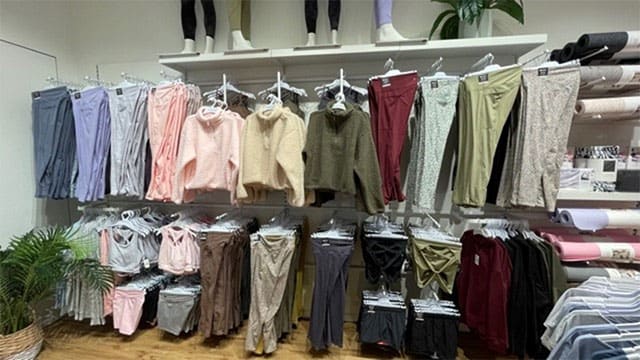 Some fitness wear pants and tops can be worn as a set. They're a little difficult to see in the photo, but they have items with leopard patterns, animal patterns, and flower patterns. The colors are subdued, so they're not too flashy and look really lovely!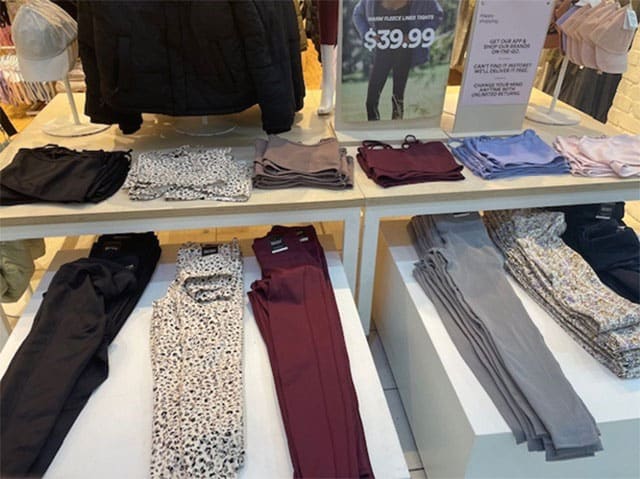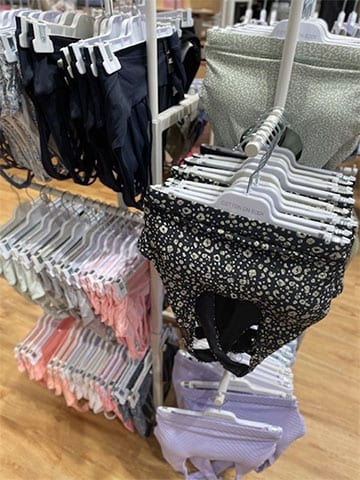 Most of the fitness wear tops are properly padded.
When I got home and looked at my photos again, I found that none of the photos at all show how lovely the clothes are.
So, I hope I can write about these clothes again sometime, after the season changes!