With fewer than two or three cases of COVID-19 this year, the situation has been good on the Gold Coast, which has been experiencing fewer cases and less strict restrictions to prevent the spread than other states, but the spread of the Delta variant has now triggered a lockdown.
Something amazing about lockdowns in Australia, or should I say, one of their features, is that the authorities take measures quite rapidly, announcing them on the day and implementing them that day, so a lockdown will be announced in the morning news, and it will start at 4 pm that afternoon. It happens so fast that you could miss an update on restrictions if you don't listen to the news every day, or even every hour.
For this lockdown, they were saying on the news that everyone who is out and about or out enjoying themselves away from home must get back home by 4 pm, no matter where they might be.
Lockdown restrictions are at times stricter and at times less strict, depending on the number of COVID-19 cases and the situation at the time, but this lockdown had the strictest of the restrictions implemented on the Gold Coast.
You are allowed to leave home to do essential shopping such as groceries and pharmaceuticals (when shopping, you can go with up to one other person who is not a member of the same household), to do exercise (within 10 km of home, and not with anyone who is not from the same household), to have a COVID-19 test, to get vaccinated, or to visit someone who needs care or support. You are not allowed to invite anyone to your home, weddings and funerals are limited to ten people, and you are not allowed to visit people in nursing homes or hospitals. Schools are closed, but you are permitted to go to school if your parents are essential workers. The restrictions allow restaurants and so on to only provide take-out and delivery services. To be precise, there is more fine detail to the restrictions, which are listed on the Queensland State Government website.
I live right in front of the beach, so I usually hear a bit of the sound of the cars of people coming to the beach to surf or enjoy themselves, but on Sunday morning at 5 in the morning, the day after the lockdown started, the sound of those cars was missing. It was the quietest morning since I moved here a little less than 10 years ago. While I was very impressed that everyone was sticking properly to the rules and staying at home, despite the nice weather, there were people walking around as usual at the beach at Surfers Paradise, the central area of the Gold Coast. Because exercise is permitted, there were a few people just sitting on the beach relaxing, saying that they were exercising. And there were long queues at cafes to get coffee.
This lockdown restricts exercise to within a 10 km of home and allows cafes and restaurants to provide takeaway service, so perhaps people have taken a relaxed approach to the regulations. Walking, even if it is outside the house, equates to doing exercise, and the Gold Coast is full of cafes, and lots of people go out to get a coffee first thing in the morning.
I wonder if this is because there would be a lot of complaints if the authorities took away walking and coffee from Aussies. The restrictions seem strict, but given that they are allowing walking and coffee, they are surprisingly not that strict, and it seems somehow inconsistent that funerals are limited to ten people but it's OK to have a crowd of 20 or 30 people buying coffee.
I am not one of the people who think the lockdown restrictions being implemented in Australia should be stricter. But, if one person starts thinking it's OK to just go ahead and sit down for a while on the beach or gather in a group in front of a café, then the people who see that will do the same and I wonder how things will turn out if there are people who carefully stick to the rules, but they give in to that sort of thing. What do you think about lockdown measures?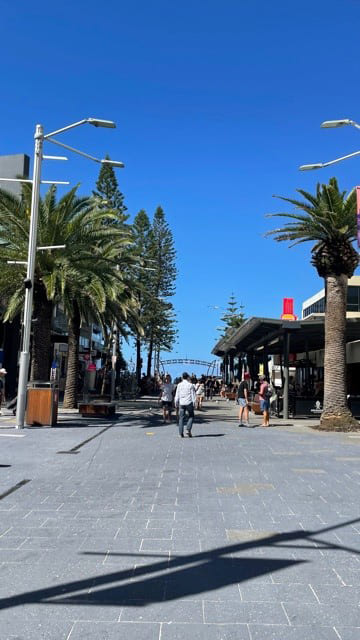 The Gold Coast's tourist spot, Surfers Paradise. This is not a scene from a lockdown.