In this article, I would like to tell you about lotteries in Australia. I'm not familiar with the latest about the lotteries in Japan (LOTO), so the lotteries here in Australia might be very similar to the Japanese system and not particularly worth mentioning, but one of the differences to the lotteries in Japan would be the size of the winnings.
There is a mega jackpot lottery in Australia, which is available from time to time and pays out jackpots of 50 million or 80 million Australian dollars (about 6.8 billion Japanese yen), etc. In 2019, there was a draw with prize money of 150 million Australian dollars (about 12.8 billion Japanese yen), the highest amount ever. Originally the prize money for this lottery was $100 million, but because no one won the jackpot, the prize money increased to $150 million, and in the end three winners each took $50 million of the winnings.
In 2019, a woman from Sydney won $107 million (about 9 billion Japanese yen), the highest prize money per winner ever. She was a medical professional and said in an interview after winning the lottery that she would prefer to keep on working, but I wonder what happened afterwards…
In Australia you can buy lotto tickets at newsagents (shops that sell newspapers and magazines) or online.
There are various types of lotteries, such as the Saturday Gold Lotto and the Monday & Wednesday Gold Lotto, which have draws on Saturdays, Mondays, and Wednesdays; the OZ ("Aussie") Lotto; the Powerball lottery, which has the mega jackpots I mentioned; and even the Set for Life lottery, which pays out a monthly prize of $20,000 (about 1.7 million Japanese yen) for 20 years. Each lottery ticket costs between $9.95 (about 845 Japanese yen) and about 5,000 Japanese yen. There are also "syndicates," where you buy a few tickets in a group to increase your chances of winning. When you buy a ticket, you can either choose the numbers yourself, or you can let the system automatically choose the numbers for you.
You can check the Lotto results on the Lotto website or you can take your ticket to a newsagent where they will put the ticket through a machine and tell you the results straight away. You can ask any newsagency to check your ticket, even if it's not the one where you bought your ticket, you just must hand them the ticket. They have a sort of computer screen that shows the results on the customer's side too, but some newsagents don't have them, so all they do is tell you whether you won or not, and that's it. If you want to take any unsuccessful ticket home, you ask them to give it back, or if you want them to dispose of the ticket, you just don't ask for it back and they will throw it out for you. If you win, you can get your winnings in cash right then and there, as long as the amount is not too high. As well as Lotto tickets, newsagents also sell scratchcards.
I actually have a Lotto account with a subscription for the weekly Saturday Lotto, but I haven't won the mega jackpot yet (LOL). The highest amount I've won so far is $50 (about 4,250 Japanese yen), which is quite modest, but you've got to be in it to win it, so I'll just keep plugging away.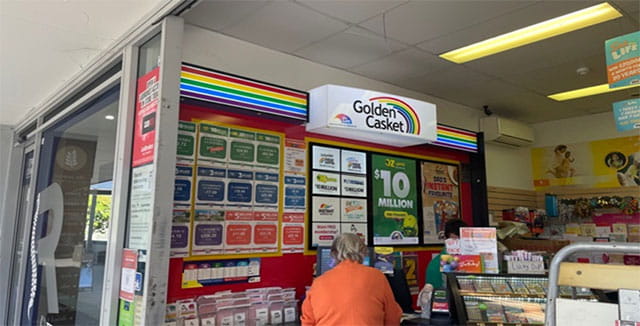 The Lotto counter at a newsagent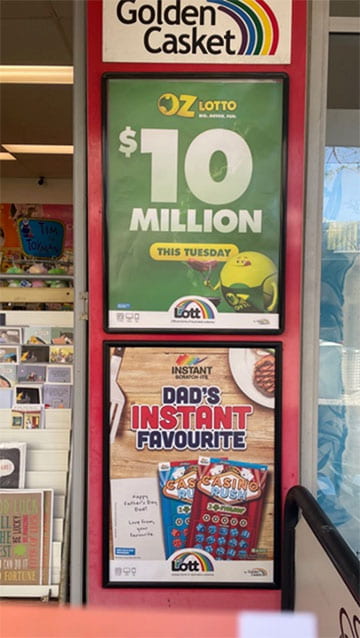 An advertisement for this Tuesday's OZ Lotto showing prize money of $10 million (850 million yen).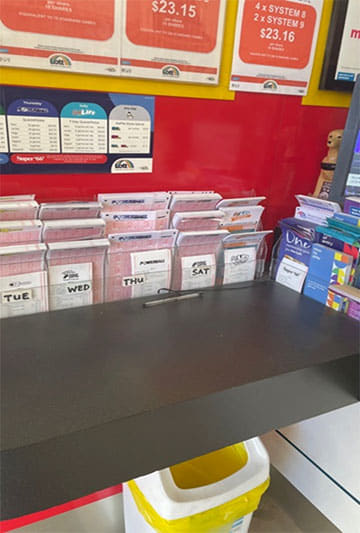 They have forms for you to choose your own numbers.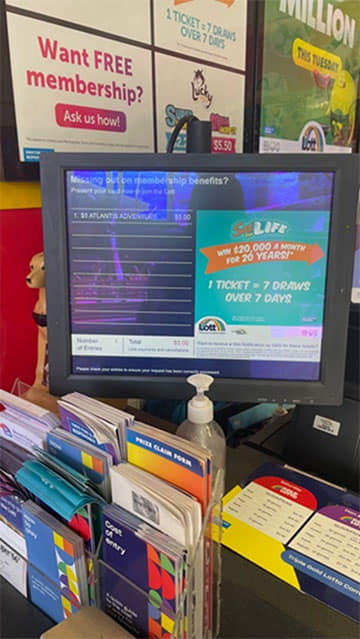 Lotto results are displayed on this screen.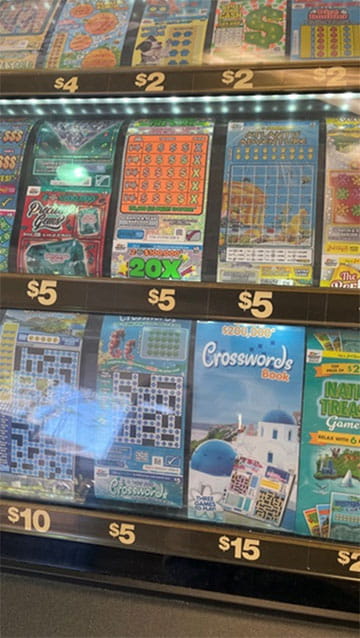 They also sell a variety of scratchcards.
By the way, when people give a birthday card or a gift in Australia, they sometimes put a scratchcard in with the card.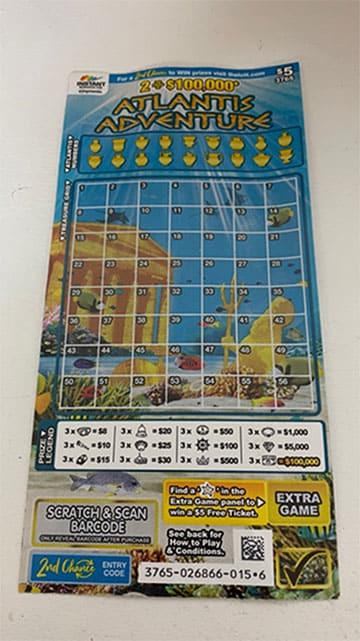 I bought my first scratchie in a while.
I just bought it without looking at it too carefully, but there are quite a lot of squares to scratch, so I'll try doing it in my spare time (LOL).