Until a while ago, there used to be no such thing in Australia as variety stores that sell appealing and stylish stationery and craft goods.
If there were any such thing, they would only have been the ones selling plain stationery for office use or discount stores, or the sections inside Kmart, Target, or a supermarket.
Stationery in Australia has always lagged behind the stationery in Japan, it's more expensive, and just about no one uses mechanical pencils. They are available, but most people use ordinary pencils. Plus, the pencils are plain, like the ones in Japan from long ago.
In Japan, you can get stationery with cute characters that are incredibly appealing to both children and adults, but there's not much choice when it comes to children's stationery here, so anyone going to Japan might be surprised at the variety and quality.
But recently, more and more chain stores have finally been opening, like Smiggle, which is popular among girls for its fashionable stationery and miscellaneous merchandise.
In this article, I'd like to tell you about Kaisercraft, a variety store brand that originated in Melbourne.
A number of years back I saw a new Kaisercraft store on the Gold Coast, so I thought it was a new brand, but it is actually a fairly old brand that was established 20 years ago.
At first the main products it had were paints, canvases, and supplies for handmade crafts, but as the years have passed, the store has changed its style, and it now sells all sorts of things apart from stationery and craft products, like bags and socks for children, baby clothes, mugs, and makeup pouches, which makes it a handy place to get a small gift.
So, I'll tell you some more about Kaisercraft through these photos.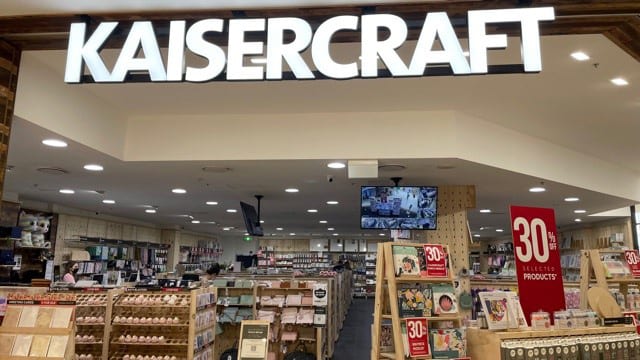 The front of a store. Something that stands out in the store is the wooden shelving.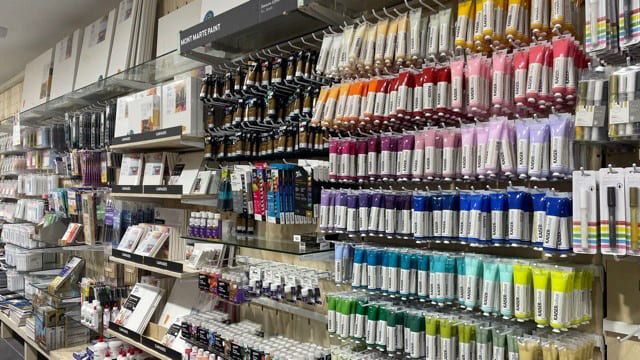 At first, they mainly had paints and canvases like these.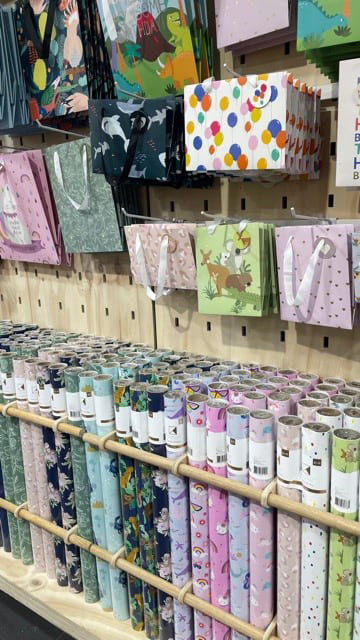 They don't have wrapping services in stores in Australia, so you have to buy the wrapping paper, ribbons, and bags and wrap gifts yourself.
If you buy wrapping paper for 200 to 300 yen, a paper bag for 300 to 400 yen, and ribbons, it gets expensive doesn't it.
The beautiful wrapping service you get for free in Japan makes things really nice and convenient.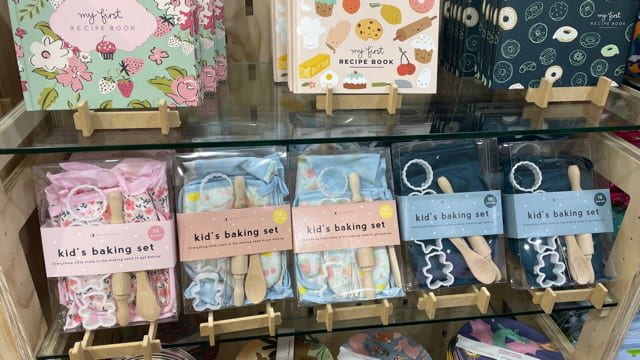 I found these children's baking sets, which include a small apron, kitchen mittens, cookie cutters, and so on.
By the way, they cost $22.99 (about 1,950 yen).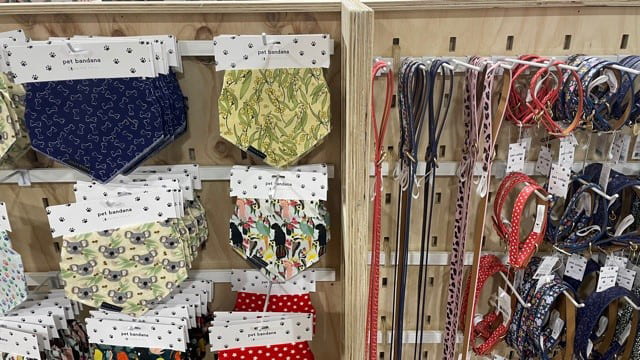 These are bandanas, collars, and leads for dogs. It's hard to see from the photo, but there is a wide variety of collars, and it looks as though the designs change with the seasons.
The collars are $9.99 (about 850 yen), but I don't have a dog, so I don't know if that's expensive or cheap (awkward laugh).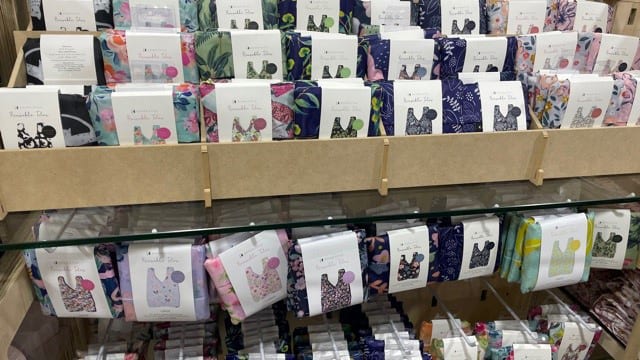 These are foldable reusable bags. They might make good gifts.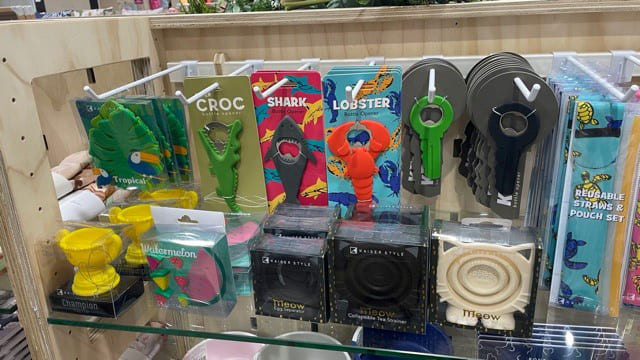 Crocodile-, lobster-, and shark-shaped bottle openers, and to the right, straw sets, which include a reusable straw, a small brush to clean the straw, and a pouch. They have started phasing out plastic straws, so more and more people are switching to paper straws or carrying their own.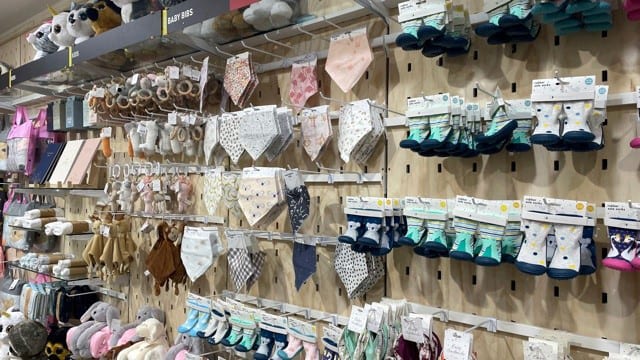 They also have bibs, socks, and toys for babies.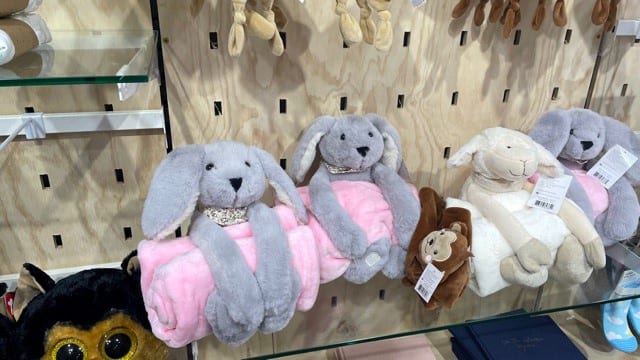 These stuffed toys holding blankets are adorable!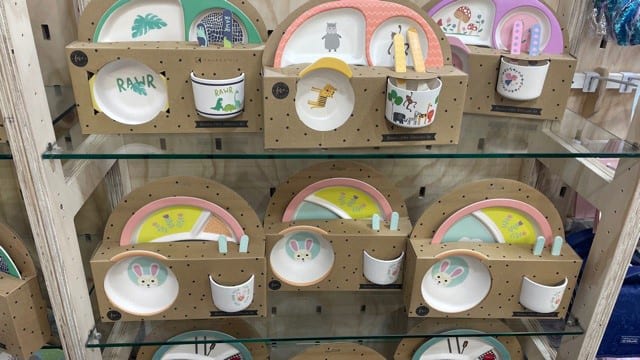 Tableware made from bamboo, a biodegradable material. You don't have to worry about the harmful chemicals that plastics give off. They have lots of things made of biodegradable materials that can be returned to nature.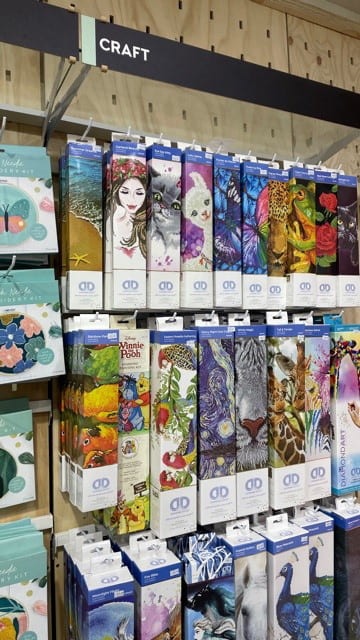 These are Diamond Dotz, photo-like art works that you complete by putting small chips like diamonds in place. I guess you could say it's a kind of craft something like puzzles and something like embroidery.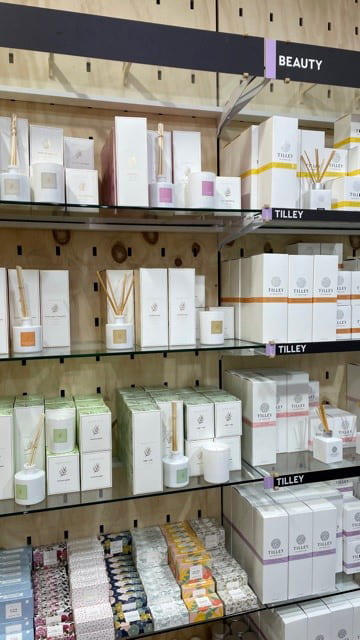 There were also room diffusers and individually wrapped soaps in stylish designs.
Although they're not in the photos, the stores have many other goods, like stylish coloring books for adults, calendars, diaries, bookmarks, key chains, necklaces, pouches, and a lot more.
And there seem to be a lot more things available on the Kaisercraft website than in the stores.
There are a lot of products with koala or kangaroo designs, so they might make good souvenirs from Australia.
Here's the website, so take a look if you like!
https://www.kaisercraft.com.au/
https://www.kaisercraft.com.au/