The mango season has arrived in Australia, along with the arrival of summer and the busy Christmas season. The best time to eat mangoes is from November to January. The mangoes you find in the local supermarkets are many and varied, for example, Calypso Mango, Kensington Pride, Honey Gold, R2E2, and KP.
Most of the mangoes sold in Japanese supermarkets are from Thailand or Mexico, with probably only a few from Australia. You can buy mangoes online, but unfortunately the prices seem slightly high.
This is how they are sold at a local supermarket. You can get one mango for about 100 to 150 yen.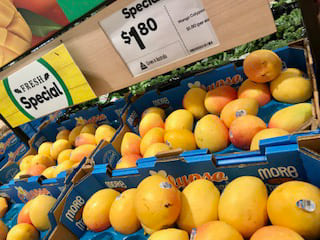 I prefer slightly firm mangoes and I cut them up and eat them without adding anything.
A firm mango is still soft and juicy, and really is the king of fruits.
They're great in smoothies and salads too, and sometimes people in Australia barbecue mangoes for a dessert or sauce. Barbecuing adds a savory grilled flavor to the fresh mango, which makes them a little bit sweeter and more delicious.
People in Australia are in the habit of eating fruit regularly. They prepare fruit platters for home parties, and at supermarkets they even have free fruit for children. I think Aussies eating fruit often, for breakfast or as a snack, may be a key to their good health.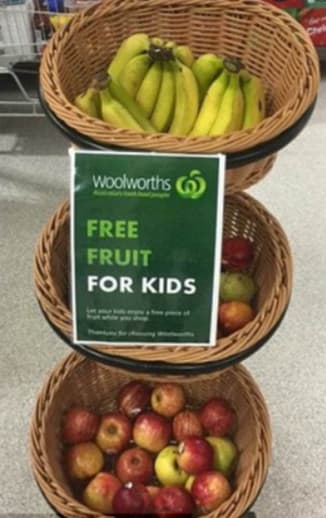 Fruit at a supermarket, freely available for children
Bananas and apples are probably the go-to fruits most people would eat. And while in Japan we put sliced apple in our children's lunch boxes, here they send their kids to school with a whole apple in their lunch box.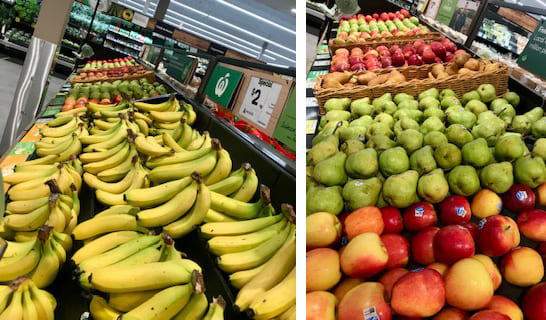 Other popular fruits include strawberries, blueberries, kiwifruits, nectarines, passionfruit, pineapples, papayas, and pears.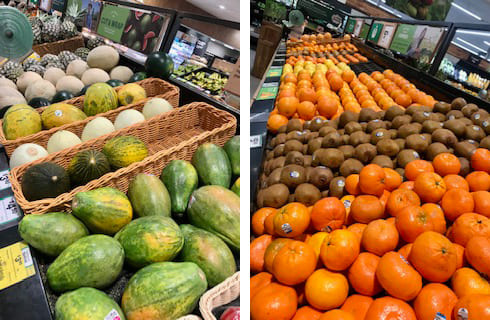 Most fruit in supermarkets is displayed like this, in bulk, and is sold by weight.
Nowadays mandarins (Japanese mikan) are available in summer too.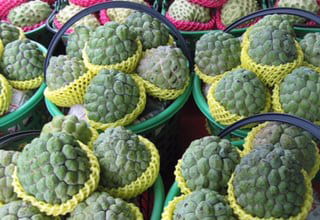 These are custard apples, a slightly unusual and especially Australian fruit. Although on the outside they're pale green and lumpy, the flesh is pure white, and they have black seeds. They have a soft, light texture, they're juicy, slightly sweet, and have a flavor that "custard" perfectly describes. Seems to me they came up with a well thought out name for this fruit. Custard apples also have lots of fiber. If you get the opportunity, you really should try this fruit.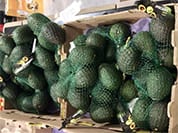 And I mustn't forget avocados. They classify avocados as fruit because the edible part is the flesh around the seed. Avocados apparently have moisturizing, skin improvement, and anti-aging properties because they contain a lot of different vitamins, minerals, and antioxidants. You can also get skin care and other products that use avocado.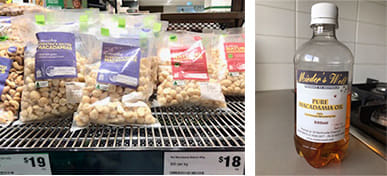 Macadamias are seeds classified as nuts, or edible "tree fruit". They grow on trees, which means that of vegetable or fruit, they are classified as fruit.
Australia is actually well known for growing macadamia nuts, and they sell chocolates with macadamia nuts inside, which are popular as souvenirs, as well as macadamias flavored with salt or wasabi for snacks.
Macadamias contain a lot of fat, even for a nut, and are used to make food oil. Over 70% of the edible portion contains fat, so it is also high in calories, but most of that fat is monounsaturated fatty acids, primarily oleic acid, which decreases bad cholesterol. Plus, the oil from macadamia nuts doesn't oxidize easily and has a composition resembling human skin oil, so this too is used in cosmetics and skin care products.
By the way, I use macadamia nut oil as a cooking oil. It smells really nice and has a clean, mild flavor, so it suits any kind of cooking.
The various fruits harvested on this vast Australian continent really are "nature's blessings," so I get to lead a healthy lifestyle enjoying different fruits through the seasons.