The Home of the Arts (HOTA) is a Gold Coast icon that used to be known as The Arts Centre Gold Coast. The buildings were refurbished and extended, and it was relaunched with the nickname, HOTA. Located in Bundall, a 5-minute drive from Surfers Paradise, HOTA hosts a variety of events, including artistic events to do with painting, film, dance, music, and so on, as well as workshops and cooking classes for children, comedy shows, and more. And on weekends they hold morning markets selling fresh fruits and vegetables on the extensive grounds.
The art gallery at HOTA was opened to the public in May 2021 and has started exhibiting works by world-famous artists.
Recently I went to a limited-period exhibition of pop masters with works by superstar pop artists like Andy Warhol, Keith Haring, and Jean-Michel Basquiat. The exhibition features artworks borrowed from the private collection of world-famous art collector Jose Mugrabi. His art holdings are estimated to be worth more than 5 billion yen and some of those works have been borrowed for the current exhibition. It is a world-first exhibition and has been attracting a lot of attention.
When you mention art and culture, you would tend to think of the metropolitan city of Melbourne, so there are probably a lot of people who thought it was unusual for the Gold Coast to be selected for the venue, being a city with beaches, theme parks, plentiful natural spaces, and rows of new high-rise buildings.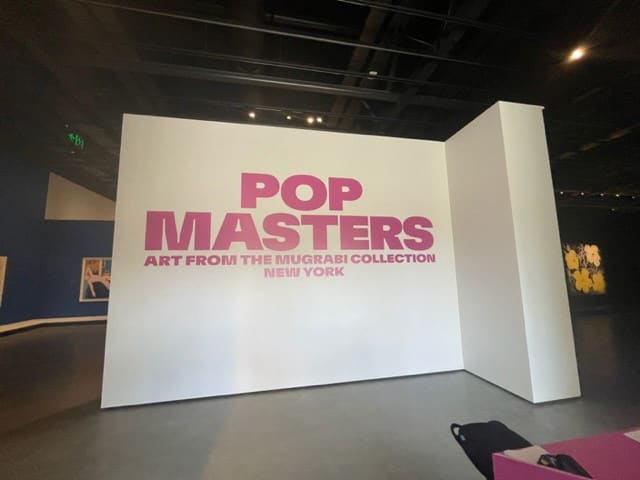 It was OK to take photos in the gallery, as long as you didn't use flash.
Just when I got to the gallery, I happened to come across a group in a tour led by a guide who was explaining the art. I stood to the side eavesdropping on the explanation, but a gallery staff member warned me that it was a paid tour, so I couldn't just tag along and listen to the guide (wry smile).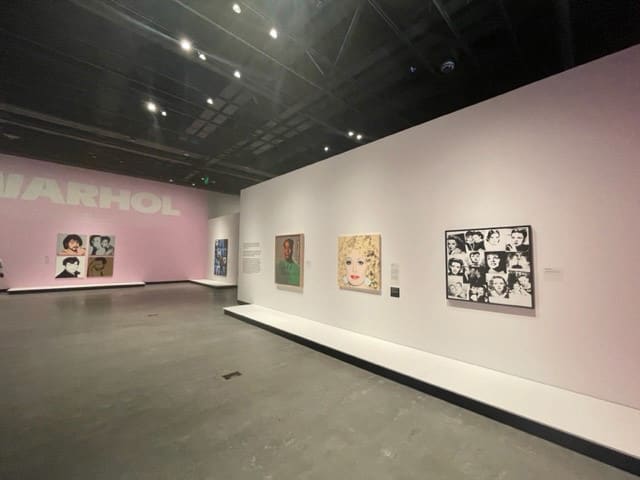 There was plenty of space between the artworks in the large gallery, which added to their sense of presence.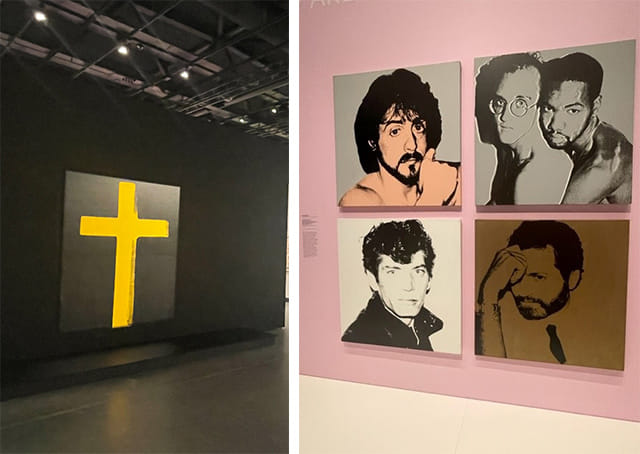 Left: A work that particularly drew me in was Cross, a 1982 work by Andy Warhol
Although it is simple, it has an incredibly strong sense of presence, there are a number of subtly differing shades of black in the background, and, to put it in very ordinary terms, I thought it was just really cool.
Right: A silk screen work by Andy Warhol
There were silk screens of John F Kennedy's wife, Jacquie Kennedy, and other famous people.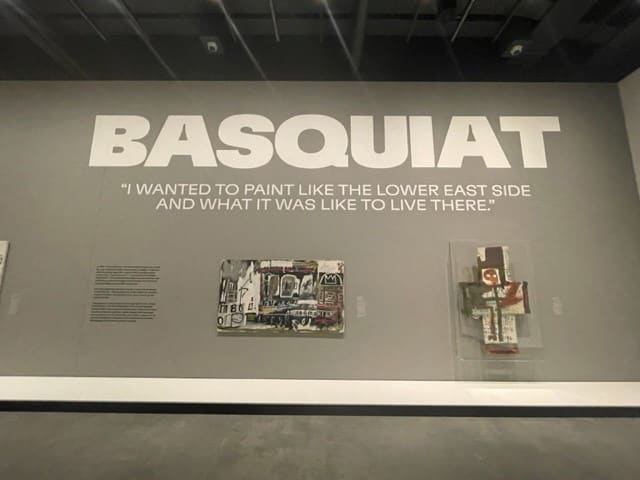 Jean-Michel Basquiat, who collaborated with Andy Warhol.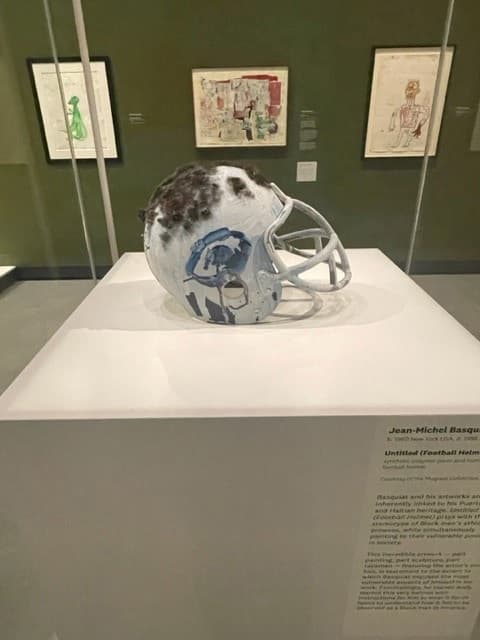 Untitled (Football Helmet), topped by what is said to be Basquiat's own hair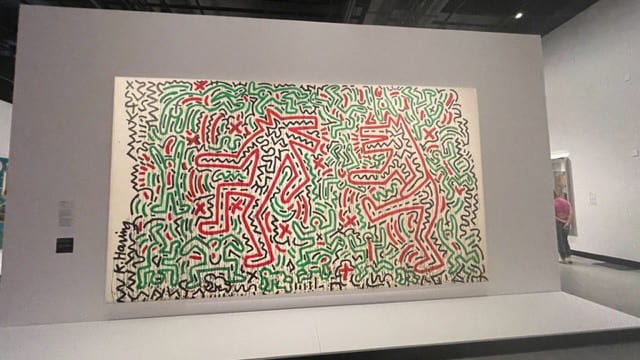 A big, powerful painting by Keith Haring
Galleries usually place an explanation next to artworks, but here below those explanations, they also had descriptions explaining the artworks in simpler terms for children. They were placed at children's height, so they could read them. This thoughtfulness was also wonderful.
There were a lot of other works I'd like to include in this article, like works by pop artists from the generation younger than these artists, but I decided not to include so many photos as it might spoil the enjoyment of anyone who can go and see the exhibition for themselves.
All the same, it was a more compact exhibition than I imagined, yet it gave me a very precious opportunity to see works that had never been exhibited before anywhere in the world, including sculpted objects and authentic silk screen works by Andy Warhol.
I came away thinking I'd like to go to more events at HOTA and its beautiful, well-appointed buildings.