Although many people here in Scotland like to consider it an independent country, Scotland is part of the United Kingdom.  Scotland is a modern and international region with two lively cosmopolitan cities, Edinburgh and Glasgow.  Scottish restaurants feature cuisines from all parts of the globe -- Indian food is especially popular -- and Scottish families are probably more likely to serve pasta or curry for supper nowadays rather than traditional Scottish food.  Although Scotch whiskey is a matter of national pride, it's not more popular than imported beers which have gained popularity in pubs throughout. In spite of these recent changes, we cannot talk about Scotland without mentioning its traditional and unique cuisine. The most typical dish is, without any doubts, the notorious Haggis.  The word does not say anything about what it is but it sounds good, right? Well, when you find out what you are about to eat you won't want it anymore: Haggis is traditionally prepared with stewed sheep's offal, cooked and served inside a sheep's stomach. Although there are many recipes of the Haggis, some of which even use deer meat, it is usually made from lamb or sheep entrails (lung, liver and heart) mixed with chopped onions, oatmeal, herbs and spices. All ingredients are mixed together and stuffed in a 'bag' made from the stomach of the animal chosen and cooked for several hours in the oven. It's a dish of humble peasant origins when the farmers tried to use every part of the animal and the motto used to be "Use everything! Do not throw anything away!" It certainly is a dish with a very intense and characteristic flavour and it's usually accompanied with mashed potatoes and beef gravy. The flavour is so particular that I cannot possibly describe it if you have never tried it so try it, if you dare! It is a tradition to consume haggis on Burns Night, which is celebrated on January 25th, when the birth of the Scottish poet Robert Burns is celebrated. At the time of the life of the poet, haggis was a very popular meal among poor people, mainly because it was cheap since it was made of leftovers, and it was very nutritious. Today not many families prepare the haggis at home because it is widely available in Scottish supermarkets, as well as in other parts of the world, and can be found at a good market price. Sometimes haggis can even be sold in cans, ready to be heated in the microwave or in the oven, making this complicated dish a sort of fast food. I was once told it should be traditionally eaten while drinking a shot of whiskey (maybe to get the courage to eat it if it's your first time!).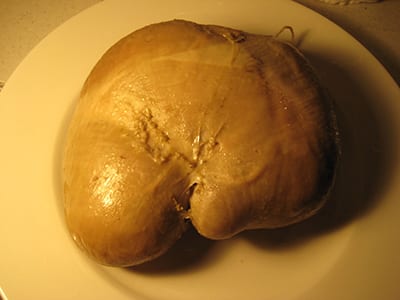 Another typical Scottish dish is Black pudding or blood sausage.  This is a sausage made of oatmeal, suet, onion and blood of sheep or pig. It is often grilled in a pan and served with a fried egg and grilled tomatoes on the side and it is perhaps one of the most appetizing and rich breakfast dishes (ideal before a walk in the cold Scottish winter).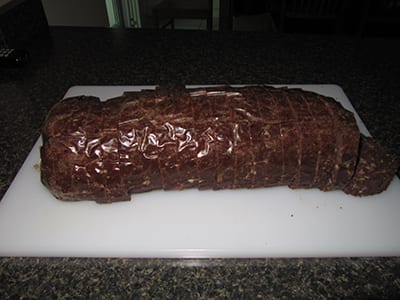 Scotch pies are also a very common dish for supper in Scotland, where they are called simply pies: they are small savoury pies stuffed with ground beef and toasted bread and their shells are usually greased with butter or lard. Historically, Scottish cuisine was based on fish from its "lochs" (lakes) and the surrounding sea.   One of the most typical dishes of Scotland that we can find in many places around Edinburgh is the so-called haddock, usually prepared fried and with chips like the traditional British fish and chips. Nordic countries are very likely to serve smoked fish and Scotland has been influenced by this custom. Long-term storage products, such as smoked fish, have been part of Scottish cuisine for a long time because they are produced to last through the long and cold winters.  Smoked fish can be stored longer than fresh and smoked salmon and smoked haddock are Scottish staples. And since seafood is one of the products of this British region, soups made with this type of food are very common in Scottish cuisine. For example, the cull skink is a soup prepared with potatoes, onions and smoked fish.  Another popular soup is made of lamb and vegetables and this one is called by locals as Scotch broth.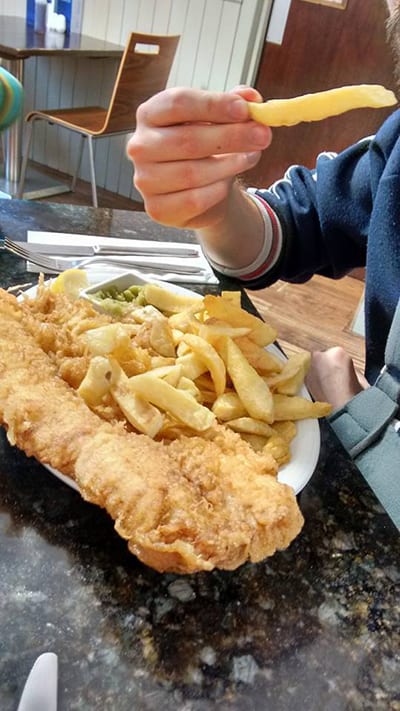 Of course we cannot close our chapter on Scottish cuisine without mentioning the sweets. Sweet lovers will find in Scotland a true paradise as this region has some delicious traditional desserts; one of the best is known as the Dundee cake, made with nuts and dried fruits, usually served with a chunk of cheese and a cup of tea, of course. The Cranachan is a sweet and fresh dessert, usually prepared in the summer, with raspberries, oatmeal, whiskey and whipped cream. Enjoy your meal!