Canadian craftsmanship is essentially based on a raw material: wood.
In the vast majority of souvenir shops, you will find various types of wooden objects. In the vast majority of cases, they are small animal sculptures, wooden representations of the symbolic maple leaf or some other souvenir that represents a staple object of the Canadian place where you are. I don't particularly like or recommend this kind of souvenir because I find it a bit kitschy, but many people like it and it still remains a nice thing to show in your house or to give as a gift, rather than a plastic Chinese-made souvenir!
However, when I talk about Canadian craftsmanship regarding wooden objects I refer to souvenirs of other kinds. It often happened to me, especially in the markets and stalls around Ottawa or in other fairly big cities, to run into artists of undoubted skill, who carve large wooden blocks making them artworks of extraordinary beauty and elegance.
Some are thin tables engraved or carved that look like wooden 'paintings': I have seen subjects of all kinds, from the classic naturalistic landscape to humorous sentences about the habits of Canadians. They are unique objects, all different from each other and are perhaps the ideal purchase to do if you are looking for something truly original, handmade and well-made.
Set aside art experts, I don't think anyone knows that in Canada you can also buy magnificent objects in hard stone: this is Inuit art.
The native Inuit populations live in the northernmost areas of the country, places which are very hostile from a climatic point of view and which offer very limited natural resources. Sculpting is one of their ways to make money and the prices can be quite high, but these objects are really original and certified of local origin.
Sometimes the Inuits also carve or engrave wooden products, mostly large objects such as furniture and musical instruments but also some of the things you can also buy in the traditional Canadian wood crafts centres. Especially if you travel to the Quebec region, take a look at the many antique shops, where you can buy antique (or rather Vintage) Inuit paintings, furniture and works of art at a good price.
Inuit art was not discovered until the middle of the 20th century. Over the centuries the Inuit had become masters in the art of sculpture on wood, stone and bones but only in the 20th century their art became tradeable and started being sold as Canadian souvenirs. Originally, the statuettes and votive creations manufactured for the native people were intended for religious customs and rites.
At the beginning of the 19th century, the native populations started to exchange them for salt and weapons.
Today, Inuit art is essentially made in steatite or 'soapstone'. The statuettes usually represent animals, but also local men of the great North (so the Inuits call their lands). The Inuit often also work with caribou wood carving, stone carving and embroidery – especially the women.
The Inuits, whose lives until a few decades ago was exactly that of 100 and 1000 years ago has now changed completely...it was a life of hunting and fishing, of families that shared everything because nothing was superfluous and everything was functional to the life of the community.
Very good craftsmen knew how to build kayaks to move by sea and sledges to move on the ice that allowed them to survive in the search for food in a land that was not very fertile. Now the Inuits have founded an organization to preserve their traditions, an artistic collective, whose name means 'thinking, or a state of concern' in their native language.
It is the first Inuit run company in Canada, established in the 90's to preserve Inuit culture and language and spread Inuit stories to different audiences throughout the world. This organization also regulates and certifies the authenticity of Inuit made souvenirs.
Closer to Alaska, another tribe, the Yupik, is also famous for their craftsmanship.
The craftsmanship of the Yupik people was particularly valuable in the 19th century because they knew how to work metal, stone and bone with great skill to build hunting weapons such as harpoons, lances and knives, but also kayaks capable of keeping the body dry even in the event of a rollover in water.
Now the majority of these people don't live in the traditional way anymore but the heirs still work bone, wood and stone to make household objects and souvenirs.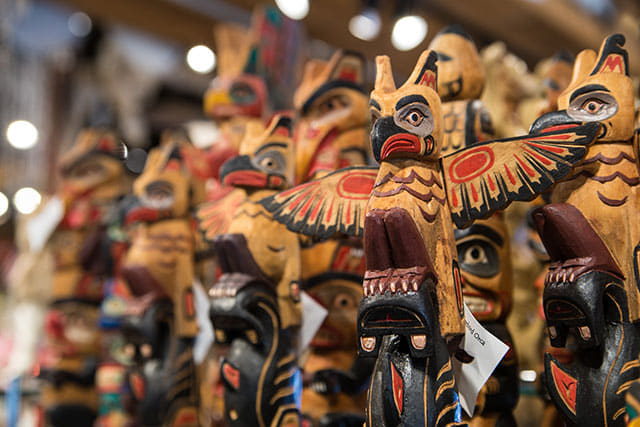 souvenirs CA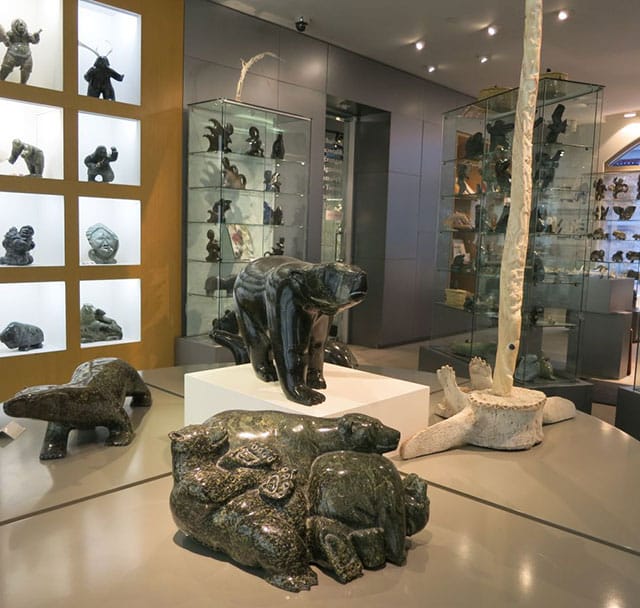 Inuit art in museum