When I talk about Canada, people immediately think of its fir forests, its mountains, its lakes lost in nature and for good reasons because it's not far from reality! This country is developing in perfect harmony with the geography and the environment that surrounds it. Canadians have learned to live in communion with nature, to respect its natural resources and its beauty. Thanks to this, the landscapes have been preserved and are more fascinating than ever.
Canada, due to its extension, has different types of climate, in fact it goes from the polar one to the north, which allows visits only in a short period from June to August, to the milder one of Ontario and Quebec, not surprisingly the two more populated regions, where cold and snowy winters are alternated by mild summers in which the temperature is always very pleasant, despite some rain. In the rest of the country the weather can be either humid and rainy along the coasts or cold and unpredictable in the Rocky Mountains, continental in the prairies, with strong temperature variations between the seasons and between day and night.
The main mountain ranges are those of the Rocky Mountains, where the main tourist centres for winter sports are located, such as Edmonton and Calgary.
The animals that populate this country are similar to those of the wooded regions of Northern Europe and Asia but there are also some tundra species typical of the arctic areas, such as the polar bear in the northernmost regions.
In Canada, you find different animal species in each region like the muskox or the Canadian weasel, and also many animals which are commonly found throughout, such as the beaver. This animal is remarkable for its intelligence and you come across some of its constructions when visiting Canadian rivers.
Equally impressive and one of the characteristic animal of Canada is the caribou, a type of reindeer.
Caribous are well adapted to their environment and their stocky bodies retain the heat, their long legs allow them to move in the snow, and their long, thick winter coat is an effective insulator, even during periods of low temperature. Its snout and tail are short and well provided with hair and they are recognizable thanks to their impressive antlers and they are capable of running tens of kilometres at a time. This skill is especially useful if they are chased by a black bear.
The latter is also an adorable wild animal when he is not hungry. It can weigh up to 100 kilograms but the grizzly bear is even more impressive. More massive than the black bear, it lives only in the most remote areas of this country. To see it, you have to venture into the lushest forests but it can be dangerous because if enter its territory it can get very territorial!
One of the most common fears of hikers in Canada is encountering a grizzly bear while hiking in the forest therefore there are some guidelines to follow to prevent such encounters. They recommend to be as loud as possible by singing, speaking loudly, shouting and clapping. The noise will alert them of your presence and they will likely leave the area.
One of the other enigmatic animals in Canada is the wolverine.
Also called here in Canada Carcajou or Gulo Gulo, this is a mammal that resembles a small bear and it lives in the forest. This animal never hibernates and its thick fur allows it to withstand the Canadian Winter.
You may happen to see them in some national parks and it is one of the fiercest and most voracious animals on the planet, despite its small size.
GULO GULO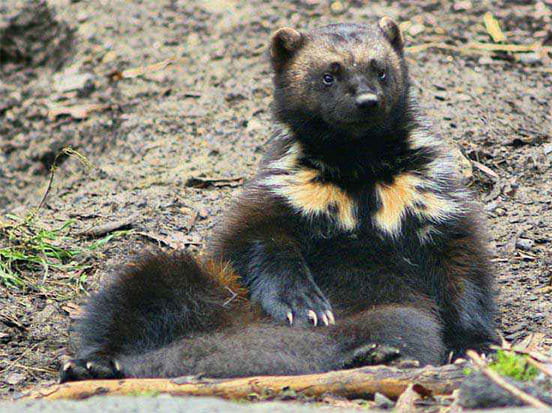 Finally, it is not possible to miss the blue whales when visiting Canada.
This marine mammal is impressive to see from the water's edge or from a boat. It can measure up to 35 meters long and weigh up to 200 tonnes.