Located in the heart of Ottawa is a covered market with the best local produce.
A hybrid place between a neighbourhood fruit store, a local food market and even a sugar shack, this place is a regular stopover whenever in town.
We love this place because it's funky and fun, because the stall owners are warm, welcoming and smiling, because you can go there at the last minute to find an ingredient or spend an hour strolling through its alleys that look like an urban jungle. You can also visit the market when you come back from the park at midnight to enjoy a last ice cream on starry evenings or when you are trying to get a new plant. (Yes, we had the experience of shopping for a plant at night and we loved it!)
This place is also a nursery with a huge choice of plants that change almost every week. It is a fruit and vegetable market where the emphasis is on local and seasonal products. It's also a sugar shack with maple products, each more delicious than the next. In the fall, it is a landmark of pumpkins and seasonal flowers. Finally, it is a convenience store offering a small selection of local products such as homemade sandwiches and salads as well as many drinks and some basic fresh foods such as eggs, cheese and milk.
There is no doubt that this is one of the largest markets in the city, one of the most beautiful and the most popular. Located near a busy commercial street, it has the shape of a large rectangular square surrounded by small shops: butchers, delicatessens, fishmongers...
The space itself is not particularly beautiful, but the environment and the amount of vegetables, fruit and plants that can be found is worth the trip.
One of the specialties here is honey and they have many different varieties such as clover honey or thick white whipping honey.
In the market you can find some stalls dedicated to honey and maple syrup products (maple, cakes, apples caramelized with maple syrup ...) also very typical.
This market is open on sunny days and during the winter as well so you can enjoy cheap fresh produce all year round. It is mainly indoors but it has some stalls outdoors too when the weather permits it.
Other than fresh produce and local products they sell meat, cheese, wine and specialties from all over the world. It was an old station converted into a market where farmers used to come to sell their best fruits and vegetables. Nothing has changed today, except that you can find the freshest products as well as baked goods like rye bread or cheesecake. I keep adding products they sell, I know! But the choice is endless so I want to make sure it is clear.
It is believed to be extremely popular with chefs looking for quality ingredients and new flavours but I haven't seen any famous people here yet.
You can also choose to eat things here since they have a sort of food court with tables and chairs and some stalls make salads, combo dishes and sandwiches on the spot.
It is a cosy and romantic place, yet it is affordable so it can be the perfect spot where to go with friends, family or even for a fun romantic night out.
I particularly like the fish burgers here which are probably not the most local products but I highly recommend them nevertheless.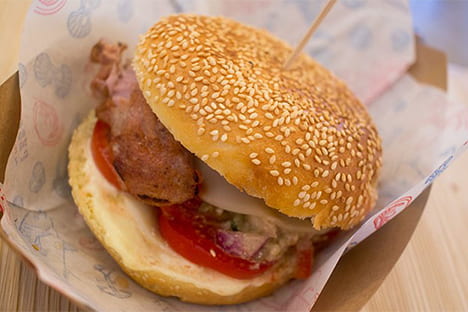 Try the maple cheesecake if you go.
It's from a small stand making maple products. It's to die for and it's something you'll get only in Canada!