Austin is the capital of Texas and, being so close to the Mexican border, Tex-Mex is the official cuisine of the State and the city.
Texas is in the southwestern area of the United States and Tex-Mex was invented here but it is now popular also in New Mexico and Arizona together with California, Nevada and Utah.
There are Tex-Mex joints all over Austin, from small food trucks selling tacos on-the-go to fancy Mexican fusion restaurants.
Tex-Mex cuisine is proof of how the contamination of styles and ingredients of two culinary traditions can create a completely new and above all very successful trend.
Even before colonization, the sharing of some culinary traditions was already a natural consequence of the geographical situation, such as the use of the spicy taste due to chili pepper, already appreciated and in some cultures even revered by Native Americans and civilizations so-called pre-Columbian.
The arrival of Europeans, especially the Spaniards, in addition to influencing customs and imposing language and religion, also brought new ingredients to overseas lands, such as onions and chicken.
In this hotbed of common admixture, the peoples of New Spain shared something so profound as to create a bond that will go far beyond political events and even when Mexico gained its independence in 1821, Texas was still part of it for another twenty years.
Tex-Mex cuisine is popular not only for the richness of its dishes, in terms of taste, imagination, colour, flavour and nutritional values, but also for the social and historical importance that this tradition carries with it.
Mexican cuisine follows a never interrupted thread that is lost in the millennia, in the food traditions dating back to the Maya, Inca and Aztec populations and it tells the story of the people.
Texan cuisine does not have its own identity but it has its roots in a tradition of barbecued meats, sauces and local grilled vegetables.
The two traditions combined have given birth to Tex-Mex, a cuisine which is local and international at the same time, with local ingredients and exotic flavours.
Some dishes have gained great international fame, which a superficial gastronomic knowledge tends to associate with the tradition of Mexican cuisine, were actually born and raised in Texas. One for all to be an example is the burrito!
The famous tortilla wrapped and stuffed with meat and cheese in the minds of most is immediately associated with Mexican cuisine. Yet the burrito in Mexico is prepared only in the northernmost regions, those confined precisely to the United States, while it is not prepared in the heart of the country and it is not prepared the Tex-Mex way which is with yellow rice and spices.
Four staple ingredients of the Tex-Mex cuisine are: rice, corn, avocado and beans.
Some typical dishes include: fajitas, spiced fried chicken, nachos, enchiladas and tacos.
Enchiladas are a cross between the burrito and Italian baked pasta, being much smaller than burritos. The filling can be meat, cheese, beans and vegetables, but what makes Enchiladas truly typical is that they are practically dipped in chili sauce, a thick sauce made with chicken broth, flour and of course, smoked and spicy chili pepper.
Tacos are a significant variation. Basically, it is once again tortillas, but the substantial difference lies in the shape, which remains open and allows the filling from the top. There are hard shell tacos and soft shell tacos.
Today tacos are among the most widespread and "contaminated" preparations: you can put just about anything inside their shell but in the borderlands where the Tex-Mex style lives and thrives, tacos will mostly be stuffed with meat, beans, tomatoes and generously coated with sauces.
Most dishes come with sour cream, pico de gallo (a chopped tomatoes, onions and cilantro dipping sauce), guacamole (avocado sauce) and refried beans on the side.
Nachos are even considered a snack here in Texas although they are a pretty rich dish!
They are corn tortilla triangles topped with jalapenos, olives, tomatoes, sour cream, avocado and loads of melted cheddar cheese! They are very fattening but they are sometimes considered as an appetizer or as a movie theatre snack.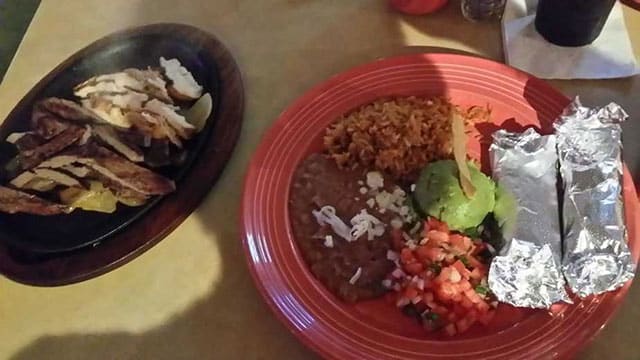 Pic: Chicken fajitas, rice with refried beans and pico de gallo, guacamole and tortillas