I have sort of 'interviewed' the teeenage son of one of my friends to learn more about the American High School which I knew only from films and TV series.
In the American school system, High School comes after Junior High School, which is the way Americans call Middle School, the school for children aged 11 to 14 years old.
High School precedes College and University.
The American High School has a duration of four years, which was a surprise to me since in Italy High School lasts five years. This translates into an advantage for American students who get to start university a year earlier than I did.
The grades of the US High Schools vary according to age:
Freshman – first year
Sophomore – second year
Junior – third year
Senior – fourth year
In the morning, the bell rings and "oh say can't you see..", everyone stands with their hands on their hearts to listen and sing the American anthem, followed by the Pledge of Allegiance, the oath to the flag.
School days start at around 8:00 am and finish just before 3:00 pm. The lessons last an average of fifty minutes each and are punctuated by short breaks which allow the students to collect the next hour's material from their lockers and move from one classroom to another.
A lunch break is scheduled between the morning classes and the afternoon classes, in which students can go to the cafeteria and eat their packed lunch box or purchased a meal in the cafeteria for a few dollars.
Every day, before and after lessons, teachers are available for tutoring lessons, extra hours of lessons which students can use free of charge and limitless.
There is a counselor to help students figure out things: a person within the school staff who is entirely responsible for assisting the students, helping them in choosing the courses to follow and clarifying doubts regarding extra curricula activities.
At around 3:00 pm classes end with the bell ringing but American High Schools offer dozens of afternoon programs that you can take part in, including afternoon sports and cultural clubs.
Afternoon activities are indeed an integral part of American High School life: most students, in fact, are involved in one or more extracurricular activities.
You can choose from many sports: cheerleading, American football, basketball, baseball, softball, tennis, golf and many others.
And if sports aren't your thing, don't worry, there will be dozens of clubs and activities (including theatre, musicals, dance and marching bands) ready to welcome you.
School life in the United States is not limited only to class hours, but involves a large part of the day, making it much more enjoyable and creating a strong school spirit among students.
The true American spirit.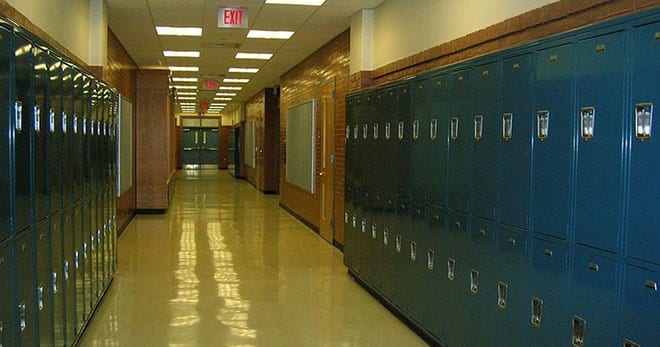 "FAMOUS" AMERICAN HIGH SCHOOL LOCKERS
The subjects studied in the American High School are partly compulsory and partly chosen by the student.
While some subjects such as Mathematics, English and Science are usually compulsory for everyone, students have the possibility to independently choose the remaining subjects and thus create their own personalized study path, based perhaps on their interests or on what they would like to study later on in life at the University.
In America, there also many private High Schools which are Boarding Schools.
A boarding school is a special type of school where students can study and reside within the school itself. In practice, students study, eat and sleep in the same place.
Usually this type of American schools are private and on average have much higher costs than public schools. In fact, many boarding schools offer high-profile study programs and academic preparation, offering students truly unique opportunities for their future.
They have excellent transfer rates which means that, upon attending such schools successfully, you are basically guaranteed entry to a high level University.