German system kitchens boast world leading quality with excellent functionality and durability thanks to technology developed over a long period.
German kitchen brands first began to succeed around Europe in the 1950s and 60s, and they played a major role in the rapid growth of the German economy. There are currently 76 kitchen manufacturers in Germany, and a very high proportion of sales are exports.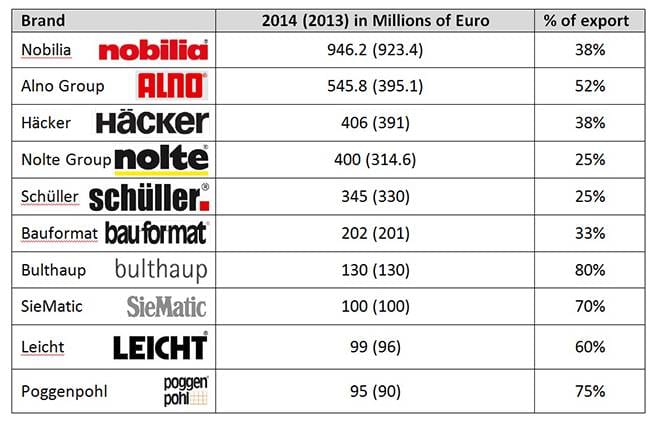 The 2014 top ten
What I found most surprising in Germany is that rental accommodation typically does not include the kitchen. This is because the kitchen is thought of as something which the tenants will provide to match their own tastes, the same as a desk or bed.
People typically choose the color, style, storage, layout, grip, and counter top they like to create for their own order-made system kitchen.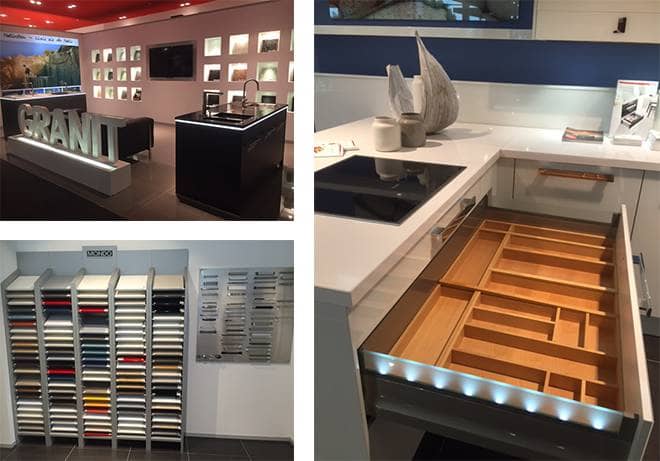 Germans are very good at DIY, and a lot of people here can install a kitchen with no trouble at all. I'm very impressed with their skill. This is why taking your own kitchen with you when moving is no problem.
Of course, if the dimensions at your new place do not match your current system kitchen then it is sometimes left behind, and there are many furnished apartments for people like expat staff on 3-4 year rotations, so there is a certain degree of choice involved.
Germany is of course the land of the meister and engineers. The benefits of their technical skills are not only evident in the automotive industry, but also in the bathroom and kitchen fields.
Kitchens are complex products, and the quality of the fittings makes a big difference to their usability. For example, the fittings which slow down the drawers in the last 2 cm or so (even when pushed forcefully) are carefully designed to achieve a smooth, quiet closing, and the problem of what to do with corners is solved with clever ideas such as revolving parts or shelves which slide out. I love the large amounts of easily-accessible storage.
The latest shelves are amazing - they open and close all by themselves at a touch!
Apart from the system kitchen itself, a range of well-known German companies make other key kitchen components, such as Hansgrohe (water fittings), Miele (electric appliances), Gaggenau (a long-standing ironware manufacturer) and Neff (appliance manufacturer from the Baden region). Although pricey, these brands are of high quality. This kitchen featuring Gaggenau products is black and very chic. The oven is at eye level, a practical design which enables cooking without crouching down.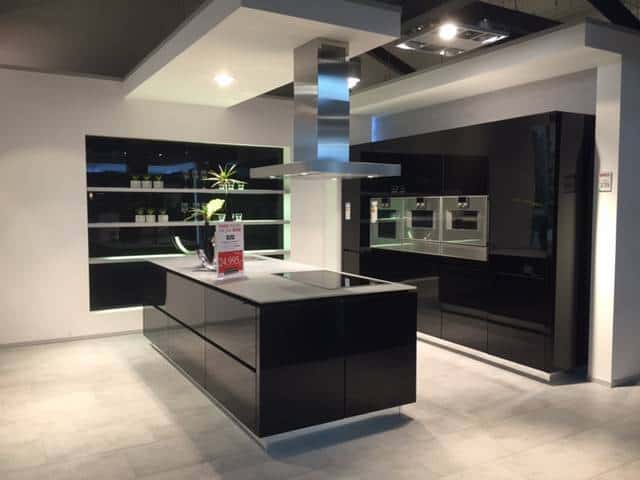 This mega kitchen showroom features dozens of kitchens displayed in a large two-storey space, allowing customers to trial the kitchens and find one they like before choosing one. Japanese system kitchens are very expensive and out of reach of most people, and there are still many apartments with older-style propeller extractor fans, which makes me think that people aren't that interested in their own kitchen. It is my great hope that a passion for German-style system kitchens will spread in Japan as well.