With over 5,000 brands, Germany is the kingdom of beer. In Düsseldorf, the favorites among them are the dark amber Altbier and the herb liqueur Killepitsch.
In German, "alt" means "old," but the "alt" in "Altbier" means the old top brewed style of beer, a beer with the taste of hops and some bitterness, but a clean finish.
You can find numerous Altbier microbreweries in Düsseldorf. One of them is the famous Uerige, in the Altstadt ("old town") (Address: Bergerstrasse 1).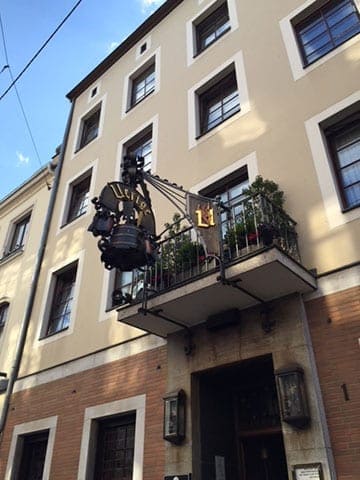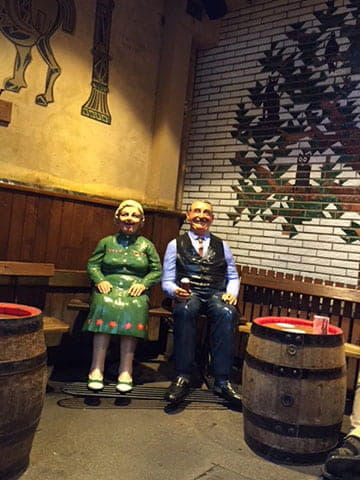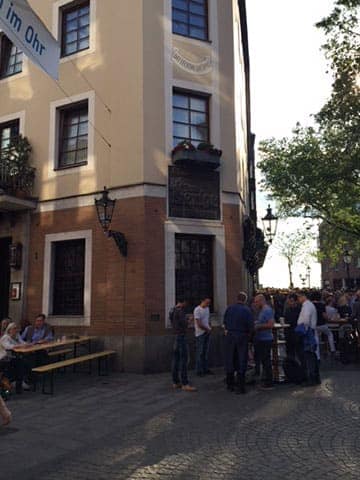 Surprising large number of customers crowd the road as they enjoy drinking outside on fine weekends and evenings.
Altbier freshly brewed at the microbrewery is served in small 200-ml glasses, then as you finish, the Kellner (male waiter) brings you a fresh beer and marks the number of beers you have drunk on your coaster. The Kellner will keep on quickly bringing you fresh beers, so when you've had enough, make sure you indicate as much by putting your coaster on top of your glass!
Plus, as you might expect from such an old establishment, they also serve traditional German cooking.
I can recommend, for example, the liverwurst and cheese platter, potato salad, or sausage salad for a simple snack; Gulasch (goulash) or potato soup if you're feeling a little bit hungry; and ham hock dishes called Haxe or the Rhineland specialty Sauerbraten (pot roast) for those who want something substantial.
Second only to Uerige is Schumacher (address: Bolkerstrasse 44), a very popular microbrewery. Known as the first brewery to make Altbier, in the early 19th century, there are always customers standing just outside the entrance drinking beer.
The interior is spacious, relaxed and has an imposing German beer hall atmosphere.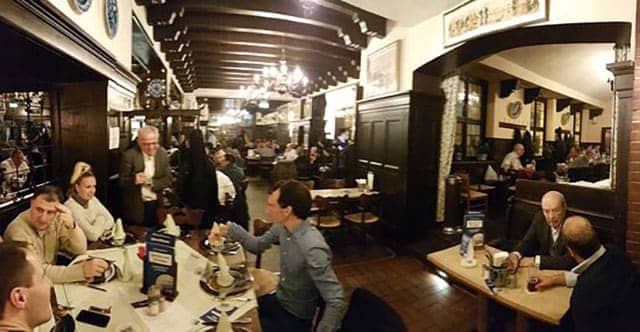 Microbreweries in central Dusseldorf within walking distance of each other
・Im Füchschen (The Fox Cub)
(Address: Ratingerstrasse 28)
・Zum Schlüssel (To The Key)
(Address: Bolkerstrasse 41-47)
・Brauerei Kürzer (Brewery revamped for the young market in 2010)
(Address: Kurzestrasse 18-20)
Germans are physically large people and don't get tipsy just on beer, so many chase their beer with Schnaps, which has a high alcohol content. And the favorite drink after meals is a type of Schnaps called Killepitsch, a herb liqueur that promotes digestion of the much loved meat dishes.
It is also popular as a souvenir from Düsseldorf.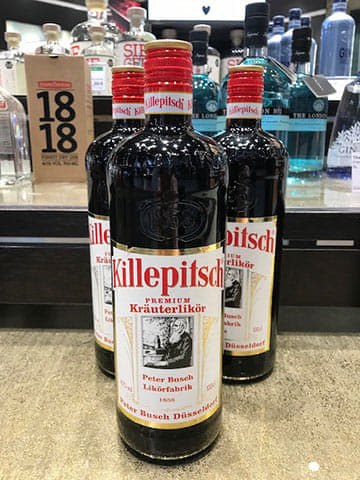 In the Altstadt of Düsseldorf is Königsallee, a high-end shopping street like Paris's Champs-Élysées. If you walk from there to Uerige along Bolkerstrasse to the Rhine, you will come across a lot of restaurants and Kneipes (pubs), so this stretch is also known as the "longest bar in the world."
If you're ever in Düsseldorf, I really hope you try a pub crawl along the "longest bar in the world" with an Altbier in one hand and a Killepitsch in the other.