When you talk about Kö in Düsseldorf, the first place that comes to mind is Königsalle that is lined with upscale boutiques. This street was built at the start of the 19th century when Napoleon was in control of Europe, and so the wide single street reminds you of Champs-Élysées in Paris.
Düsseldorf is a huge urban city that is home to five million people and is a very prominent hub for media and fashion, so naturally a lot of foodies gather here. Once a year, it holds a Gourmet Festival in the second half of August with top ranking gourmet food from across Europe. Tents for 200 shops line Königsalle that runs over 2 km long on both sides of a river. Here, people can spend three days eating and drinking delicious food and beverages and feeling jovial.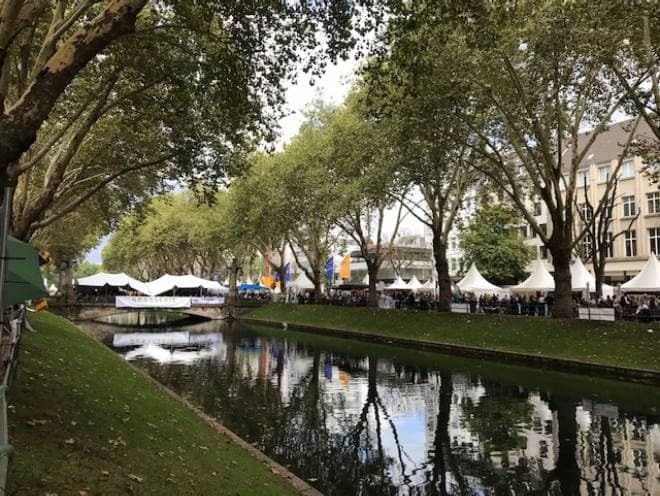 Wineries come from all over Europe.
Grape cultivation that takes advantage of the strengths of the Mosel and Rhine river basins thrives in Germany, and the area is especially famous for white wines like Mosel, Rheingau, Franken, Nahe, Baden, Pfalz, and Mittelrhein. There are also Bordeaux and Bourgogne wines from France, Toscana wines from Italy, Rioja wines from Spain, and more, so you can find the ones you like. Although French champagne is the best of the best, sparkling wine called Sekt in Germany, Crémant in France, Spumante and Prosecco in Italy, and Cava in Spain are easy to enjoy.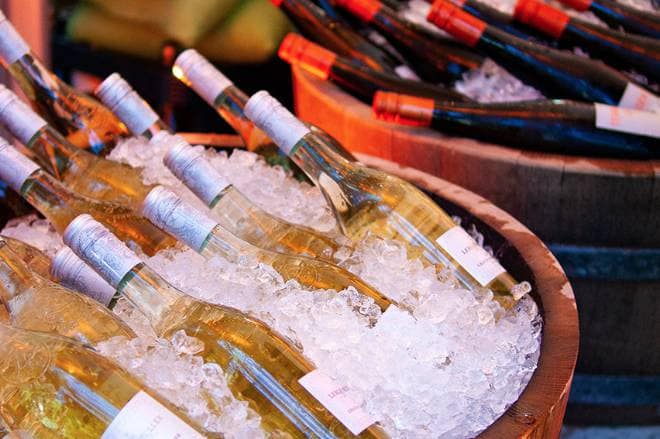 Seafood like oysters and lobster are sent from France. A lobster and champagne set is a little on the expensive side, at 32 euros, but it is the perfect chance to taste fresh seafood in Germany where it cannot be caught, and it was surely an offer that could satisfy a foodie!
The grills for cooking meat are genuine and are attached to tires so they are portable. This was apparently a German invention and it is strong and very practical.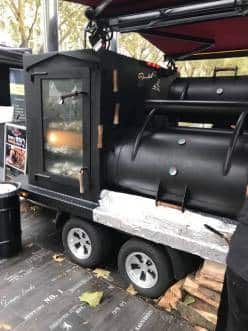 My personal favorite is the French olive stand.
The different-colored olives and dried tomatoes were lined up beautifully and I found my feet halted, feeling like I might get sucked inside. I ate eggplant and olive paste spread onto bread and it was phenomenal!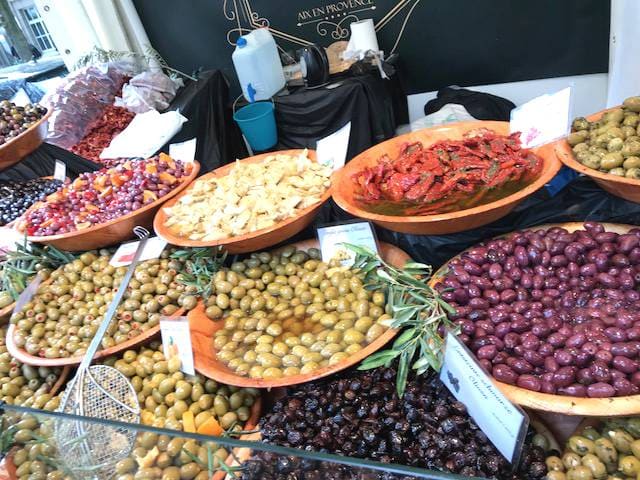 The line of tents that also had things like meat, sausages, organic (bio) products, cheeses, olive oil, spices, mustards, beer, non-alcoholic beverages, chocolate, ice cream, and honey would capture the heart of any food-loving person. Those three days let me fully enjoy the end of summer.
There is a similar event in Köln called the Genuss Festival Köln. This festival is scheduled for June 28 to 30, 2019, and Kö in Düsseldorf for August 23 to 25, 2019.
I hope to participate next time too to satisfy my soul and my belly.