Christmas is celebrated in Germany in splendid fashion. It starts by lighting candles on the Adventkranz (advent wreath) from the Sunday closest to St. Andrew's Day (November 30), beginning the countdown to Christmas on the Advent calendar at the start of December, then celebrating Christmas Eve, first Christmas, and second Christmas. After the fireworks and a toast with Sekt (sparkling wine) on New Year's Eve, however, only New Year's Day is a holiday, with work starting from January 2, which makes for a scant year-end and New Year's celebration. If you are Japanese, you will yearn for the Japanese New Year, especially the New Year decorations and osechi dishes (special New Year's food).
Kadomatsu
"If you can't buy it, make it yourself!" That is the motto by which we all tried making a small kadomatsu (New Year's pine decoration).
In the lead up to New Year, you decorate your gate or front door with a pair of kadomatsu decorations from December 13 (Matsu-no-uchi [New Year's Period]) every day except December 29, which is associated with suffering, and December 31, which is traditionally believed to be too late or inauspicious for hanging the decoration. Then, on New Year's Day it is said that the Toshigami (the deity celebrated at New Year) descends bringing good fortune, with the kadomatsu as the Yorishiro (object capable of attracting the deity) or marker.
In Germany, green bamboo is not readily available, but we had made special arrangements, and everyone made a lovely mini kadomatsu!!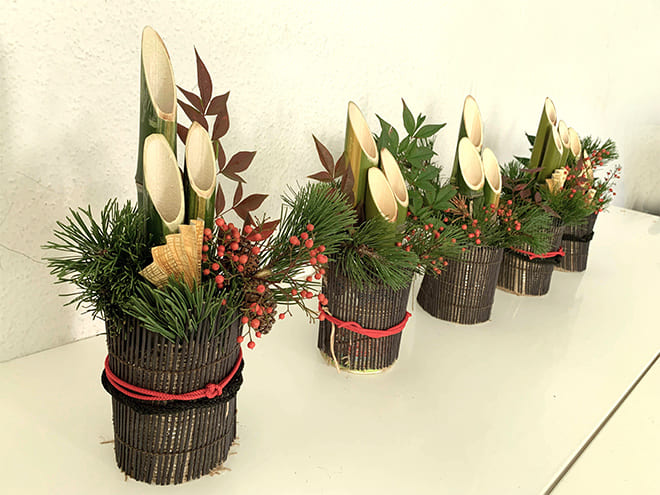 New Year's Day floral arrangement
We also took on the challenge of creating a large floral arrangement as a New Year's decoration for the New Year's party at the beginning of the year.
Like Japan, Germany has four seasons, so you can get the materials for ikebana with a Japanese feel, such as pine, plum, cherry, and camellia, so it is a felicitous season for the people who practice ikebana at this time of year.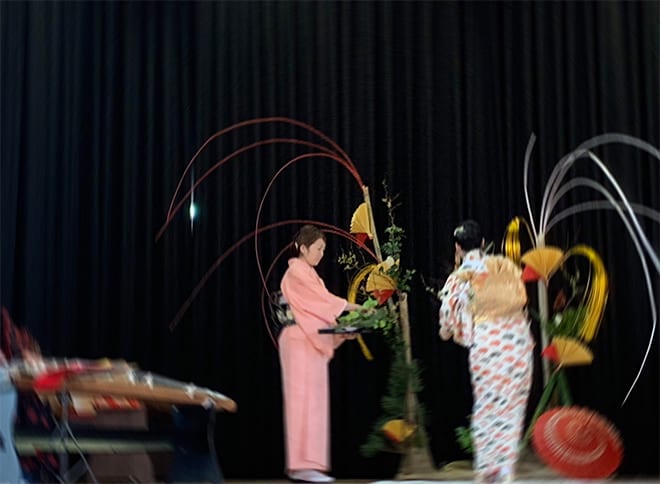 Japanese quince (Boke): Produces flowers that are orange, red, pink, or white in spring. It has many varieties, such as Kanboke that blooms in winter and ones that produce single or double blossoms. In autumn, the Japanese quince produces fruit, but because they are hard and astringent, they are commonly used in jam or fruit liquor rather than being eaten raw. In traditional Chinese medicine, they are said to have a diuretic effect and to be effective for recovery from fatigue.
Strelitzia: Often used for celebrations and called the Bird of Paradise Flower because of its bird-like shape.
Sacred bamboo: Produces white flowers in summer and red fruit in autumn, the leaves becoming reddish.
It has been commonly used as a medicinal plant since long ago. In traditional Chinese medicine, drinking a decoction of the red fruit is said to be effective for coughs, drinking a tea from the dried leaves is said to be effective for sties and bloody urine, and the stem and root bark are also said to be effective for gastrointestinal diseases and eye diseases. The leaves also contain toxins, however, so if you do not have medical knowledge, please consult a specialist.
It is said to be better to plant it near the front door, and especially in the southwest quarter, called the "demon's gate," as protection against evil spirits and fire.
Shochikubai (pine, bamboo, and plum) used in Japanese celebrations
Pine: Pine trees are evergreen trees that don't drop their leaves, even in winter. The ancient Chinese believed it symbolizes life and longevity, and it is considered a tree in which deities dwell.
Bamboo: Bamboo grows quickly and connotes life force and prosperity for your descendants.
Plum: Even old plum trees produce awe inspiring red and white blossoms at the start of the new year, so it connotes grandeur and longevity.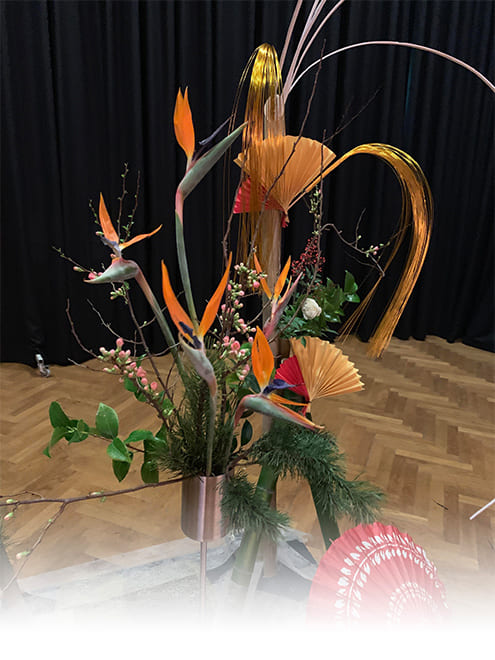 Looking at beautiful flowers puts my mind at ease.
I hope we can work to make the world a friendly and peaceful place through the beautiful culture of Japan.
I will continue along this path, hoping to pass it on to the children in the next generation.