The dry season in Bangkok is coming to an end, and the temperature is rising with an ongoing heat wave producing temperatures around 37°C.April 2nd was the 60th birthday of Her Royal Highness Maha Chakri Sirindhorn, the second daughter to the king. Purple is the color of Saturday and the Princess's color because she was born on a Saturday. The Princess' flag was flown and many people wore purple shirts throughout the city, showing how much the Princess is loved by the people. She possesses honorary doctorates from Gakushuin University and Tokai University, and is a great Japanophile. The other day, she visited Japan.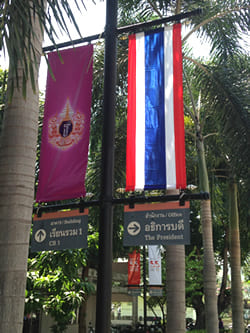 ●Photo 1:On the left is a flag flown in celebration of the Princess' 60th birthday.
The Songkran Festival (Water Festival), called Thailand's lunar New Year, was celebrated from April 13th to 15th. The heat peaks during this festival in which water is poured over both people and cars alike. The day before the festival, here and there monks performed a ceremony, sprinkling holy water.Statues of Buddha are placed everywhere, including department stores, and everyone sprinkles them with water.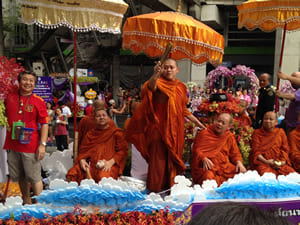 ●Photo 2:Monks pass along Silom Road, a busy downtown street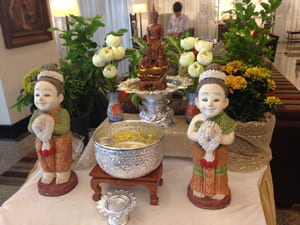 ●Photo 3:A statue of Buddha placed on an apartment doorstep
On the day of Songkran, young people carrying water guns go out into bustling streets and spray one another with water. On regular roads, too, children target motorbikes and throw water on them. On this day alone, no one gets upset.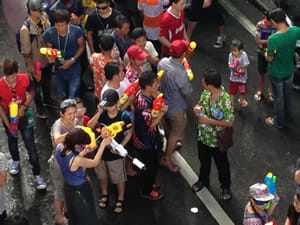 ●Photo 4: Tourists also fill Silom Road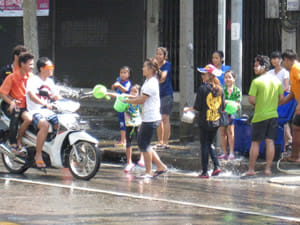 ●Photo 5: Children throwing water on motorbikes
In this way, the Thai people have an integral connection with water. My next report will be a little more on the serious side.