August 12th was a holiday celebrating Queen Sirikit's 83rd birthday. Since the Queen is the mother of the nation, this day is also designated as Mother's Day. Relatives come together on this day to celebrate for their mother and restaurants become packed. Likewise, the king's birthday is on December 5th and this day is also Father's Day. The nation prays for the health and long life of the King and Queen.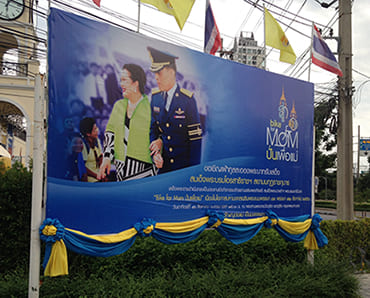 https://www.facebook.com/KasetsartUniversity/postshttps://www.facebook.com/KasetsartUniversity/posts /10153551963807451
This year, there was a campaign called "Bike for Mom" to celebrate the Queen's birthday. Bicycle parades were held in various places, and in Bangkok a 42 km bicycle touring was participated by the Prince and Prime Minister. Tens of thousands were expected to take part in these parades. On August 8th at the King Mongkut's University of Technology Thonburi (KMUTT) where I work, 4,000 people participated in a touring event from KMUTT to its No. 2 Campus that is located 20 km away. I didn't understand why it was called "Bike for Mom," and when I asked a Thai person about its reason, "Why do you ask such a question?" was the only response I got.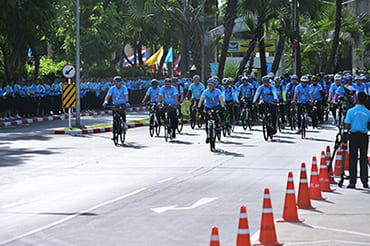 https://www.facebook.com/KasetsartUniversity/postshttps://www.facebook.com/KasetsartUniversity/posts /10153551963807451 から
For the year 2015 (2558 on the Buddhist calendar), the number of holidays in Thailand, including Buddhist festivals and national and substitute holidays, is 17 days, which is the same as Japan's. However, Japan's holidays during December 29th to 31st and January 2nd to 3rd are national holidays and not feast days, so with these also included, Japan would have more days of holidays in total. At the beginning of the year in Thailand, businesses and national services start from January 2nd and Songkran (Thai New Year) is during April 13th to 15th. Although religious freedom is protected in Thailand, many holidays are related to Buddhism. These are based on the lunar calendar and therefore their dates change every year. Many people don't even know until the day before, at times resulting in confusion. Well, I suppose it's very much Thai to be so easygoing. Additionally, May Day is a private holiday and not a holiday for banks and government employees. (University professors say government employees are not laborers.) On the other hand, the harvest festival and the Buddhist Lent Day (Khao Phansa) are holidays for government employees but not for private sectors. All banks close on July 1st and money cannot be withdrawn on that day. It's supposedly for the purpose of conducting a simultaneous internal audit. Banks normally close on Saturdays and Sundays, but it's very convenient that banks in shopping malls are open even during holidays . They only close on July 1st and January 1st.It's very interesting to see how countries differ in the way they set their holidays, such as in Singapore where holidays are based on a mix of the Chinese lunar calendar, Christianity and Islam.