Programming education is increasingly gaining worldwide attention. It even became a huge topic in Japan, after which was chosen to be a required elementary school curriculum in 2020. With all this buzz in the air, we decided to visit a private programming school in Hong Kong.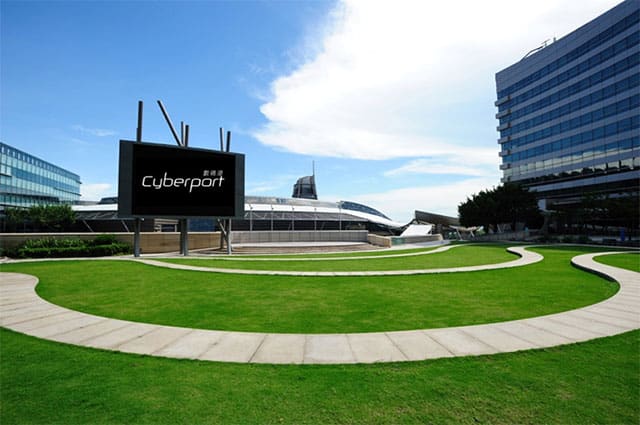 Outside Cyberport
Hong Kong built the Cyberport complex as part of its efforts to become the "Silicon Valley of the East" by supporting cutting-edge information technology development and bringing in information services companies. The complex integrates office spaces for numerous startup companies, a shopping mall, residential areas, and more.
In one corner of the complex is a private school called Koding Kingdom, which provides programming education. Programming professor Han Son excitedly told us that his school was the only place in Cyperport that had capsule toy machines. When the students finish their assignments, they get a coin that they can use in the machines.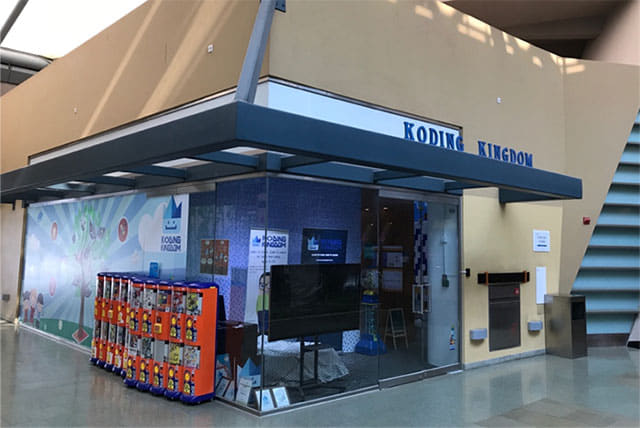 Capsule toy machines line the hallway at the entrance to the school
Once you step inside, you'll see elementary school kids in the middle of class doing puzzles, which they're using to learn computational concepts. Programming thoughts, which are increasingly useful in business and problem-solving situations outside of programming settings, are being taught in simple ways. Apparently it's critical that the students learn concepts that will help them structure various conditions and outcomes before they start actually writing programs.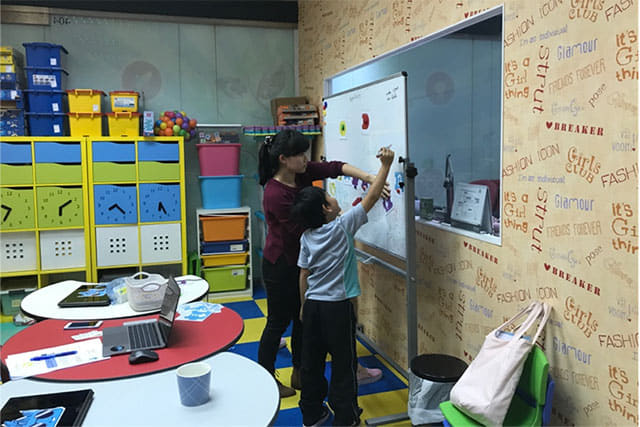 Kids start by learning how programmers think
Koding Kingdom is renowned as the first overseas school where the iD Tech camp was held. iD Tech is said to be the number-one programming education camp in Silicon Valley. Courses are held for people of all ages from all across Asia and the rest of the world.
In a tie-up with Koding Kingdom, Knowledge Capital has been regularly holding programming courses in English since the summer of 2018. The courses designed for junior high students and older allow participants to learn directly from programming instructors who come to Japan from Hong Kong. The course uses the application development software MIT App Inventor, Roblox (a platform that allows users to create and publish their own games), the programming language Python, and other tools to not only to teach programming basics, but also have students create their own games and apps that they can take with them after the course.
(We'll cover the recently-held Spring 2019 English Programming Course in a future report.)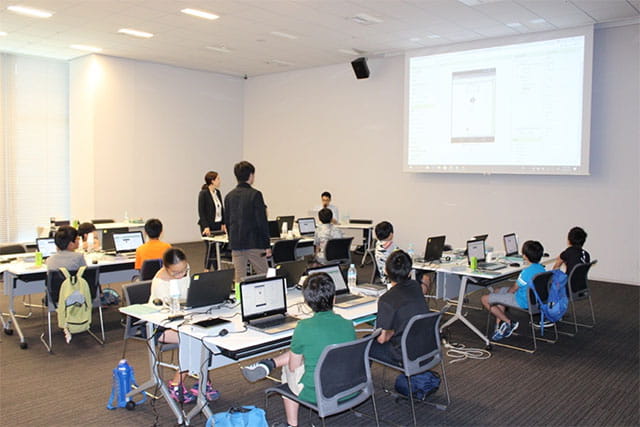 Programming course held by Knowledge Capital
Programming is sure to become an even more critical skill in the years to come—and its importance is not just limited to the computer industry. The computational concepts that a programming education teaches can actually be useful for solving problems in all areas of life—making them increasingly important as a shared language that allows people all over the world to communicate and work together. Everyone from kids to adults can benefit greatly from learning computational concepts and putting them to work in their lives.