We often hear of foreigners who have lived in Japan longing for the convenience stores they experienced while there. As implied by its name, such convenience is certainly hard to find in other countries. In regions of Christian culture, being unable to shop on a Sunday due to the entire town becoming deserted and quiet is a common thing, but even in Berlin where not many are religious, the operation of businesses on Sundays are regulated by the store-closing law. Not only airports, bakeries and florists, which are considered exceptions, but also kiosks that sell products other than newspapers like beverages are also open at night and on sundays. Here, these kiosks are commonly known as spaetkauf, or spaeti for short.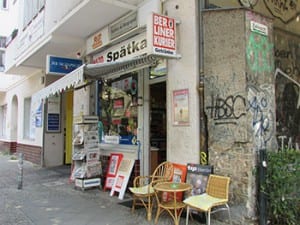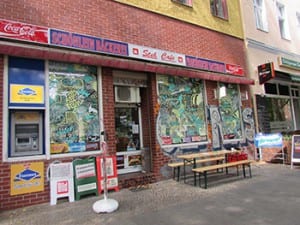 However, with the strengthening of crackdowns on spaeti operating during holidays in the district of Neukoelln since 2014, increasing shops are closing on Sundays, which is their busiest day of the week. With fines ranging from the initial 250 euro to upwards of 2,500 euro, the amount increases with the number of times a shop has been caught. A certain shop is said to have paid a total of 17,000 euro after repeated fines. Considering that a spaeti sells cigarettes and magazines priced at a little over 10 euro maximum or candies that are sold individually for as cheap as 5 cents, it's hard to believe its yield is so big that it's worth risking the fine. Apparently, shops that repeatedly break the law will be forced to close. However, closing shop on Sundays when they can make a profit would still be the same in that there's a risk it'll be forced to close.Now, a local citizen in her 20's has stood up and collected 32,100 signatures as of now in the last three months through an online petition. She plans on requesting the mayor and other local politicians to allow the spaeti, which is a place of interaction for locals, to open on Sundays, calling on the need to protect Berlin's unique "Kiez" (a neighborhood with distinctive characteristic and a sense of community) culture.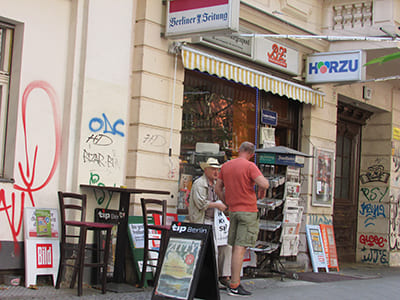 The spaeti in my Kiez is also a local hangout spot where local Kiez residents call the storeowner's family members by first name, mail for residents who aren't home are received and people come to enjoy barbecue on the streets or to watch football games together. As there is always some regular at the spaeti who knows the whereabouts of residents not seen for weeks and when they are returning, and even scoops of local police matters, the spaeti can definitely be called the foundation for local communication.The people of Berlin like to contrast themselves with the people of South Germany who adhere to religious culture and regulations. Berliners take pride in being open and free as well as not worrying too much about the details. The majority opposes the ideas that the spaeti has to close on Sundays, while "this place isn't Munich." Since shops attached to gasoline stands are allowed to operate 24 hours for 365 days, there probably is room for negotiating an exception to the rule.Since I'm not an alcohol drinker and I'm also more of an indoor person, being unable to go out at night for shopping is not really an inconvenience. However, what I long for is the security of Japan where convenience stores can remain open for 24 hours, more so than that the convenience of such stores being open for 24 hours.