The United Nations World Tourism Organization (UNWTO the United Nations agency dedicated to the promotion and development of tourism), which has headquarters in Madrid, released its analysis of the global tourism industry in 2020 and its future prospects recently on January 28.
https://www.unwto.org/es/news/2020-el-peor-ano-de-la-historia-del-turismo-con-mil-millones-menos-de-llegadas-internacionales
It leads with a slightly shocking, albeit expected title:
"2020: EL PEOR AÑO DE LA HISTORIA DEL TURISMO, CON MIL MILLONES MENOS DE LLEGADAS INTERNACIONALES"
"2020: Worst Year in Tourism History with 1 Billion Fewer International Arrivals."
Compared to the 4% drop in international tourist arrivals recorded during the global economic crisis that began with the Lehman Brothers collapse in 2009, this downturn was an extreme 74%. 2020 starkly confronted us with the fact that when the "movement of people," the heart of the tourism industry, is constricted, there is nothing you can do about it.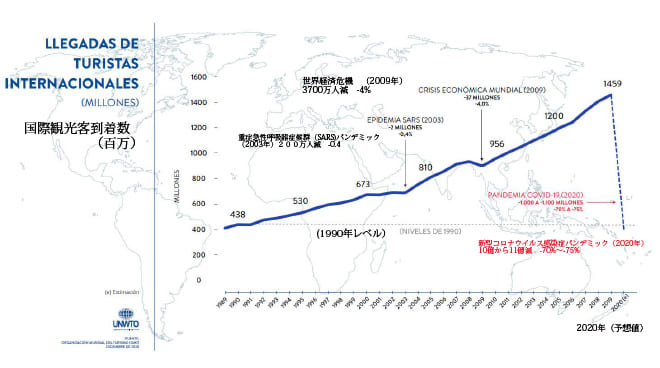 Figure 1: This figure shows the sharp decrease in international arrivals.
Source: UNWTO 2020 Analysis PDF
https://webunwto.s3.eu-west-1.amazonaws.com/s3fs-public/2021-01/2020_analisis_anual_0.pdf
Tourism is one of the key pillars of Spain's economy, and Spain ranks second in the world to number-one ranking France for foreign tourist arrivals, with 83.51 million people in 2019, which is 1.76 times Spain's total population. Thanks to the mild Mediterranean climate, Spain is a resort destination for those seeking to escape either hot or cold weather, and many of these holiday tourists flood in from other European countries, especially the northern countries, seeking sunshine.
But not only that, Spain is full of attractions for foreign tourists. It has cultural, natural, and mixed heritage that put it third in the world for the number of World Heritage sites; it has all sorts of art-related facilities, unique to a country that has produced so many artists; it is a gourmet treasure trove that has been in the spotlight recently; while, like Portugal, it is westernmost of the countries of so-called Western Europe, it has a unique culture that is distinct from other European countries, such as flamenco with its oriental flavor; it has the Camino de Santiago (the Way of St James) pilgrimage route, which has been in continuous use since the Middle Ages; and it offers birdwatching along the routes of the migratory birds that travel between Europe and Africa.
Restrictions on movement have been particularly devastating in Spain with its high dependence on tourism, and this report comes at a time when various measures are being taken, including vaccinations to revive the tourism industry as soon as possible, but it is estimated that for global tourism to return to 2019 levels, it will take as much as another two or three years, until about 2023-24.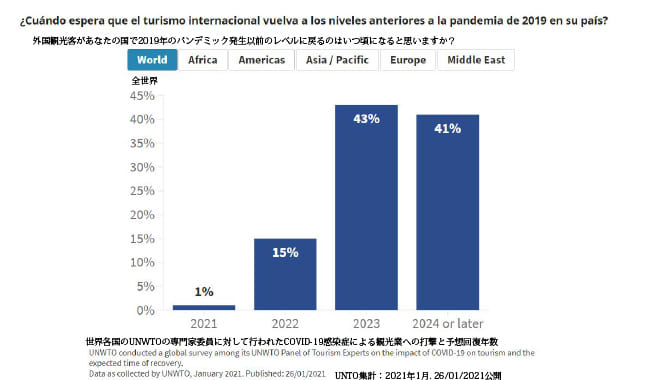 Figure 2: This graph shows replies from UNWTO experts in various countries to the question "How many years do you think it will be before the number of foreign tourists is expected to return to the 2019 level?"
On the other hand, 2020 was the year when Japan's presence in the international community was going to grow, especially with the Tokyo 2020 Olympic and Paralympic Games and a year in which the tourism industry was also brimming with hope for further growth in inbound demand, which has continued to increase in recent years, but the damage caused by the postponement and uncertainty around the Olympics cannot be measured. Japan was aiming to become a tourism-based country until just a year ago, but at the same time, the problems of "over tourism" and tourism pollution have been so bad that even in towns and cities representative of Japanese traditions, local government heads have declared, "This is not a tourist town!". But, having come to this, I wonder if those worries were extravagant.
As for Tokyo 2020, vaccination will probably be one of the key measures against COVID-19 that will enable this big event to be held. I think it is exactly by ensuring all 206 participating countries receive equal vaccinations, that the Games can be safe, secure, and fair, embodying the Olympic spirit.
In Japan, where vaccination has just begun, some people seem to be hesitant, saying "It's scary. It looks like intramuscular injection hurts," "I'm worried about side effects," but Doctors Without Borders in Spain have launched an interesting campaign about vaccination.
That is:
"Hay algo que da más miedo que las vacunas. No tenerlas."
"There is something even scarier than the vaccine: No vaccine."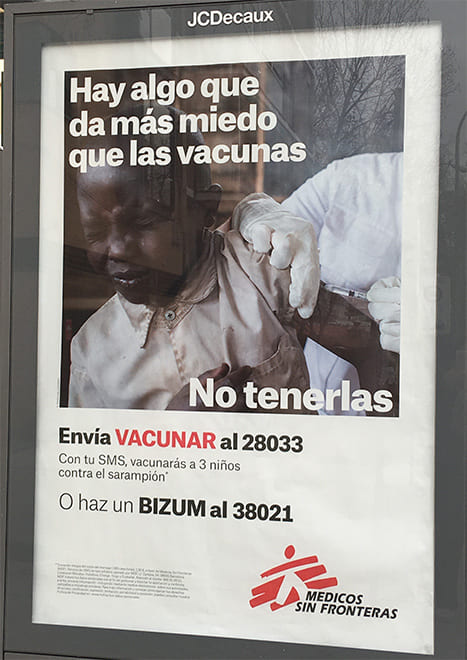 A Doctors Without Borders vaccine fundraising poster at a bus stop in Madrid.
It's about fundraising and helping poor countries that don't have access to vaccines.
This poster is for fundraising for the measles vaccine, but the message is also applicable to the vaccine to prevent COVID-19 infection. While there are countries where only five doses can be extracted from one vial and they give up on the remaining dose and discard it, shouldn't we also consider the fact that there are still many countries in the world where vaccination is not assured, let alone obtaining the vaccines themselves.
I'm sorry to come back to the topic of vaccination again. When I look at the current vaccination situation in Japan, however, I do feel a little irritated. It is understandable that each country has its own circumstances, but if you simply compare progress over the first 12 to 13 days from the start of vaccination with Spain...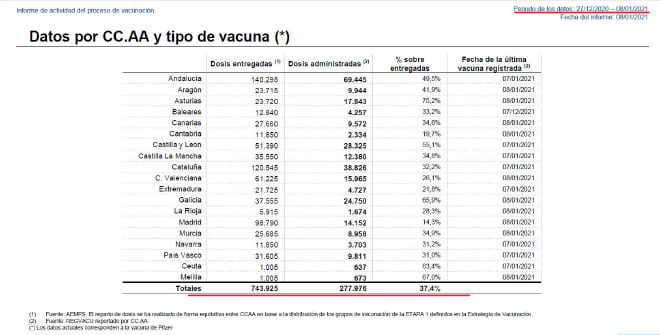 Figure 3: Statistics at the start of vaccination in Spain (From the Spanish government's vaccination strategy bureau website)
Dates: From December 27, 2020 to January 7, 2021
Number of days:12
Vaccine distribution: 743,925 doses (Total number provided to autonomous communities according to population ratio)
Number of vaccinations: 277,976
Vaccination rate: 37.37% (Number of vaccinations/number distributed)
Average number of vaccinations per day: 23,165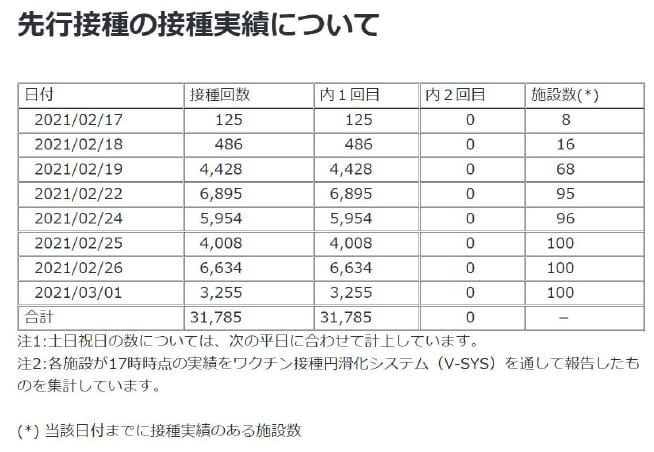 Figure 4: Statistics at the start of vaccination in Japan (Source: COVID-19 vaccination figures on the Ministry of Health, Labour and Welfare website)
Dates: From February 17, 2021 to March 1, 2021
Number of days: 13
Number of vaccine doses received: 370,000
Number of vaccinations: 31,785
Vaccination rate: 8.59% (Number of vaccinations/number received)
Average number of vaccinations per day: 2,445
In Japan, priority for vaccination has been given to medical personnel, so even if you take this extraordinary situation into consideration, I think that both the people being vaccinated and the people giving the vaccine would be familiar with vaccines and injections. Just looking at the figures alone, it simply doesn't make sense to this non-specialist why there was such a big difference between Spain and Japan.
Incidentally, the first person to be vaccinated in Spain was a 96-year-old woman, the oldest resident in a nursing home for the elderly not far from the capital, Madrid. The second was a 40-year-old nursing assistant working at that nursing home. And the first person to be vaccinated in Japan was the director of a national hospital, along with 11 other people who work at that hospital.
As for the current situation, the second phase of vaccination in Madrid began on February 25 with the Pfizer-BioNTech vaccine being given to elderly people aged 80 years or more and the Oxford-AstraZeneca co-developed vaccine being given to teaching staff up to 55 years of age.The Official College of Dentists and Stomatologists of Madrid (Colegio Oficial de Odontólogos y Estomatólogos de Madrid) began giving the first vaccine dose to about 12,000 dentists, dental hygienists, dental assistants, and frontline staff involved in high-risk dental care on February 24, and finished in 6 days, and they will finish giving the second vaccine dose by the end of March, thereby providing a means for them to focus on giving patients safer and more reliable dental care.
Given that situation, I am aware that being an elderly person leading the retired life and for whom every day is a Sunday, this is impudent and grandiose but, I wonder if it will be my turn soon? Lately, I have been looking forward to hearing from the health authorities: Such are the times we live in!