Spain finally lifted its state of emergency and removed restrictions on domestic travel on May 9, more than half a year after it was declared on October 25 last year. After more than two weeks since my vaccination was completed with a second dose of the Comirnaty (Pfizer/BioNTech) vaccine, I myself decided to take a personal "GoTo Travel" overnight trip for the first time in a year and a half, arbitrarily believing that the Comirnaty vaccine would effectively prevent infection, symptoms, and serious illness not only from the UK variant but also the Indian one. My destination was El Puerto de Santa María, a port town in the province of Cádiz, on the Atlantic coast in Andalusia, southern Spain, which I have covered a number of times in previous articles.
The snails I wrote about in "Córdoban People's Love of Snails" (June 14, 2018,
https://kc-i.jp/en/activity/kwn/yamada_s/20180614/
).
I ran into a man selling snails for a limited time in this town. The large white pile is a pile of caracoles snails (Theba pisana), which are 5 euros (about 625 yen) for 2 kg; the larger cabrillas snails (Otala lactea) in the box on the right at the front are 4 euros (about 500 yen) for 1 kg; and the fennel and spearmint in the box on the left at the back are the herbs you need for cooking them and are included free with your snails.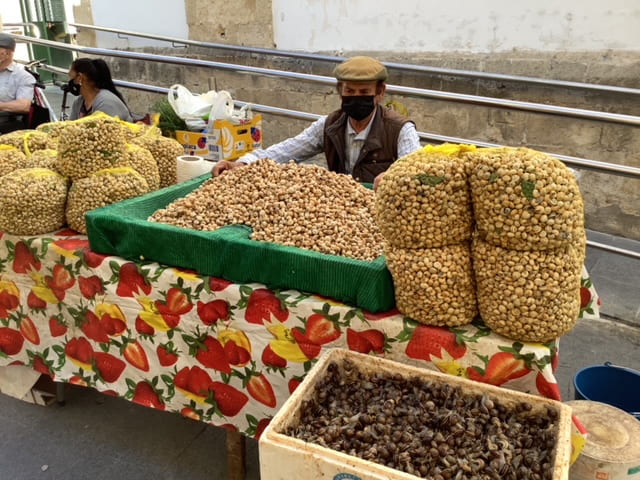 Snail stall. The green stuff in the net is mint leaves.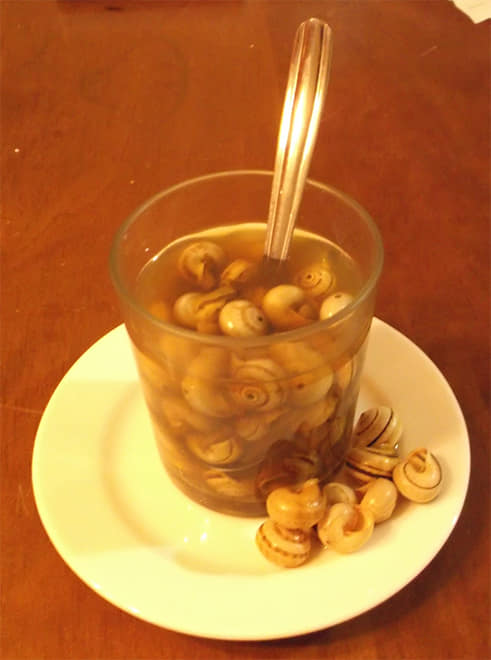 Snails in clear soup. Just as there are people who don't eat the clam meat in clam miso soup, there are also people who love this soup without eating the snails.
The Spanish tuna I wrote about in "The Tuna Festival of a Tuna Village" (May 28, 2015,
https://kc-i.jp/en/activity/kwn/yamada_s/20150528/
).
While Japan has tuna brands such as Oma Maguro (tuna from Oma, Aomori prefecture) and Kindai Maguro, (bluefin tuna raised by Kindai University in Wakayama Prefecture), Spain's most select tuna brand is from Barbate, in Cádiz province. The sign here says "ATÚN ROJO FRESCO ALMADRABA DE BARBATE Por 34 ́98 €/Kg" ("Fresh bluefin tuna caught by fixed shore nets in Barbate, 34.98 euros/kg.") That's about 4,375 yen in Japanese yen. I couldn't help myself and bought a block of tuna weighing about 1 kg, then cut it up into lean red tuna, medium fatty tuna, and so on, as in the photo. In Spanish, they call it "atún rojo" or "red tuna," but in Japanese it's called "Taiseiyo kuromaguro" (Atlantic bluefin tuna.)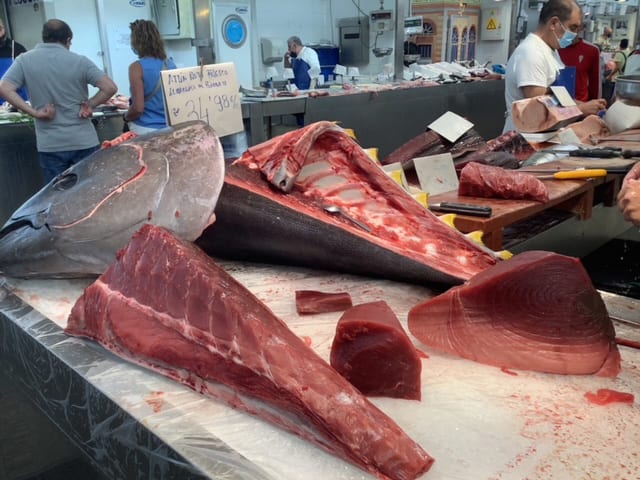 A tuna shop midway through demonstrating how to break a tuna down.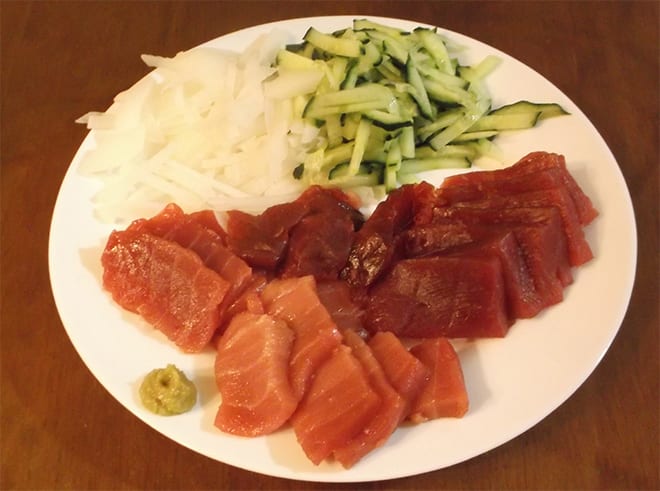 Three cuts of bluefin tuna that I prepared at my hotel. They probably weighed about 250 grams. The daikon radish and cucumber were locally sourced, but the soy sauce, disposable chopsticks, and tube of wasabi are must-have items when traveling.
Another essential part of Andalusian cuisine is fried food. The novel "Carmen" written by the 19th century French writer Prosper Mérimée was later made into an opera, and I am sure everyone in Japan has heard the melody at least once. In this novel set in Andalusia, the main character, Carmen, a Gypsy woman*, chose a tavern famous for its fried food in the Triana neighborhood of Seville as the location for her encounter with Don Jose, a Basque man.
* Mérimée described her as a "Gitana" woman.
—Pays, quand on aime la bonne friture, on en va manger à Triana, chez Lillas Pastia.
With the words, "My hometown brother, if you like delicious fried food, they recommend Lillas Pastia's tavern in the Turiana neighborhood," Don Jose is enticed to the encounter. When Mérimée wrote this work in the mid-19th century, Andalusia's reputation for fried foods had probably already reached Paris, that city of gourmands.
By the way, the reason for "My hometown brother..." is that Don Jose comes from the village of Elizondo in the province of Navarre, and Carmen comes from the nearby village of Etxalar. But this story of two people from the northern tip of Spain having a love affair in Andalusia, about 1,000 km away, is like two people from neighboring villages in Shimokita Peninsula (in far northern Japan) meeting in Osaka, isn't it?
Even today, every town in Andalusia has fried food shops called freiduría, just as in Japan it's freshly deep-fried chicken, croquettes, mince cutlets, meat and vegetable skewers, French fries, pork cutlets, and so on out the front of delicatessen stores in shopping streets releasing delicious aromas into the air, in Andalusia it is mainly seafood, like anchovies, squid, different kinds of shrimp, white fish, and cod roe, dusted with flour or chickpea flour (garbanzo bean flour) and deep-fried in olive oil then displayed in shop fronts. Some of these fried food shops are like a cafeteria that also serves drinks, which you could call a fast food snack bar or a tempura bar.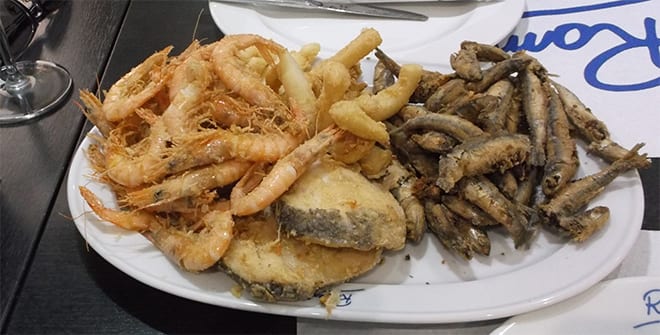 A set of four fried items that you can order in portions of 100 g or more: cuttlefish, anchovies, shrimp, and hake.
Another unique local delicacy you can only get in Andalusia is tortilla de camarones, small shrimp and vegetable fritters. The camarones shrimp are a specialty from the Bay of Cádiz (El Puerto de Santa María is on this bay) that look like krill. While still bouncing around, they are mixed with flour or chickpea flour, diced onion, parsley, and water then fried flat. They reminded me of the deep-fried glass shrimp I once had in front of Toyama Station, or the Suruga Bay Sakura Shrimp Tempura with Buckwheat Noodles at a buckwheat noodle restaurant where you eat standing up.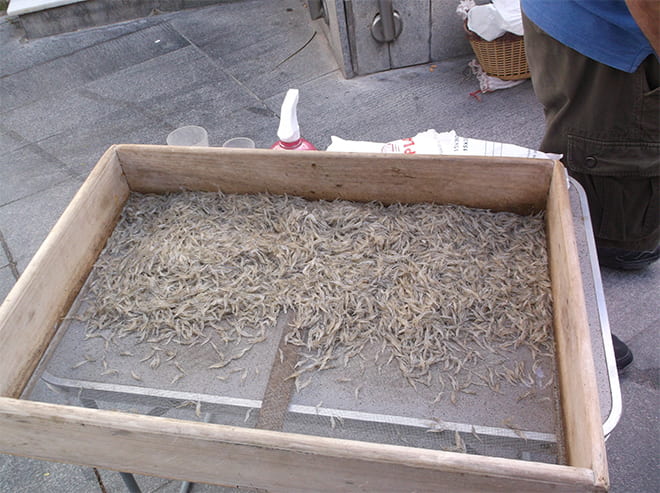 A camarones stall next to a snail shop, where you can get a cup of the live small shrimp for 2.50 euros (a little over 300 yen)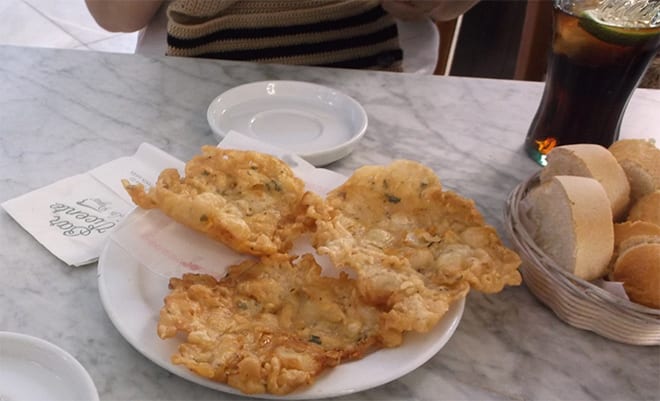 Small shrimp and vegetable fritters ready to eat
On the topic of fried food, the locals love churros, and Charo (the woman in this photo) is still frying them in this port market 65 years after she first started selling them. I borrowed an earlier photo of her because her face was obscured by the anti-COVID plastic screen and mask. She told me a story about how, at the age of 24, she offered churros to Francisco Franco, general and the head of state during the Spanish dictatorship, when he visited the town in 1967.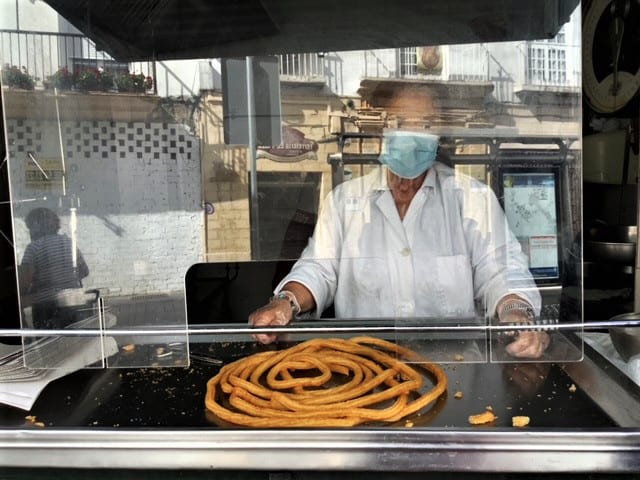 Charo today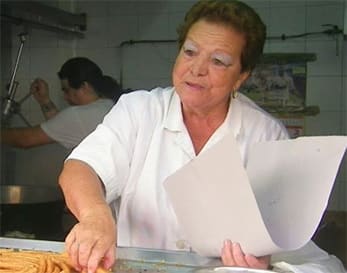 Charo 12 years ago
Here is a supplement to my previous article "Liria Palace".
The wedding ceremony of the Count of Osorno, Carlos Arturo José María Fitz-James Stuart y Solís (29 years), second son of the current Duke of Alba, was held at Liria Palace on May 22. The bride is Belén Corsini de Lacalle (31 years). In this day and age, the ceremony was limited to 200 guests and was held modestly in the rear garden of this home.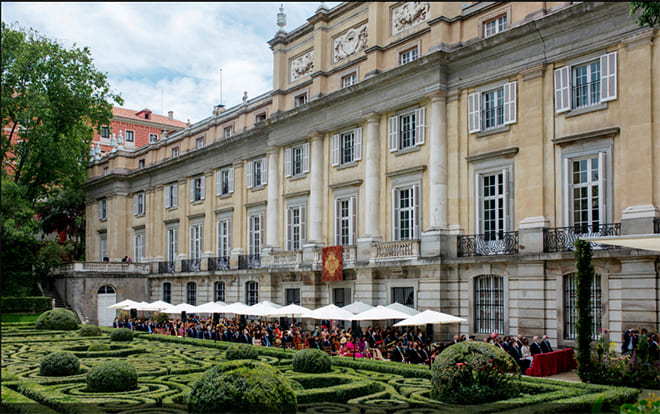 The wedding ceremony in the rear garden. (Casa de Alba official photos)
Although modest, the wedding ceremony was graced with the attendance of Her Majesty Queen Sofía, mother of His Majesty King Felipe VI, currently reigning, who was a close friend of the groom's grandmother, the former Duchess of Alba.

Next to the bride is Her Majesty Queen Sofia (Casa de Alba official photos)
By the way, the Alba family is older than the current royal family and are apparently the only family allowed to absent themselves when summoned by His Majesty the King of Spain, saying, "We regret to inform Your Majesty that we must excuse ourselves from attending." And it is only the Duke of Alba who is allowed to enter Seville Cathedral on horseback, if he wishes, a cathedral that is the largest in Spain and the third largest in the Christian world after St. Peter's Basilica in the Vatican and St. Paul's Cathedral in London.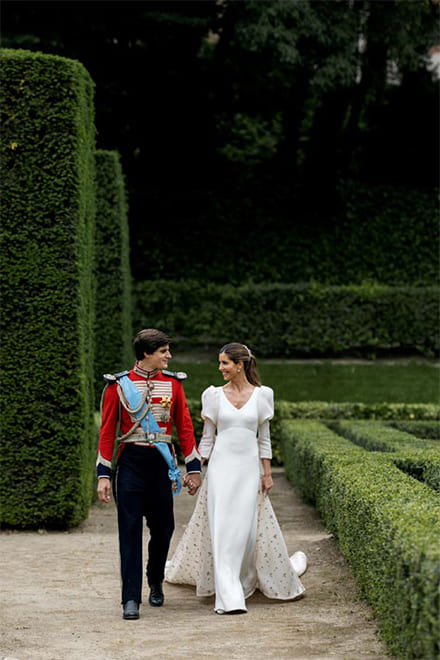 The newlywed couple taking a walk in the rear garden of their home. May they be happy for many years to come! (Casa de Alba official photos)