I saw some red bell peppers on special at the supermarket and they looked so beautiful I just had to buy some. I think they are probably the same variety as what we call "paprika" in Japan. In Spain, paprika is the powdered spice they often use in Hungarian cooking and the like, which is called "pimentón" in Spanish and is an essential ingredient in that typical Spanish sausage, chorizo, as well as most stews. But the vegetable, the bell pepper, is called "pimiento," definitely not "paprika," which is not a Spanish word.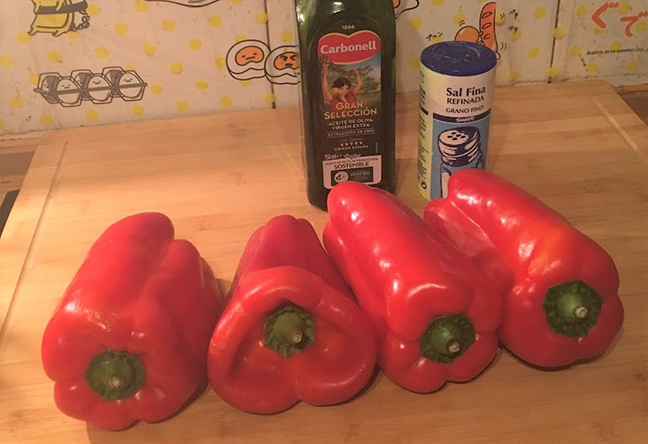 Photo 1: The red bell peppers I bought after falling in love with them at first sight. Each is about 250 g, and the 4 of them cost a total of 1.79 euros (about 230 yen).
I took on the challenge of making them into Esgarraet Valenciano, a local specialty of the Valencia region, which is famous for oranges and paella, although I can hardly call it a "challenge" as it really is quite simple. You just coat the red bell peppers in olive oil, roast them in the oven, let them cool, then tear them lengthwise. Then you take dried cod that has been soaked in water for a day, shred it in the same way, and simply mix it with the bell peppers. The dish's name comes from this method of tearing or shredding. "Esgarraet" means "torn" in Valencian. You adjust the salt to taste, depending on how much is left in the dried cod after soaking it.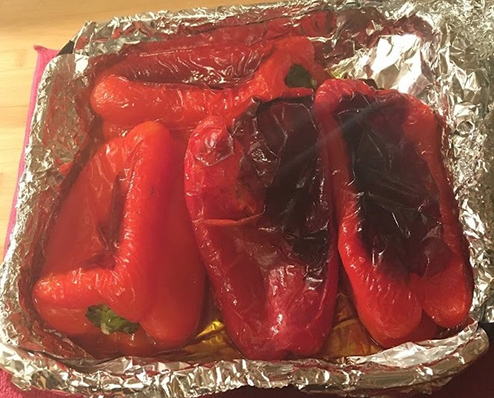 Photo 2: Underneath the roasted bell peppers is olive oil mixed in with a lot of sweet, concentrated bell pepper juices. You get a nice accompaniment to red wine by soaking bread in those juices and sprinkling rock salt over the top.
You can garnish it by sprinkling it with finely chopped garlic, black olives, pine nuts, and the like. For different variations, people use anchovies, or a kind of dried tuna called "mojama," instead of the dried cod. Topping it with boiled eggs would add a nice touch of color don't you think?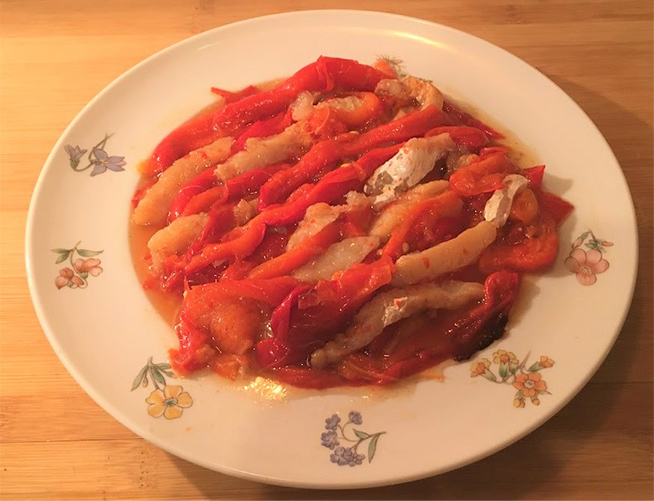 Photo 3: Please pardon the rustic, uninteresting presentation, but this is traditional, authentic Mediterranean cuisine containing good things like beta-carotene, oleic acid, and polyphenols.
It seems that bell peppers might be a much-changed variety of the chili peppers that Columbus brought back to Europe with him from the American continent. While bell peppers, paprika, and chili peppers are all members of the genus Capsicum in the family Solanaceae, people's insatiable desire took over to create more and more varieties. The hot variety originally containing a lot of capsaicin was turned into varieties without that hot taste, they also created varieties of different sizes and shapes, as well as different colors, like red, green, yellow, orange, purple, and on top of that, as though giving up the pride of being a green/yellow vegetable (high in beta-carotene), a white bell pepper variety emerged. And so, they have continued to be loved by people all over the world.
You can eat them raw in salad, you can stew them, broil them, fry them, or make use of them as empty containers and stuff them with minced meat. Plus, you can dry them then turn them into a spice, or ferment them and make them into a paste for seasoning, and in keeping with the recent boom in super-hot flavors, they can be used even to make Tabasco sauce, chili oil, and everything from Korean red chili paste to chili sauce, which makes them very versatile and useful.
Massa de pimentão is a seasoning paste made from red bell peppers fermented in salt that often appears in recipes from Portugal, to the left of Spain. One of Portugal's best known side dishes is Carne de porco à alentejana. It ranks alongside cod dishes and is made by marinating pork with this paste, then frying it with deep-fried potatoes and small clams, and adding coriander leaves and lemon.
And in France, to the right of Spain, there is Espelette, a village in the French Basque Country adjoining the border known for its specialty, chilis. The villagers hang bundles of chilis under the eaves of their homes to dry them, a scene reminiscent of the quintessentially Japanese scene of persimmons hanging up to dry. They turn their Espelette chilis into powder and paste too and they have a taste that reminds me of Kanzuri chili paste, a specialty of Niigata.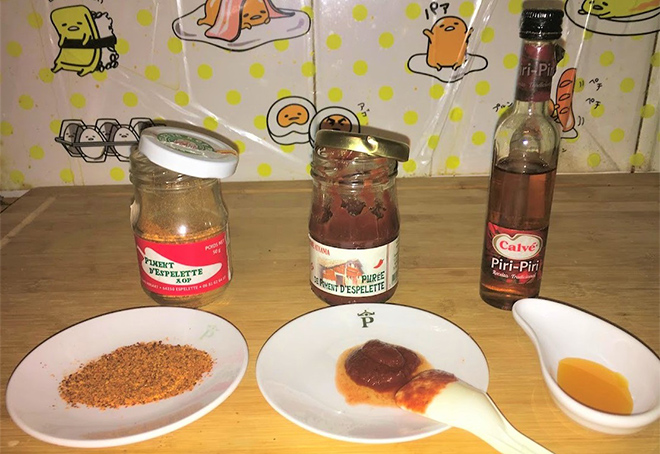 Photo 4: On the right is a Portuguese version of chili oil, a spicy oil by the name of piri piri. In the middle is pureé de piment, a chili paste from Espelette, and at far left is cayenne pepper powder also from Espelette.