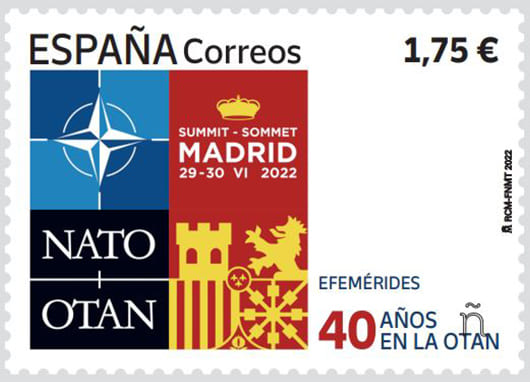 Image 1
"OTAN" is Spanish for "NATO," the North Atlantic Treaty Organization. Spain was officially approved as its 16th member state in May 1982. In exactly the 40th year since Spain joined, NATO was faced with Russia's invasion of Ukraine, and a summit was held in Madrid over 2 days starting June 29. NATO also invited Japan, Korea, Australia, and New Zealand as Pacific region partner countries in addition to the member countries. Image 1 shows the stamp issued to commemorate this summit and the 40th anniversary of Spain joining NATO.
The first official event held before the start of the summit was a banquet hosted by His Majesty King Felipe VI at the Royal Palace of Madrid on June 28. In this report I am writing about this banquet, given the precedents, the 2 articles I have already written about the kitchen at the Royal Palace. The food was actually prepared elsewhere, but I suspect that the Royal Palace's kitchen was used for the final food preparations and for preparing the drinks, and so on.
The 58 guests were treated to a menu that commenced with as many as 13 different appetizers, called "aperitivo," and included a main dish and a dessert.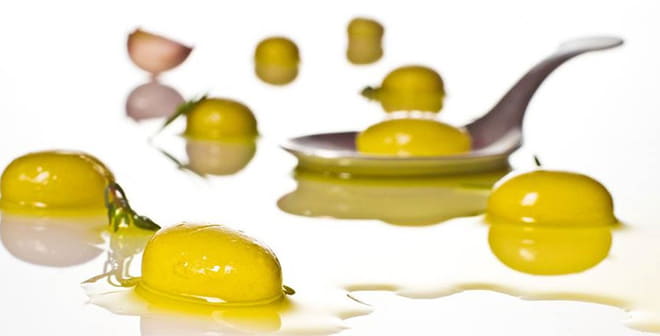 Photo 1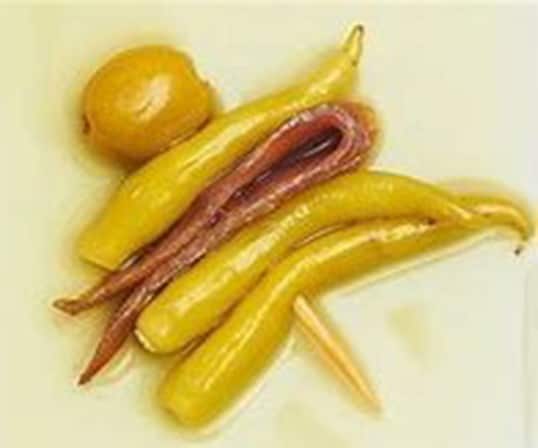 Photo 2
The 13 appetizers
- Aceituna esférica: Liquid olive spheres (*1)
- Brioche de atún rojo a la mostaza antigua: Bluefin tuna on brioche with old fashioned mustard
- Ceviche de corvina con leche de tigre: Corvina (type of sea bass) ceviche with "tiger's milk" (*2)
- Air bag de picaña: Beef aitchbone (rump roast) "air bag" (*3)
- Bogavante con sopa de aceite y pomelo rosa: Lobster in olive oil soup with pink grapefruit
- Tortilla de camarón: Prawn omelet
- Sardina marinada con salsa romescu: Marinated sardines with romesco sauce
- Taco de ternera glaseada: Tacos with glace diced veal or glace veal
- Gilda de Salmón ahumado: Smoked salmon "Gilda" skewers (*4)
- Croqueta de gamba al ajillo: Garlic shrimp croquettes
- Kikos con guacamole: Corn with guacamole (avocado dip)
- Buñuelo de bacalao: Cod fritters
- Gazpacho al aceite de albahaca: Gaspacho with basil oil
There was 1 main dish
- Merluza con salsa menier, tapioca y huevas de trucha: Hake with meunière sauce, tapioca, and trout roe (*5)
Dessert
- Espuma de coco con granizado de menta y fruta de la pasión: Coconut foam with mint and passionfruit frappé
Just reading this list of dishes boggles the imagination, doesn't it?
*1 Photo 1 shows the spheres of liquid green olive. It's probably a type of molecular cuisine, which was been a hot topic in recent years.
*2 Ceviche with "tiger's milk," the marinade mixture, is a typical dish from Peru, in South America.
*3 Huh? I can't begin to imagine what "beef air bag" is.
*4 Photo 2 shows this "pincho" (skewer), anchovy, vinegared green pepper, and olives on a toothpick, a snack first created in San Sebastián city, the capital of the Province of Gipuzkoa, in the Basque Autonomous Community, which is famous even in Spain for its fine food. The name comes from the film "Gilda," which starred the former great actress Rita Hayworth. I guess it's because the Spanish words "verde" (the "green" of the olives), "picante" (the "spiciness" of the pepper), and "salado" (the "saltiness" of the anchovy) carry the meanings "sexy," "stimulating," and "stylish." For this pincho, they used smoked salmon instead of anchovy.
*5 In Japan, hake is considered a cheap fish, often deep-fried and placed on top of the rice in "Noriben" bento lunch boxes and as the fish used for fish burgers. But there are said to be 24 types, and among them, the type caught in the north Atlantic Ocean is known as a high-grade fish. The hake caught by rod is a highly prized hake called "merluza de pincho." It is an exceptional fish capable of adequately fulfilling the starring role in a main dish at a prestigious royal banquet.
Paco Roncero is the chef who devised this highly diverse menu which featured traditional Spanish dishes, recipes making extensive use of molecular gastronomy, which has been in the headlines recently, and even Central American touches. He was one of the chefs demonstrating his skill as one of the best chefs in Spain at the marriage reception when the currently reigning King was married in 2004. Apparently, he did not directly ask the banquet guests for their opinion of the food but judging from the state of the plates when they returned to the kitchen, he was confident of success. I am certain the banquet must have added a lovely touch to the peaceful mood of the pre-summit dinner.