"Now Serving Hiyashi Chuka!" ("chilled Chinese noodles"), or in the Kansai region perhaps it's "Now Serving Reimen!" * In any case, when I see these posters at Chinese restaurants (in Japan), I remember feeling the emotional moment that it's "that time of the year again." In the same vein, here in Spain I get that feeling that summer has arrived when the word "Gazpacho" appears on menus at cafeterias. While "hiyashi chuka" is a season term for summer (in Japanese haiku circles), "gazpacho" might be considered a season term for summer in haiku circles in Spain. Probably most people in Japan know now about this cold soup. I wrote an article posted on June 26, 2015 that also mentions this soup, a fixture on summer menus, in an episode involving the Man of La Mancha, Ichikawa Somegoro VI, who was Matsumoto Koshiro IX at the time of the article and is now Matsumoto Hakuo II.
https://kc-i.jp/en/activity/kwn/yamada_s/20150626/
To quote from that article:
"The cold Gazpacho soup is a staple during Spain's summer. Its ingredients include tomato, bell pepper, cucumber, onion, garlic and bread blended with water, olive oil, vinegar and salt. It is more like a vegetable juice than a soup. In 1970 in Koshiro's Ichikawa Somegoro days, he appeared in a total of 60 performances of the Man of La Mancha at the Martin Beck Theatre in Broadway. It was around that time that the newly married Koshiro and his wife are said to have fallen in love with the Gazpacho soup they had at a Spanish restaurant near the hotel where they were staying, and ever since, Gazpacho has become one of the standard items in the Matsumoto family." Gazpacho was what he ordered through room service as his first meal at his accommodation in Madrid after finally arriving at the end of a long journey from Japan, when he came to Spain, the location for a TV program, in 2015.
By the way, this summer I have been addicted to "salmorejo," a cold cream soup and relative of gazpacho. It's like a pared down version of gazpacho with the ingredients kept to a minimum, and the preparation method is the same, you just stir the ingredients without cooking them. Photo 1 shows gazpacho and salmorejo bought at a local supermarket. The labels show the ingredients in order of quantity. The label photo also shows that the gazpacho contains tomato first up, then water, extra virgin olive oil, red bell pepper, cucumber, wine vinegar, and salt, followed by a very small amount of garlic. In comparison, the salmorejo contains tomato, extra virgin olive oil, sunflower oil, bread, wine vinegar, salt and garlic.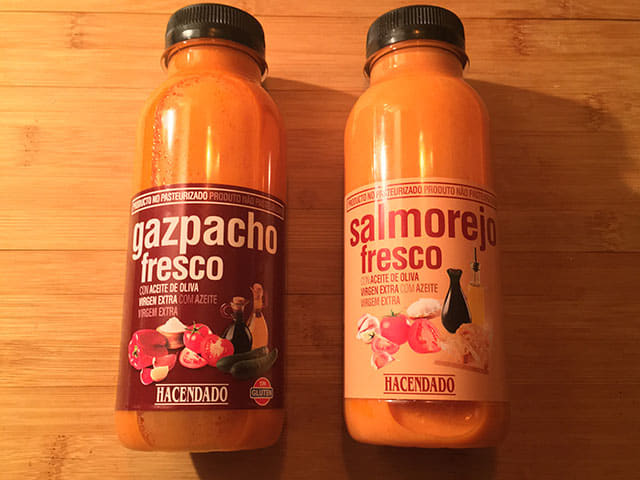 photo 1
Both are cold soups based on tomato, but the biggest difference is in the texture. I guess you drink gazpacho but eat salmorejo. Perhaps it's easier to understand the difference as consommé versus potage (a thick creamy soup). You don't put water in salmorejo, and the bread combined with the sunflower oil gives it a smooth and viscous texture. But that alone is too brief a description, so photo 2 shows salmorejo served as a meal, with the standard toppings of boiled egg and dry cured ham.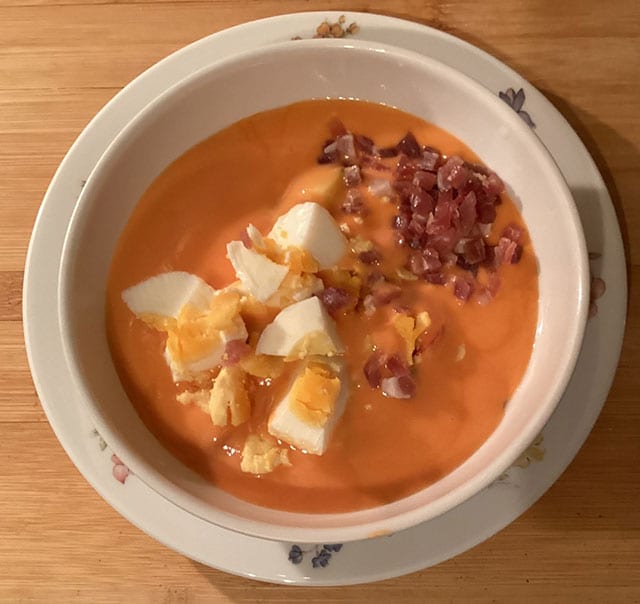 photo 2
Having written this far, it occurs to me that the very existence of tomatoes is key: while gazpacho is a typical fixture of summertime menus in Spain, it could not have been created in the first place without tomatoes. There were probably no tomatoes in Europe until Columbus pioneered the sea route to the Americas, so the history of gazpacho is thought to be at most 500 years old, but then after all, the cold summer soup I found in the supermarket was white gazpacho. As you can see from the label in photo 3, the ingredients are very simple, just water, almond, bread, extra virgin olive oil, reserve sherry vinegar, salt, and garlic. Its origins are said to lie in the Roman era of 2,000 years ago, or perhaps even before then in ancient Greece, and it is a veteran of Mediterranean cuisine passed down under the name "ajo blanco," a local dish of the Malaga region in Andalusia.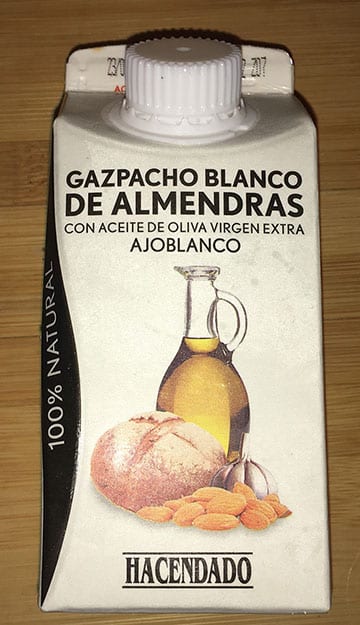 photo 3
Three ships led by Christopher Columbus set sail from the Andalusian port town of Palos de la Frontera before dawn on August 3, in the middle of summer, exactly 530 years ago. One of the outcomes of this fleet setting sail was the introduction to dinner tables across the world of vegetables such as tomatoes, potatoes, corn, chili peppers, peanuts, and so on. But I wonder if it is too big a leap to think that Columbus' greater achievement was to spark the creation of tomato-based gazpacho, "Napolitan" (tomato-based spaghetti), pizza Margherita, potato omelet, "nikujaga" (meat and potatoes), potato salad, vichyssoise, "ebi chili" (shrimps in chili sauce), "mapo tofu" (tofu in a spicy sauce), kimchi varieties, "kanzuri" (fermented chili paste), a specialty of Myoko (in Niigata Prefecture), Taiwan ramen, and "kaki pea" (persimmon-seed shaped rice crackers with peanuts). In the Americas, however, popcorn, cornflakes, peanut butter, ketchup, tabasco sauce, potato chips, and so on are local, so their existence doesn't depend on Columbus, right.
So end my mid-summer musings from the intense heat of Madrid, thoughts about food flying from Spain to Italy, France, the Americas, China, Korea, and Japan.
*: Hiyashi chuka, or reimen, is considered a summer dish (in Japan), but according to the Korean textbooks, Korean cold noodles were eaten in mid-winter (November in the lunar calendar) in the northern Korean peninsula, so perhaps cold noodles are a season term for winter in Korean haiku circles (if they exist).