In Spain they serve a "menú del día" (menu of the day) with a daily set meal, which most restaurants, bars, and cafeterias serve as lunch on weekdays. In Japan, "set meal" means sashimi, fried fish, pork cutlet, and the like all presented on a tray together with miso soup, rice, pickles, palate cleanser, and so on. The Spanish daily set meal is usually a course-meal arrangement with an appetizer, main course, and dessert served in that order. The first dish is called "primer plato" (first dish), which you choose from among salads, soups, pasta dishes like spaghetti or macaroni, paella, and other rice dishes. Next is the "segundo plato" (second dish), which is your choice of a main dish, meats, fishes, or stews, and you finish with the last dish, dessert, which is fruits, chilled sweets, cakes and so on. It comes with bread and a drink, and the price is usually about 10 to 15 euros, but there are many diverse types, even "executive menus" used for business lunches with 25- to 30-euro set meals.
You could probably compare Japanese set meals to economy class meals on airplanes, where everything from the appetizer to the dessert is laid out on a single tray, and Spanish set meals to first class meals on airplanes, where they bring you one dish at a time, although I am yet to experience that. Even so, in economy class the flight attendants come along and press you with "Would you like coffee or tea?" even though there is still food left on your tray. But I am someone who enjoys a one-person party just slowly savoring my free drink with the food as a snack, so I always feel ashamed of what I am doing. I wish they would leave me alone!!
Returning to the set meals in Spain, I first visited Spain when the dictator Franco was still alive. It was a time when the new Spain was making its presence known to countries around the world after the civil war, and when the policy to attract tourism, which began in the mid-1960s as part of efforts to obtain foreign currency, was starting to take effect. The Ministry of Information and Tourism, the relevant government agency at the time, mandated that restaurants serve tourist menus, the prototype of today's "menú del día," so that foreign tourists visiting Spain could feel at ease about enjoying Spanish food at reasonable prices. That evolved into a system where you could go into any restaurant of any category in any part of Spain and always find a set meal at a fixed price and eat without worrying about getting a surprise with the bill.
That mandate has now gone, but this strategy of making it more amenable to dine out has become widely accepted not only by travelers but also by the general public, and not only by workers and students for whom going home and having lunch is difficult, but also by regular local customers, for whom it became easier to enjoy food that takes time and effort to prepare. Most restaurants offer 3 courses with 3 or 4 choices of each, including the first course, second course, and dessert, and some restaurants set a feature dish on each day of the week, for example, stewed offal on Monday and paella on Thursday, so that regular customers have the pleasure of looking forward to their favorite dishes. Personally speaking, when winter comes, I check what day of the week they serve that famous Madrid stew, cocido, and make a beeline for it. From my limited experience, it seems that at restaurants in the autonomous community of Catalonia, with its capital Barcelona, the standard set menus are luxurious 4-course menus with appetizer, first dish, second dish, and dessert.
So, while set meals are an indispensable part of the daily life of the Spanish people, one of the topics around set meals is "el menú del día más barato de España" (the restaurant with the cheapest set meal in Spain). Málaga city, the capital of the province of Málaga in the autonomous community of Andalusia, is the port town where Picasso was born, and is also known as a resort area. There you will find a bar called "Bar Mercado de Huelin" (Huelin Market Bar) in the market in Málaga's Huelin district, an extremely unpretentious neighborhood where very few tourists go. The daily set meal there is an incredible 5 euros, or about 685 yen at the current exchange rate as the yen is currently weak, so, although you might not think that is all that amazingly cheap, considering the prices in Spain, it is less than half the usual price, which is about the same price as a Big Mac.
The bar opens every morning at 5:00, when the fish arrives at the market, and at first they serve only coffee. Then at 6:00, the bread arrives, and breakfast service begins. Because of its location, the bar's customers include market workers, construction workers from nearby construction sites, elderly people living on pensions, and homemakers doing the shopping, as well as the odd foreign tourist who wanders in after visiting the Russian Museum Collection, Malaga, which isn't far from the bar. The bar's hours are from opening at 5:00 am to closing at 4:00 pm, when the market closes, while lunch ends at 3:00 pm. Although most restaurants only serve lunch set menus from Monday through Friday, this bar also serves this affordable lunch on Saturdays, in keeping with the market's opening hours.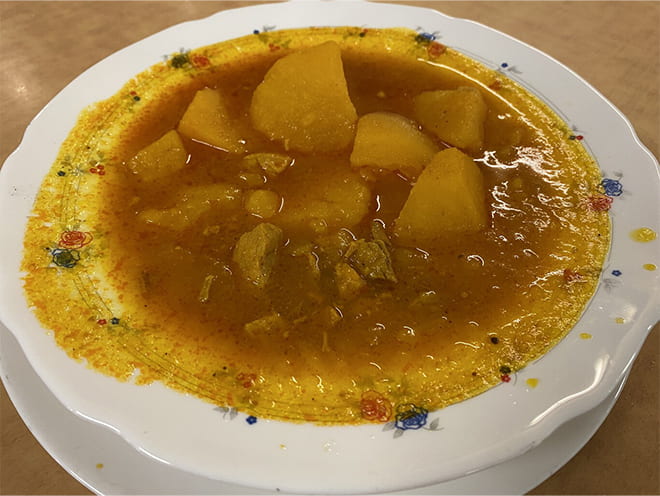 photo1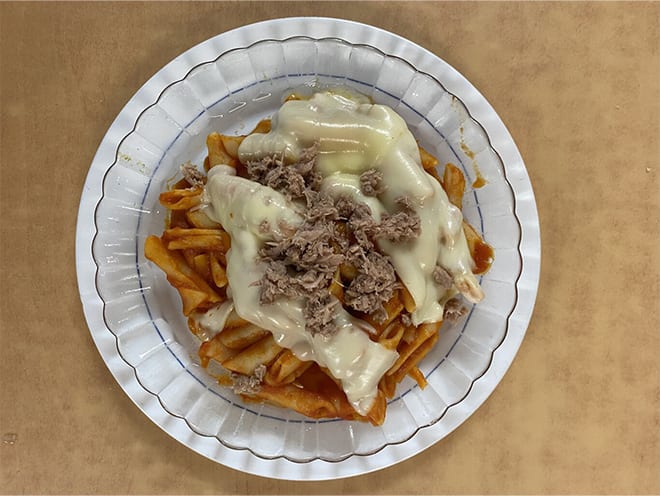 photo2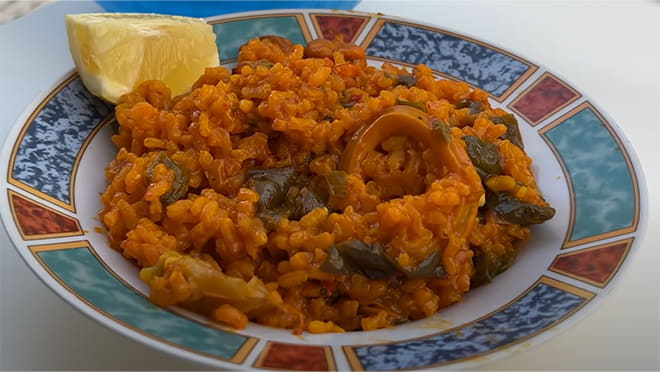 photo3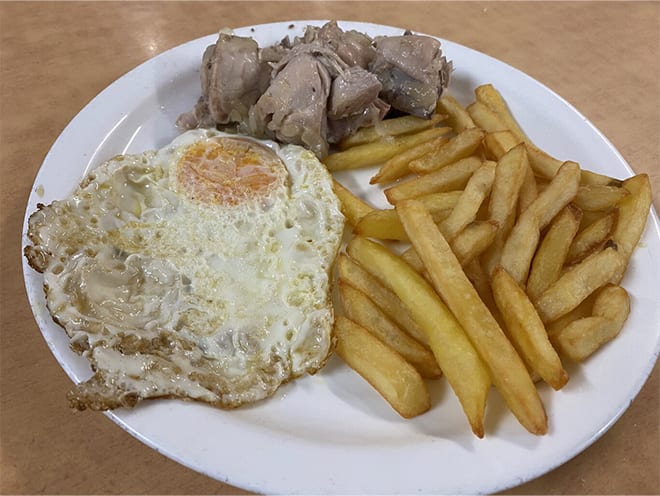 photo4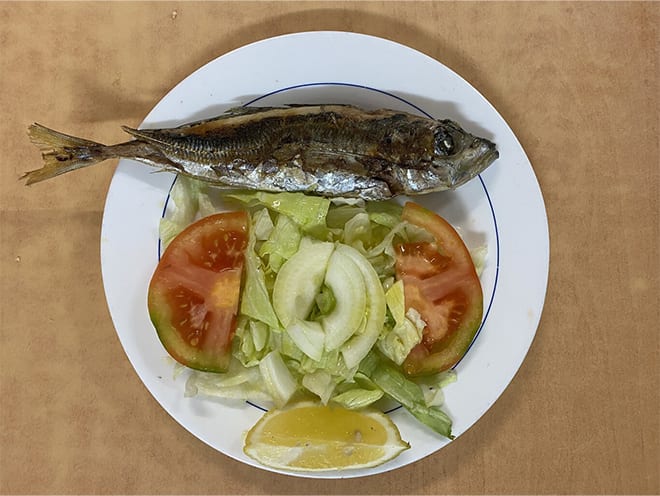 photo5
To give you a few examples of the dishes served at this bar as choices for the first dish, photo 1 shows a potato and meat stew, the taste of mom's home cooking in Malaga, and photo 2 shows macaroni and tomato sauce topped with cheese and tuna; photo 3 shows the standard paella, served here on Wednesday and Saturday. Some examples of the second dish, the main dish, are shown in photo 4, garlic chicken with French fries and fried egg* (a "mother and child' dish of chicken and egg?), and photo 5, teppanyaki-style freshly caught horse mackerel with salad (in Spain, they don't mind which way the fish is facing). None of these dishes looks appealing, it's more a matter of taste and price.
* This fried egg is not a failure. It's what a traditional Spanish fried egg looks like. Please see this article:
https://kc-i.jp/activity/kwn/yamada_s/20220622/
In fact, this bar used to serve these lunches for 3 euros before the COVID-19 pandemic broke out, but with soaring prices and the decrease in customers caused by the limit on the number of people under infection prevention measures, it seems that in the end they had no choice but to raise the price to 5 euros. Nevertheless, there is no doubt that this popular bar is supported by families and continues to be supported by the local community. While this bar has a completely contrary approach compared to restaurants with stars listed in a certain gourmet guide published by a tire company, it is a cafeteria I can recommend to anyone who is confident enough to enjoy the hustle and bustle of a downtown market and the noise of neighbors chatting, as part of its charm.