Most Japanese people think of Italy favorably, so when I introduce myself and say I live in Italy, they generally reply with a gleam in their eyes "Wow, great!" and then ask me "Where in Italy do you live?" I live in Milan, which fortunately absolutely everyone knows. That means my answer is easy and there are no hassles. Most of the non-Japanese people, not just the Japanese people, at least know Milan's location in Italy and they know it for Milan fashion, the Milan Fair, the 2015 Milan Expo, and so on, so the conversation can continue to and fro without hitch.
But for a friend of mine who doesn't live in Milan, the conversation takes a different course. My friend's charming self-introduction goes like this, for example: "I'm from Monza. If you're wondering where Monza is, here's a hint: F1!" Monza, where my friend lives, is about 15 km northeast of Milan.
Monza has an F1 racing circuit, so even if you don't live right next to it, you can hear the distinctive sound of car racing carried on the wind. I have never been to a circuit to see a car race, but Maestro von Karajan was crazy about car racing, and described the noise of a car race as "just like listening to a symphony." I decided I'd really like to try it out myself.
Monza is a miniature, relaxed version of Milan, without the tall buildings and the sense of oppression. There's a car-free pedestrian mall in the center, which is good for enjoying a relaxed stroll.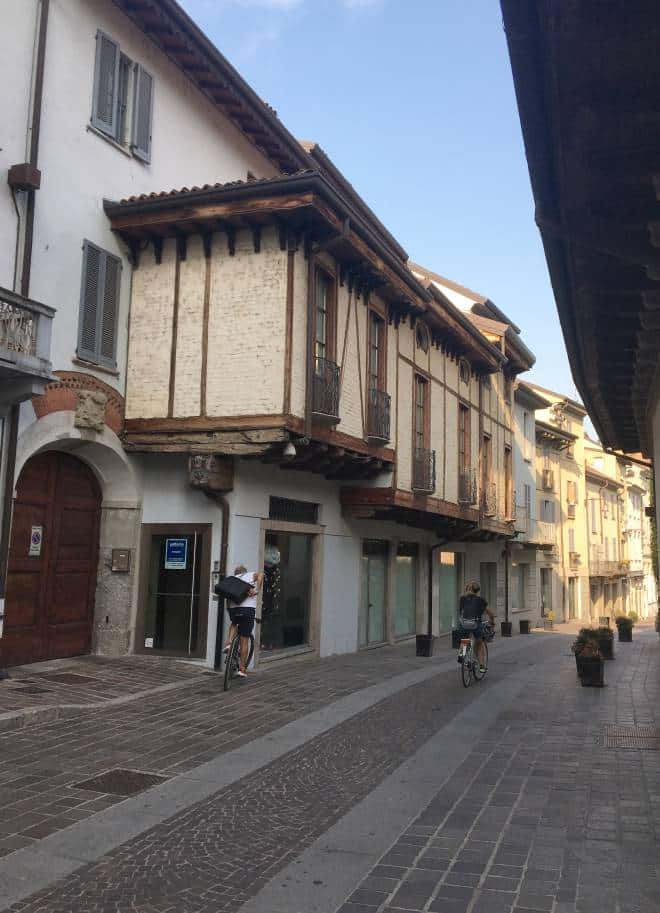 Rather than taking a bus I walked around town and found signs showing a route linking about six spots. For some reason when I decided to follow the route, I felt as though I were participating in a treasure hunt.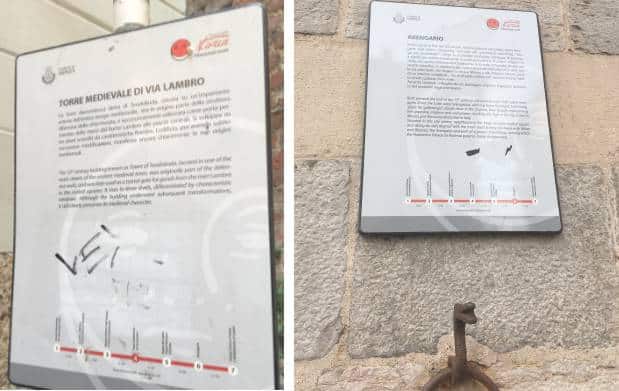 Although Monza is called a miniature Milan, it has some things that shouldn't be underestimated, one of them being the park and palace you can see at the end of a long boulevard. There are a number of interesting stories about the palace, for example, Field Marshal Radetzky, made famous by the Radetzky March, stayed there for a while, and you can see the bed where King Umberto I died after having been carried to the palace following his assassination at a sport event, during the time he and Queen Margherita lived there.

The vast park is open to everyone and attracts local residents for cycling and jogging on a daily basis, as well as families from Milan and suburbs on the weekends, when it gets crowded with families with pained smiles on their faces as they pedal their heavy and difficult to control 4-person bikes. It is a tranquil and fun park that has been much loved over its 250-year history.
Monza also has a duomo (cathedral). It doesn't have the same scale as Milan Cathedral, but it is a beautiful cathedral both inside and out. I remember hearing how following its construction, the architect of Monza Cathedral committed suicide from shame after finding mistakes that couldn't be concealed. But I couldn't find any factual record to back up this story, so I thought that if I examined the facade of the cathedral I would surely see any mistakes and I might remember some more of the story. When I went to the cathedral though, I was disappointed to find the exterior was under repair and I couldn't see it.

Despite being called a miniature version, the aspects of Monza that can't be undervalued keep coming. Nights in Monza seem somehow livelier than Milan. They say the city center is good for a quiet stroll until nightfall, but then after dark the restaurants all fill up and it gets difficult to walk around in the central area without bumping into someone.
I agree, because Monza is filled with wonderful restaurants and shops that I would like to go into.
Doesn't all the mystery and drama packed into this small city make you want to visit?