Daily life in Milan changes completely once December rolls around.
The Piazza del Duomo (Cathedral Square) erects a massive Christmas tree every year, and people also put ones in their shops and homes. The streets and department stores are decked in glittering lights. It seems like a great time to get excited about the fact that Christmas is coming, but to be honest, I get a little depressed around this time of year—though it's not something I share with many people.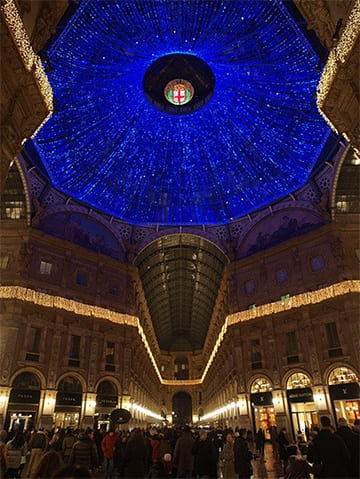 The Christmas lights are gorgeous, and it's a festive time with lots of opportunities to enjoy concerts and events. It's fun to walk around the Christmas markets, too, although there are twice as many people in the streets who are out shopping for Christmas presents.
After having lived here for more than twenty years, I now know that I have to leave my house early because it takes me twice as much time to get to work. Still, I have trouble really convincing myself that it's true and actually getting out on time.
The Milanese get frustrated with double the usual traffic congestion, which can make them pretty rough with their language and drive aggressively. Then there are parents shopping on their way home from work, while kids are eagerly awaiting their presents with no idea of the hassle it takes to get them. How wonderful to be a kid again!
Friends and relatives gather on December 25 to celebrate in Italy, share a feast, exchange presents, and play a board game called tombola which resembles bingo. Of course, it wouldn't be Christmas without presents from Santa Claus.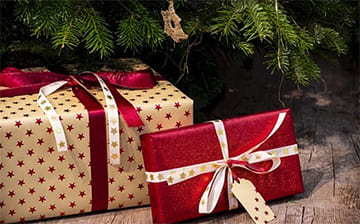 Traditionally, though, there's someone with a longer history than Santa Claus who appears at Christmastime. It's an old witch named Befana, and she appears on January 6. So, after getting the mountain of presents from their parents, family members, relatives, friends, and Santa Claus, Italian children then get a whole new pile of presents not two weeks later on January 6.
Before I knew anything about Befana, I first saw figures of this old woman with a wrinkled face riding a broom all over town after Christmas was over and Santa had disappeared. You couldn't even call her charming if you tried—if anything, she has a creepy face that made me marvel at the Italians' fondness for such a weird character. So, although it was quite strange to me, I later found out that January 6 is an important day in the Christian tradition.
The date comes from the arrival of the Three Wise Men from the east. The story goes that an old woman took them into her home on their way to visit the baby Jesus. When the Three Wise Men invited her to join them in visiting the Christ child, she turned them down—saying she was too busy. She later regretted her decision, though, and tried to catch up. She didn't make it in time and later died, but continued to wander around searching for the baby Jesus, bringing presents to people's homes to celebrate Christ's birth.
The interesting thing about Bafana is that she brings wonderful presents to children who have been good throughout the year, but brings charcoal sticks to those who have been bad. For this reason, families hang stockings in their homes (like they do at Christmas), and the children rush to them when they wake up on the morning of January 6 to see what's inside. There are some mischievous parents who put charcoal-shaped snacks in the stockings just to shock their kids and get a laugh.
How was your 2019? I hope you had a great year!