Not long after I moved to Milan, I started hearing people talk about a village called Bobbio from time to time. It's a small town of around 3,500 people located about 100 kilometers south of the city, but I had no idea why it was so well-known or why people kept bringing it up in conversation.
A chef I know works at a mountaintop restaurant near Bobbio, and told me I should come eat there and enjoy a meal on the gorgeous terrace in summertime, when the mountains all around it were covered in greenery. So I got in my car on a Saturday and headed down for lunch.
This was after the lockdown had been lifted, but there were still COVID cases in Lombardy where I was. Apparently I was so used to being shut up in my house at that point that going out for a long drive after so long felt strange.
After taking a sidelong look at Bobbio as I passed, I headed up a gently sloping mountain road to see a beautiful emerald green river winding through the landscape below. I got the sense that it was beckoning me to come closer, and my drive started getting more and more fun.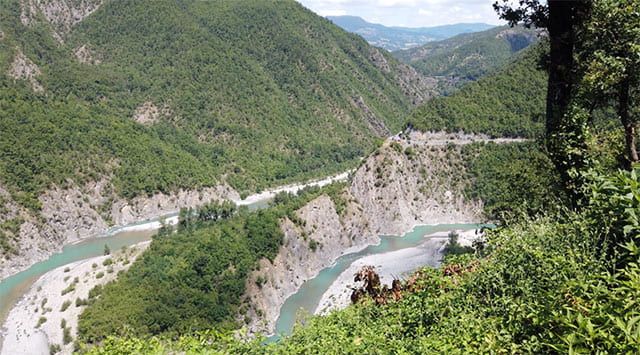 I then started heading up a narrower road until my destination appeared: a restaurant at the top of Brugnello peak, elevation about 500 meters, called Rocca Rosa.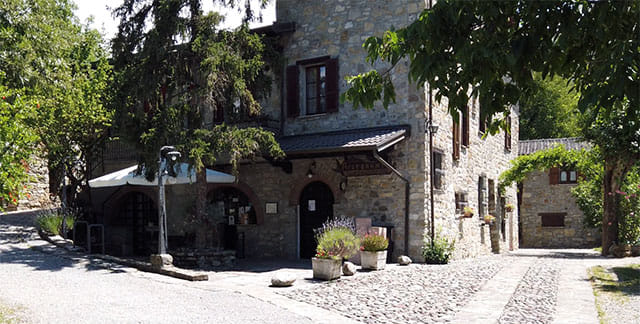 The menu had a lot of mushroom dishes on it, which I found strange considering they were out of season. When I asked the chef about it, he gave me a look like "Yep, one of those city people up from Milan again" and explained that mushrooms were already in season in that area. Apparently the local people would come sell their fresh-picked mushrooms so, the chef told me with a wink, the fresh ones from this morning were sitting there waiting to go into my food.
Since that was the case, I decided to order the ovoli mushroom salad as an appetizer. The word "ovoli" sounds a lot like the Japanese word for large-sized, oburi, so it was easy to remember. The mushrooms are orange-colored, with a rounded cap that's really adorable.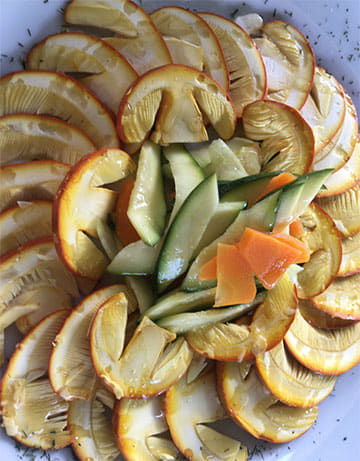 I then ordered black truffle risotto for the first course. I'm not sure if you knew this, but people that are really into mushrooms know white truffles have more aromas than black ones, which make them more expensive. On the other hand, black truffles are a little… not cleaner in flavor, necessarily, but they're known for being a little mellower and more subtle than white truffles. So they're still of great quality in their own right.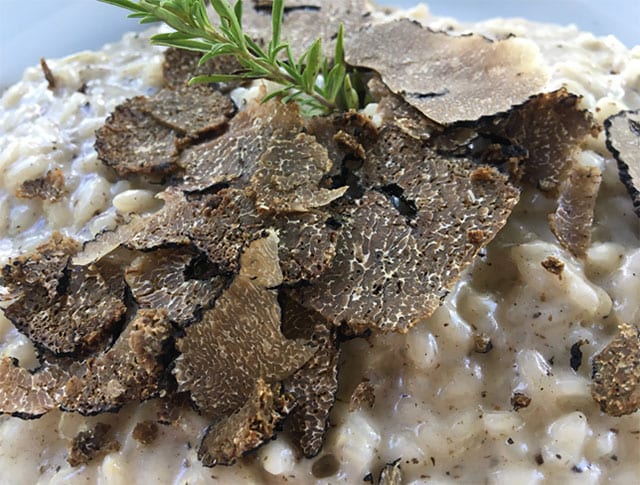 For my second course, I went with the grilled porcini mushrooms. I talked about how delicious porcinis are in an earlier post, so please check it out if you're interested.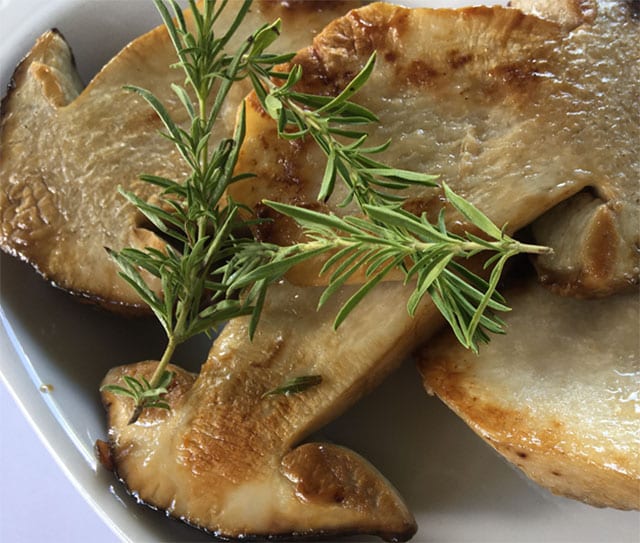 I wouldn't go so far as to have mushrooms for dessert, but despite the fact that I'd just had lunch full of mushrooms, I still hadn't tired of eating them. I suddenly wanted to live a life full of mushrooms—start each day hunting for them, indulge in mushroom meals… (Just kidding.)
I dragged myself back to the car, kicking myself for stuffing my belly so full of mushrooms that I didn't feel like moving, and headed back down the mountain to Bobbio. The village is home to the monastery that served as the inspiration for the one in Umberto Eco's bestseller Il nome della rosa (The Name of the Rose). I've only ever seen the movie, which was filmed at a monastery in Germany, but the Italians keep telling me that the novel is amazing and that I need to read it (in Italian). At this point I barely even register it anymore, but breathing in the air of Bobbio made me consider it again, so I bought the book. It's thick—six hundred pages—so it's a bit daunting. My Italian's not that great either, so I'm not sure I'll get through it…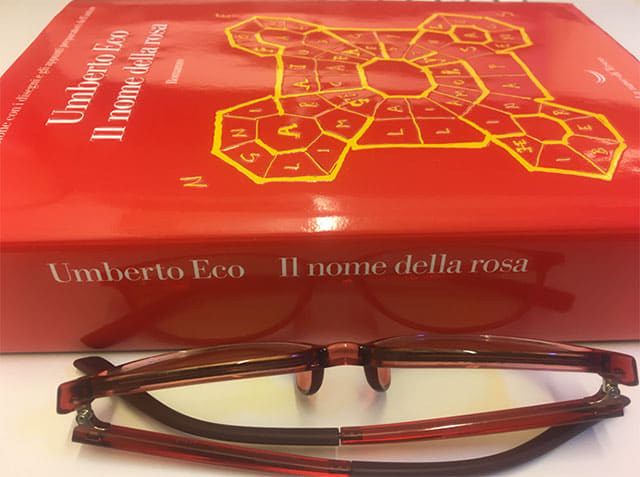 Bobbio has a lot of material to inspire a mystery novelist like Umberto Eco—including a devil's bridge and a mosaic that you can't see underneath a church (you don't notice it unless you pay a fee to turn on the light switch).
Hey, if you add poisonous mushrooms to the devil's bridge and the hidden mosaic, you definitely should have enough for a mystery novel!