About 120 kilometers south of Milan is the town of Parma.
Soccer fans are quite familiar with Parma, as all eyes in Japan turned to the town when Hidetoshi Nakata was transferred there. But it's not soccer that put Parma on the map—it's the town's dry-cured ham and parmesan cheese.
A brief note before I continue.
The parmesan cheese most people are familiar with in Japan is Kraft brand powdered cheese that originated in the US. It's known as "powdered cheese", but to put it bluntly, it's nothing more than powdered milk and salt.
So to prevent misunderstanding, I'll use the Italian word parmigiano instead of "parmesan". Parmigiano is an essential cheese that no Italian table is without. It has a well-aged aroma that brings out the flavor when you grate it over freshly served food.
The reason I said "grate" is because people who care about the quality of their parmigiano buy it in chunks that look like cake slices and always keep it in their refrigerators—even though you can buy it pre-grated as well. They then use a cheese grater to grate it over food right before serving it.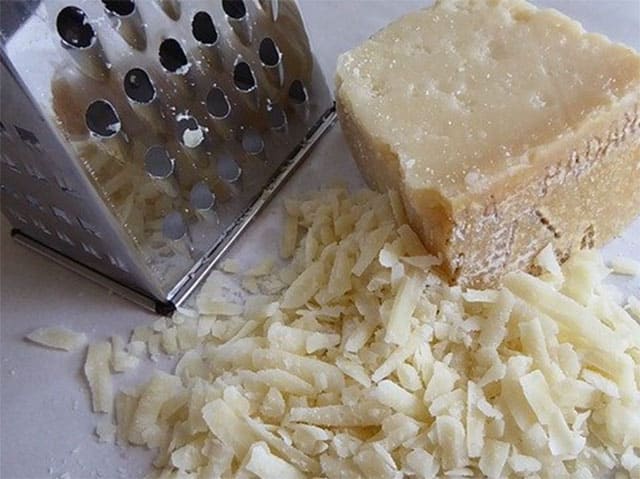 At buffet-style dinners, they'll bring out a hard chunk of parmigiano that's like a 40-kilo brick. They'll then stick a short, powerful cheese knife into it, just to make the effect even more amazingly bold and dramatic. Each person then cuts away their own bite-size portion. Normally people will just pop it in their mouths, to enjoy the crunchy texture and rich, expansive flavor. The cheese is full of rough little pieces that have crystallized as the water evaporated from the cheese during the aging process.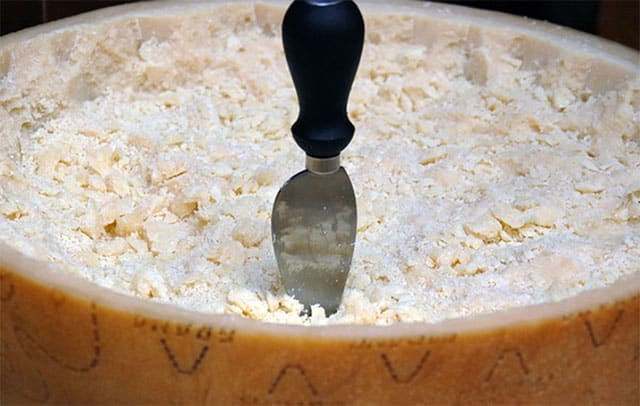 As a side note, there was a time where I traveled to Parma frequently, and I noticed that compared to the supermarkets in Parma, the ones in Milan put out parmigiano cheese that was aged for a relatively short period of time. When I asked the Italians about it, they told me it was because the people of Parma were parmigiano connoisseurs, and they wouldn't touch it if it hadn't been aged long enough.
Which made sense…
Incidentally, a 5.9-magnitude earthquake struck the Emilia-Romagna region, where parmigiano originated, in 2012. It was reported to have injured people and claimed lives, as well as deliver massive damage to the parmigiano factory.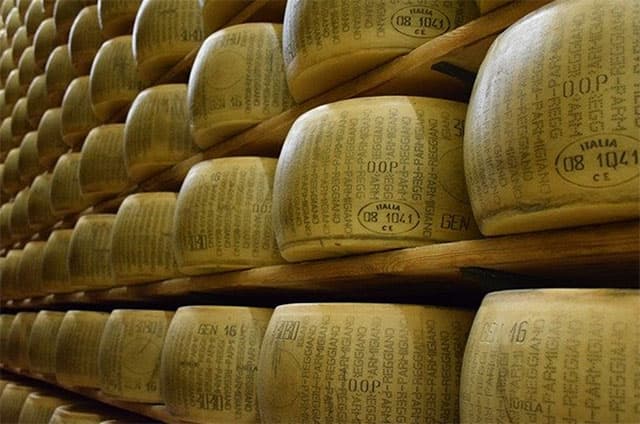 The factory pleaded with Michelin-starred world-class chef Bruno Barbieri, who is from Emilia-Romagna, to help them. After wracking his brain on how he could save the more than 600,000 weighty bricks of parmigiano that had been damaged, Barbieri reached out to other Michelin-starred chefs and came up with "Opera House Chefs" plan. They put on a performance for invited guests with parmigiano recipes from four chefs, advertising a gourmet meal to show off their skill with the cheese. The money they collected was used to miraculously rebuild the parmigiano factory.