Do you have street food in your country?
There is so much delicious street food in Thailand.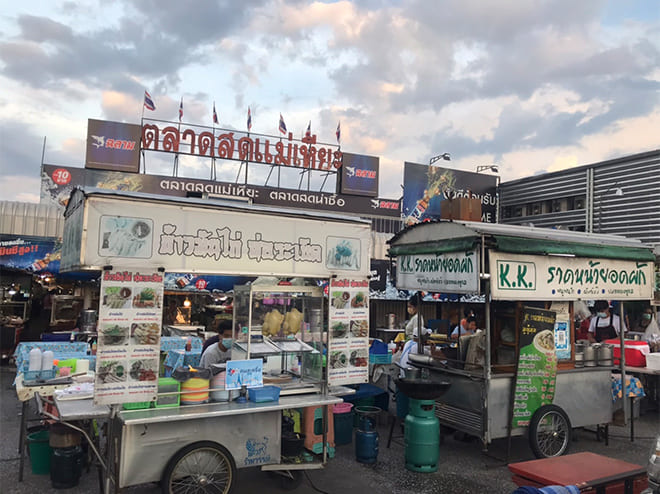 Street food is cheap, delicious, and above all convenient. Street stalls are everywhere you go—you can find them in front of convenience stores or alongside the road. It's especially common to see lots of vendors lined up in busy tourist areas.
In some areas, you can even find multiple stalls gathered together in a single facility. They've got so many things on the menu that you could eat there day after day and never get tired of them. Some street food facilities are open 24 hours, making them popular with tourists or with locals on the way back from the clubs.
The World Street Food Congress event was hugely popular when it was held in Bangkok. People were so excited to eat street food from all over the world.
Thai street food has even been selected by a CNN television program as the best street food among 23 countries for two years running! It's a part of our cuisine that we really take pride in.
But no matter how delicious you tell people street food is, I think it's common for first-time visitors to Thailand to have some reservations about trying it if they're not used to eating it.
I'll give you some menu recommendations and convenient phrases though, so you can relax and enjoy your first encounter with street food!
There is an endless variety of Thai street food options.
The cheapest dishes start at just 10 baht (about 38 yen).

Chiang Mai sausage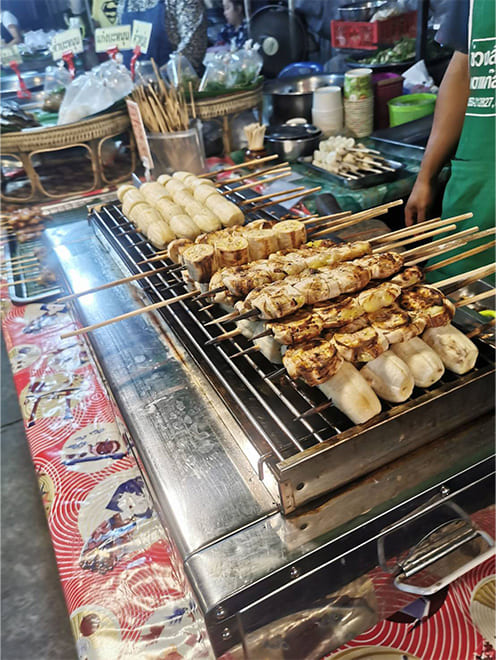 Grilled banana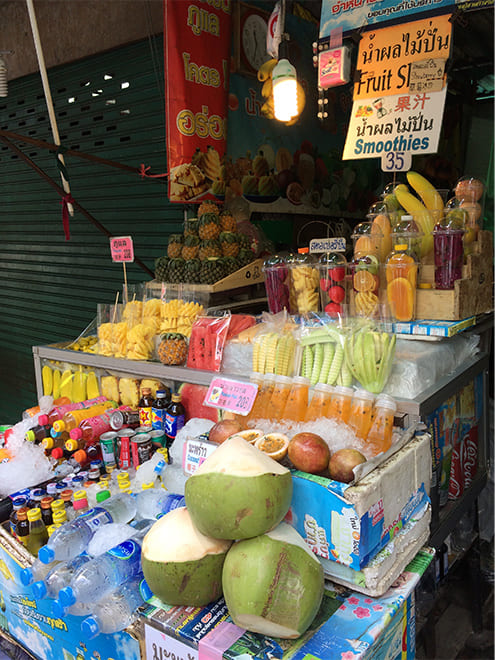 Juice vendor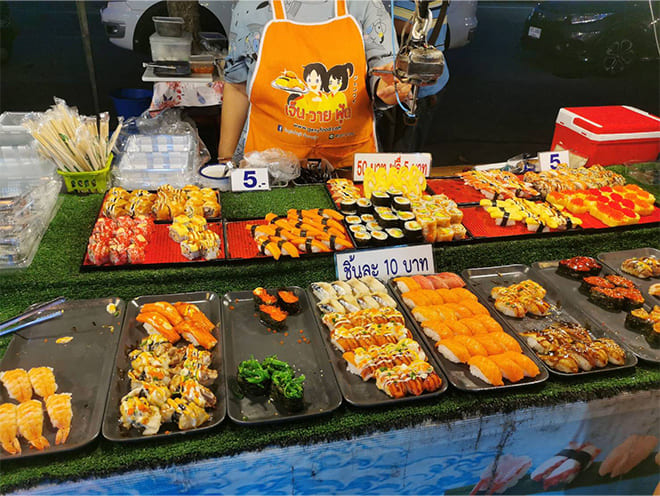 Sushi vendor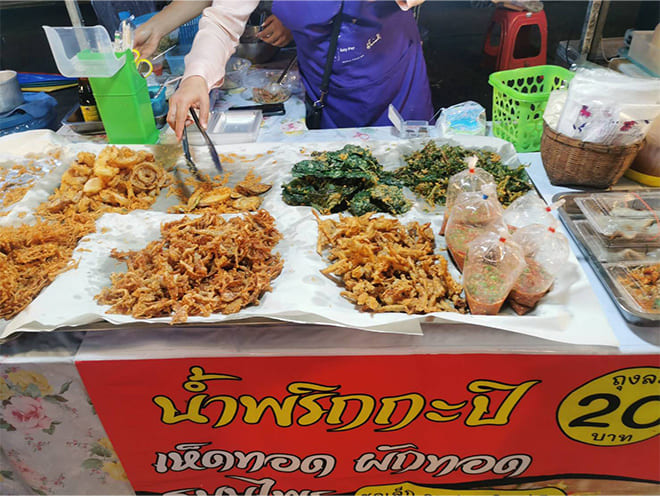 Fried food vendor
If you want something cheap, convenient, and easy to eat, I recommend trying moo ping (sweet-and-spicy grilled pork skewers), fried dishes, luk chin ping (grilled dumplings filled with fish or pork), kluay tod (fried banana), sai krok isan (Thai sausage), sai ua (Chiang Mai sausage), or cha yen (Thai milk tea).
If you're looking for a more satisfying meal, try khao man gai (steamed chicken and rice), khao pad (fried rice), pad thai (Thai-style grilled noodles), pad kaprao moo (basil fried rice with pork), gai yang (chargrilled chicken), moo yang (chargrilled pork), khao rat kaeng (curried stir-fried vegetables), or som tam (papaya salad).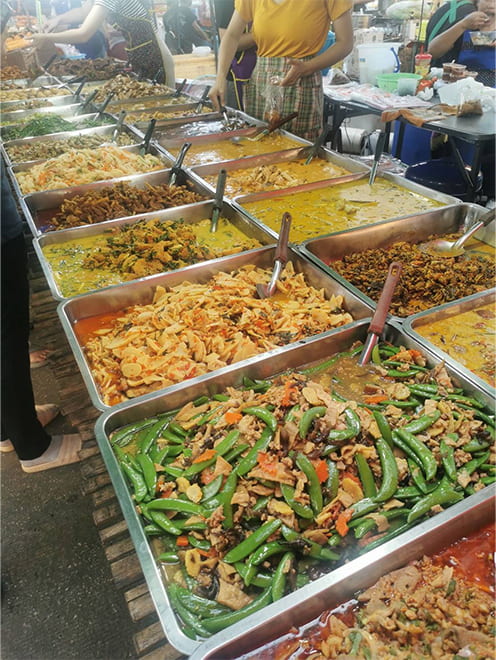 Countless varieties of khao rat kaeng (curried stir-fried vegetables)
If you want dessert, some of the classic Thai options are roti (crepes), cupcakes, and khao niao mamuang (mochi rice cooked in coconut milk and topped with mango).

Dairy vendor
When you're ready to order, just point to what you want and say "an-ni kha" (or "an-ni khrab" if you're male). It's a simple way to order that means, "I'll take this."
Thai street food isn't just delicious. These days, you can also have fun checking out the unique features of the vendors. Some of them arrange the food dramatically on plates with special designs, while others serve their food on banana leaves instead of plates, creating a traditional Thai feel.
And they aren't just particular about their presentation. The most unique vendors you'll see actually feature insect dishes!
When I tell tourists that they can also get fried insects, most people turn them down. "Bugs?!" they say. "No thanks…" (lol)
But there are street stalls in Thailand selling fried bugs that smell delicious!
The aroma, the crunchy texture… I'll tell you more about them next time.
Foreign tourists typically visit Bangkok first when they go to Thailand.
So I'll end by telling you about a famous street for getting street food in Bangkok.
It's called Yawarat Road, and it's the number-one choice for street food connoisseurs.
Yawarat is the main street in Bangkok's China Town, and it's said to be the most popular place for street food stalls in the city.
If you go there, you absolutely have to try the hoi thod, which is like a savory Japanese okonomiyaki pancake made with Thai ingredients such as oysters or mussels. And since you're in China Town, you can also get some great Thai-style Chinese desserts that are a fusion between the two cuisines.
Ready to head out with me and get some street food?