No doubt there are plenty of people who like to visit the many cafés of Paris and indulge in the nostalgic air of places once frequented by poets and painters while sipping their coffee. I was certainly no exception when I lived in the city, as I often found myself at these cafés wistfully imagining what it would be like to converse with the artists that used to gather there.
But Italy is all about its bars, not its cafés, and since I moved here I've stopped spending time enjoying cafés the way I once did in Paris. I think it's because the French and the Italians have very different ways of using those spaces.
Coworking spaces are all the rage these days, and as a result I think we live in fascinating times. It's exciting to think of all the new projects and businesses that have gotten their start in these coworking spaces—even if you're not an entrepreneur yourself, you get the sense that you still might get the opportunity to get involved in something interesting just by being there.
Coworking spaces are on the rise in Milan as well, and when you first set foot in them it's hard to tell where you are exactly. Is it a bookstore? A bar? An office? A conference room?
Among those coworking spaces is one that opened in Milan four years ago with the idea of attracting modern artists rather than celebrating those of the past. Passing through a typical household entrace on what appears to be a quiet residential street in the city, you find yourself being warmly welcomed into an elegant courtyard. Once you actually enter, you're in a spacious café that's lined with sofas and feels as relaxed as someone's living room. It's hard to describe the way the comfortable, at-home atmosphere of the space wraps up artists, customers, and art admirers alike.

Affectionately known as MAMU, Magazzino Musica serves a music studio while also drawing in non-musicians thanks to its hidden charms.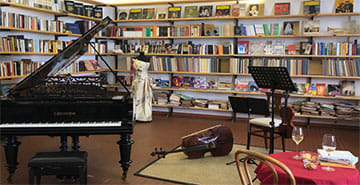 It's a space that genuinely seems like it has been waiting for you and is happy to see you when you arrive. The artists themselves are truly relaxed there, with musicians giving concerts or mini operas, writers reading their poetry or other works aloud, while exchanging their ideas over coffee or wine.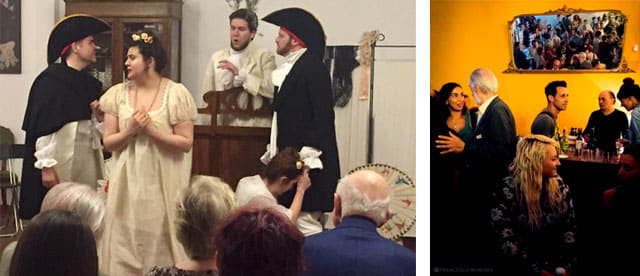 If you move towards the back of the space, there's an area where they're selling printed sheet music that performers simply adore. The way it's displayed makes even those who aren't musicians want to reach out and buy it.
In an era where electronic devices have given us so many conveniences, artists are still drawn to the unique feel of things printed on paper. Paper sheet music has countless drawbacks—it gets ripped, it gets beat up and falls off the music stand, it's so covered with repeated annotations that it's hard to read, it flies away in the wind, it gathers dust on bookshelves—the list goes on. Even though I take advantage of the conveniences of tablets and other electronic devices, for some reason using paper sheet music reassures me in some way—it has a presence to it that suits making music with an instrument crafted by an artisan.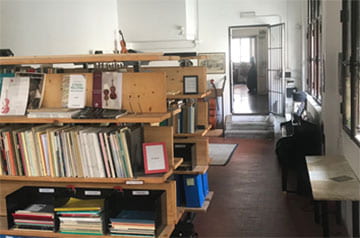 There's even more to this cozy little establishment. If you keep going further in, you find yourself in a workshop for musical instrument artisans. They'll also work on your instruments if you bring them to them.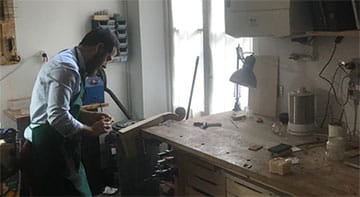 If you go even deeper still, you'll end up at an instrument shop that has everything from instruments crafted by famous artisans a century or two ago to brand-new pieces crafted by modern instrument makers. You can also try the instruments out. If you're a mucisian or poet, or even if you're not a writer or performer, you'll end up loving this place and the opportunities it offers to interact with art or music in your own way and as intimately or casually as you like.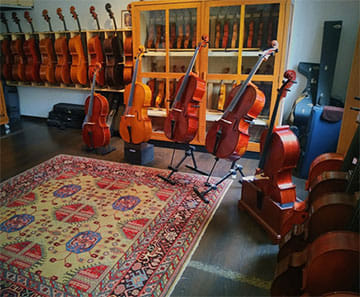 You, me—we're all tiny but essential parts of the mosaic it creates.