No matter what the era or what the country, people are continually fascinated by Leonardo da Vinci.
Intrigued by the title "Leonardo da Vinci 3D", I went to see an exhibition at a venue in Milan called La Fabbrica del Vapore. This exhibition hall was originally a factory that made trams and train cars, and it's been wonderfully redesigned to retain that feel. It's now become the launching point for a variety of artistic and cultural activities and a hotspot for the Milanese. An artist friend of mine rents out part of the space for a group exhibition, and plans are repeatedly going throughout the year for events of all sizes.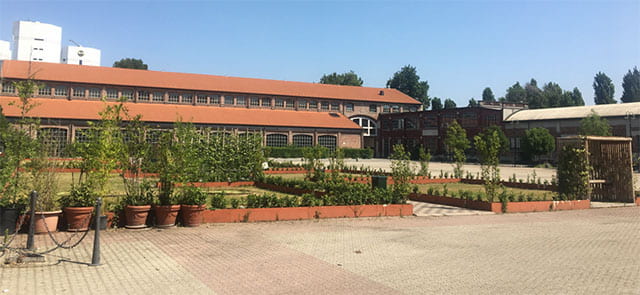 Back to the "Leonardo da Vinci 3D" exhibit, which was wonderful in that it used all kinds of modern technology to create an engaging experience for children and adults alike.
Aside from being fun, it is overwhelming in reminding people of just how great Leonardo da Vinci was. You constantly find yourself either speechless or letting out sighs of amazement. It's hard to believe he was as human as you and I.
The thing that impressed me most was the way the exhibit used augmented reality, virtual reality, and hologram technology to generate effects that made Leonardo da Vinci the person and his inventions feel accessible immediate to us modern people.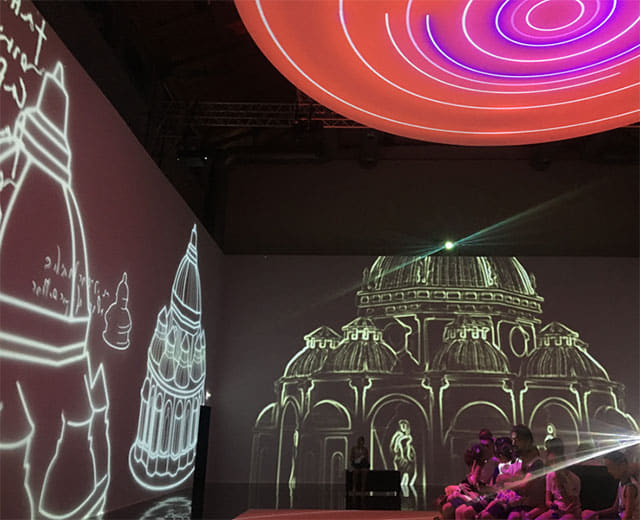 The da Vinci that appears in the hologram is an actor made up to look like an old man, but I remember reading somewhere that the real da Vinci was not only an unprecedented genius, but handsome as well. He drew and played musical instruments at a genius level, and also paved the way for future generations as a physicist, mathematician, astronomer, and so much more. Here is a man who contributed to too many fields to count… and was also incredibly good-looking?! We have a saying in Japanese that means something like "god never grants more than one great talent," but da Vinci was so amazing in the breadth and depth of his genius that it's hard to believe that's true.
Da Vinci was born in a village called Vinci outside of Florence, but the Duke of Milan once hired him as an in-house artist, so the Milanese feel a deep connection to him as well. The Museo Nazionale della Scienza e della Tecnologia "Leonardo da Vinci" is in Milan, and if you go there you can see a lot of his inventions up close. There is also the Santa Maria delle Grazie church, where you can see the fresco of The Last Supper, and Sforza Castle, where you can see some of da Vinci's works that were discovered more recently. You end up realizing just how many things and places are connected to him. It would take you several days just to do a da Vinci tour of Milan…
Meanwhile, with the mystery, reproductions, thefts, and everything else, the Mona Lisa is nothing less than a global sensation. But I also heard (and this is horrific) that many people lost their lives while da Vinci was in the process of inventing a flying machine.
Today, five hundred years after he lived, da Vinci is still a person we continue to talk about and place in the spotlight. His works and his research are of such enduring value that they can be appreciated and admired by people of all ages and all walks of life.
One of the wonderful features of da Vinci's inventions is that they make it easy to see where so much of our modern technology comes from—and does so in a way that even kids born in the technology era can easily understand. The exhibit is definitely worth seeing.